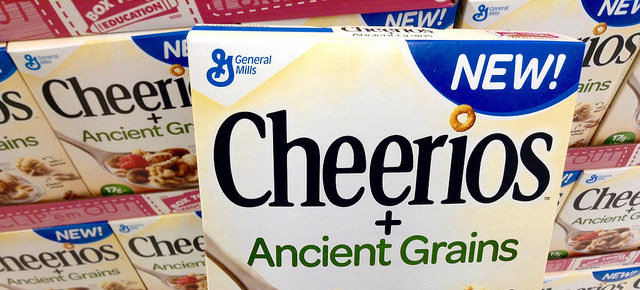 At Q3 2016 time, I argued that General Mills' (NYSE:GIS) results were starting to impress. Reported results still looked disappointing courtesy (chiefly) to currency headwinds, but underlying performance was improving noticeably.
Come to the end of the fiscal year and I remain impressed by the company's progress. There is still some way to go. Yet the company appears to be positioning itself strongly for the future and, as such, is becoming increasingly attractive as an investment.
Let's me explain why.
Unattractive Reported Revenue Results (Still)
We have to open with reported revenue results first, however. As mentioned above, they were hardly the most striking reading. Revenue declined by a hefty 6%.
Nonetheless, a great deal of this was external to the underlying business heading into FY2017. For instance, over 4% of that decline was caused by currency headwinds in its increasingly important international segment. A longer (53-week) FY2015 also had an impact alongside acquisition and divestiture activity during the year during which time it sold the likes of Green Giant and picked up Annie's: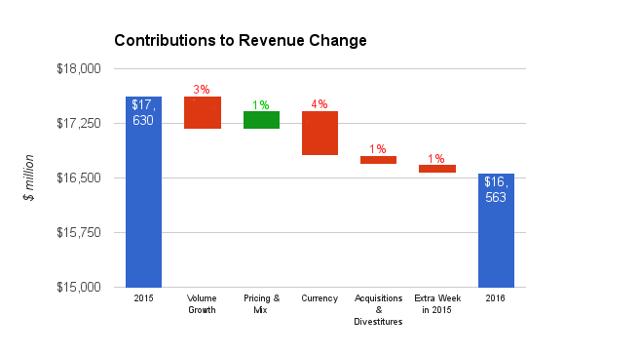 Even accounting for this, it is clear that General Mills still has a volume problem. Indeed, over the course of the year, it fell back a further 3% on 2015. This is not great. Fortunately, Q4 2016 gave indications that this volume problem may be toning down.
Additional Fourth Quarter Improvements
General Mills CEO, Ken Powell, explained that:
"We made important progress strengthening our business model and bringing our Consumer First strategy to life in our brands in fiscal 2016. Most importantly, we returned the business to organic sales and operating profit growth, while continuing to drive improvement in free cash flow."
Although he was not speaking of the FY2016 in its entirety, he was commenting on the fourth quarter. Indeed, he was right, in the final three months of FY2016, General Mills saw some genuine organic volume growth emerge (Source: Company Presentation):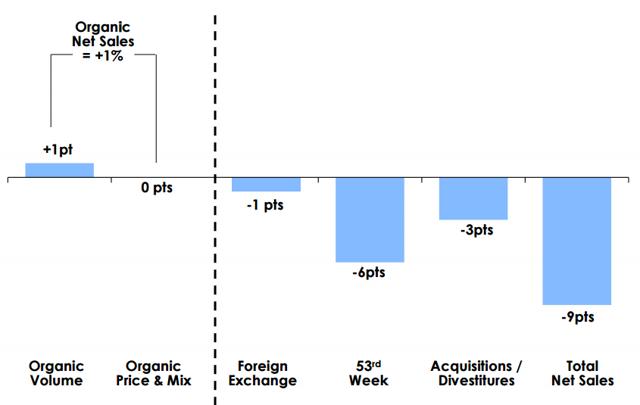 Although only a 1% net sales growth, this is encouraging to see. Throughout 2016 General Mills had pushed its prices up which often results in short-term volume declines (after all, the price goes up and you may buy something else). Yet clearly its strong brand power has been able to pull consumers back to General Mills' brands even after these hikes. I am excited by this modest, but important improvement. Naturally, I'd like to see this reflected in the early quarters of 2017 too.
Growth Shift to International
A key driver of this volume improvement remains General Mills' international segment. The segment has continued to grow in prominence at the company. What is more, recent moves by the company show that this will continue to grow in importance in the future. As Ken Powell noted in their Q4 results, General Mills:
took important strategic actions to reshape our portfolio for growth, including the divestiture of the Green Giant vegetable business in North America, the expansion of our recently acquired Annie's brand into new categories, the launch of Yoplait yogurt in China, and the acquisitions of EPIC Provisions meat snacks in the U.S. and Carolina yogurt in Brazil.
Needless to say, these highlighted strategic moves show a tangible tilt towards international growth. This is understandable as it is the international portfolio which is driving the (underlying) growth at the company: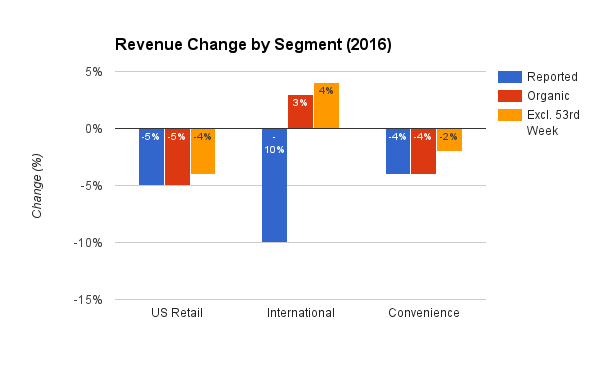 What investors will have to accept, therefore, is continuing reported declines in the short to medium term as the US Retail segment remains by far the largest contributor to revenue and operating profit at the company: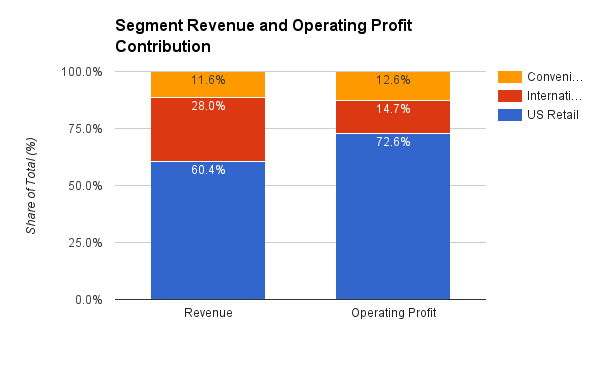 However, with US Retail seeming set to continue to see fairly flat or shrinking revenue figures in coming quarters, it will unlikely help reported figures. Margin improvements will clearly help operating profit figures. Yet revenue growth wise, the all-important international segment with its hefty currency headwinds will likely also struggle to provide a boost to reported results anytime soon. Despite underlying growth, for instance, since 2014 the International segment's share of revenue has dropped from over 30% of total revenue to 28% even though US Retail revenue has also struggled over that period.
US Retail Set for Balanced 2017?
The US Retail segment still offers a lot of opportunity, though. As General Mills swivels its brand portfolio from mature ones to up-and-coming growth ones, this will help no end. What is more, in 2016, the US Retail segment was relying heavily upon pricing hikes: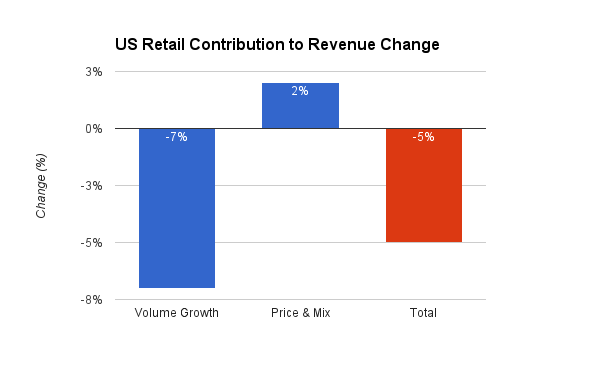 As noted above, this clearly compounded volume declines as consumers get pushed towards cheaper alternatives. In time, as Q4's results suggested, many consumers come back to their original favoured brands even in light of price hikes. 2017 could see a more balanced revenue change with a little volume growth accompanying more modest pricing changes. Once again, this should help provide an added boost to its already improving margins performance.
Margins Marching Higher
Indeed, the company has reflected on this itself yet with a broader perspective (its Holistic Margin Management initiative). This has led it to explain that:
The company… is undertaking further efforts to prioritize investments, reduce complexity, and streamline its operations to drive profitable sales growth. As a result, General Mills is increasing and accelerating its previous margin expansion target. The company now expects to achieve an adjusted operating profit margin of 20 percent by fiscal 2018, an increase of 400 basis points over fiscal 2015 levels.
This would certainly be an attractive achievement and see it extend its impressive margin lead over its food peers*: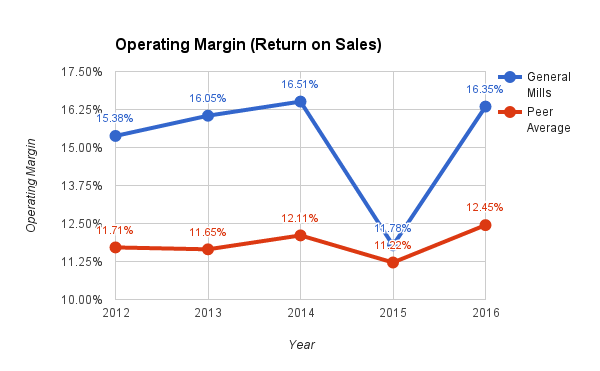 I see no reason why this is not achievable by General Mills. However, even if it were to only achieve modest improvements on its current margins over the next couple of years, it would be a very welcome addition to an already compelling investment story.
Cash Flow
In the meantime, as we wait for currency headwinds to soften, volume growth to return and margins to expand further, the company continues to impress generally. This is particularly true when we consider its cash flow.
General Mills' cash return on invested capital (that is, CROIC), which sees its FCF divided by the sum of its total debt and shareholders' equity, gives a good indication of this. 2016 saw it, once again, improve upon its CROIC figure: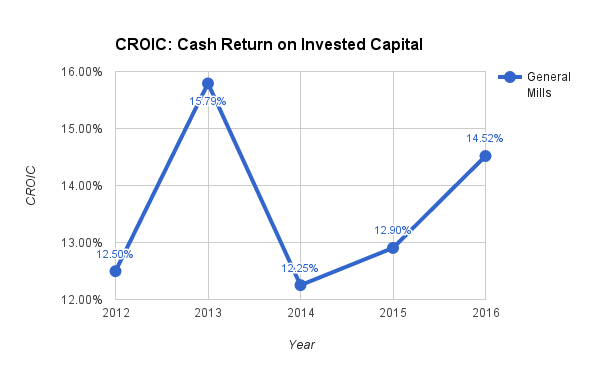 This suggests that for every $100 of capital invested in the business, it generated $14.50 in FCF. This is very impressive.
More encouragingly still, it managed to achieve through a healthy mix of improvements. Debt levels, after several years of growth, finally started heading south: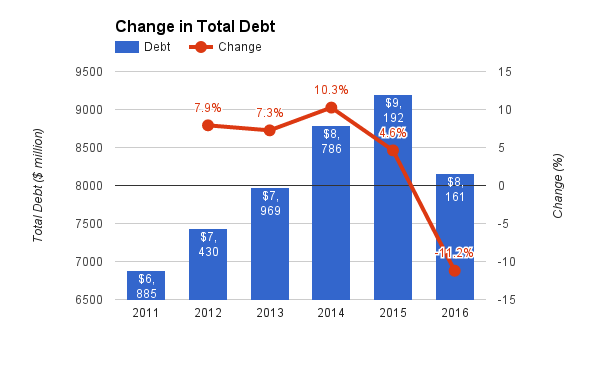 Yet, more importantly, it has continued to see robust free cash flow generation: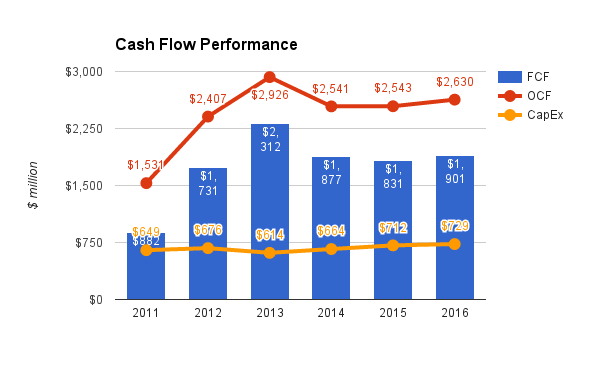 This is despite capital expenditures having grown noticeably in recent years. This higher CapEx is anticipated to continue as General Mills stated in its FY2016 filing that it:
expect capital expenditures to be approximately $734 million in fiscal 2017. These expenditures will fund initiatives that are expected to fuel International growth, support innovative products, and continue HMM [Holistic Margin Management] initiatives throughout the supply chain.
General Mills is clearly not cutting back on investment in the business. Yet it continues to generate copious amounts of cash very efficiently. All told, this supports its strong dividend yield of nearly 2.5% which remains nearly twice covered by FCF: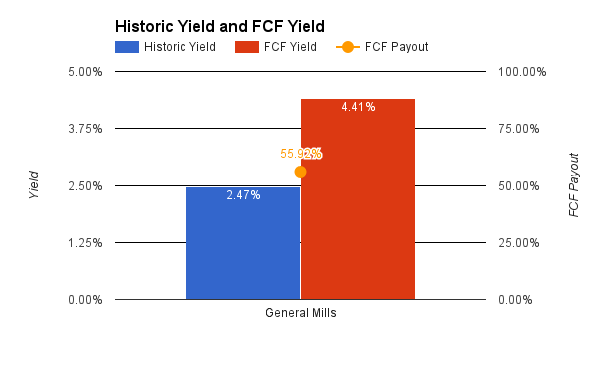 As such, the company looks well placed to continue to grow its dividend at ~7% for the next few years or more. In a yield-starved, increasingly volatile market, a dividend like this from a stable, defensive company like General Mills looks very attractive indeed.
Wait for a Dip Below $65
Despite all this, I think it may well be worthwhile waiting for a dip beneath $70 before considering opening a position. A combination of positive reaction to its 2016 results and a general shift towards defensive companies in light of heightened global uncertainties, General Mills has lifted sharply since the middle of June from around $65 to over $72: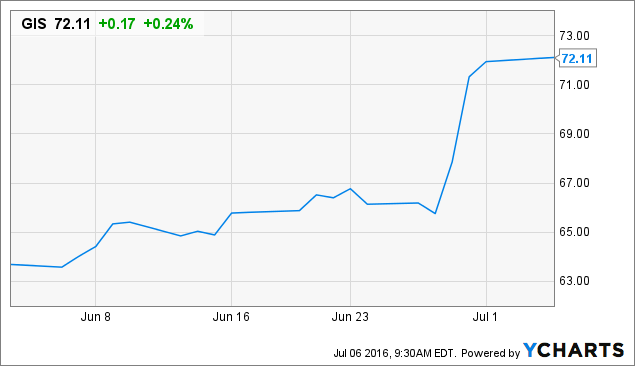 Although impressed by its full-year results and the prospects for further improvements in 2017, I can't help but feel that General Mills is running ahead of its own historic fair value. With a yield below its 5-year average and both its P/E and enterprise value to FCF (EV/FCF) valuations also running high right now, it looks as though at over $72 it is around 10% overvalued: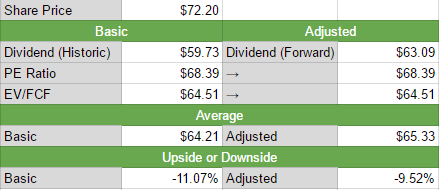 Should General Mills drop back down to around the $65 level, I would be very happy to jump on board. Yet, right now, I think the share price is running a little rich.
Conclusion
General Mills has continued to impress me with its Q4 and FY2016 results. Progress is certainly being made. 2017 could well see a return to a more balanced growth in its core US Retail segment with volume declines hopefully flattening out. The International segment continues to generate impressive underlying performances. Yet clearly with the USD continuing to strengthen against many currencies, reported figures from this increasingly important and heavily-invested part of the business will look lackluster. As conditions improve, however, the impressive underlying performance will become more apparent.
It may well be that, in light of this, some investors see the current "overvaluation" I highlight above as a reflection of its underlying value. I am sympathetic to this view. Yet until I see more obvious stability in its core US Retail segment, I'd be reluctant to jump aboard myself at this share price even after reflecting on that.
What is true is that General Mills continues to be an attractive defensive investment with a healthy, relatively generous dividend underpinned by strong, reliable cash flow generation. There is little doubt this has added attractions in the current market. Should it continue its progress into 2017, I'd find it very hard to resist indeed.
Notes
* Peer group is of 20 food and beverage companies, including Kellogg (NYSE:K), Hormel (NYSE:HRL), Lancaster Colony (NASDAQ:LANC), Mondelez (NASDAQ:MDLZ), Hershey (NYSE:HSY), Unilever (NYSE:UL) (NYSE:UN), McCormick & Co. (NYSE:MKC), Campbell Soup (NYSE:CPB), J.M. Smucker (NYSE:SJM), Tootsie Roll (NYSE:TR), Tyson Foods (NYSE:TSN), Mead Johnson (NYSE:MJN) and others.
Unless otherwise stated, all graphs and the calculations contained within were produced by the author. Creative Commons image reproduced from Flickr user jeepersmedia.
Disclosure: I am/we are long UL, HSY.
I wrote this article myself, and it expresses my own opinions. I am not receiving compensation for it (other than from Seeking Alpha). I have no business relationship with any company whose stock is mentioned in this article.