By Contributing Analyst Sean Reilly
Corporate Overview
Square's (NYSE:SQ) core business practices are currently centralized in the United States; the majority of the transaction processing company's annual revenue is generated domestically. However, it has successfully expanded to Canada and Japan and continues to grow on a global scale. Japan isn't an emerging market, but it served as a proving grounds for Square to learn and refine their international model, and create a plan of attack for the next frontier: BRIC. (Brazil, Russia, India, and China).
One core facet of the short's thesis against Square is that the company may face adversity in trying to achieve consistent long-term profitability. This is supported by the idea that Square isn't the only dog in the kennel- in fact, with a market cap of just over 3 billion, the big dogs like Visa or Apple's payment transaction services may pose a dangerous threat to Square (say the shorts).
However, the company is ambitious. They mention "global expansion" in their most recent 10-K, which spawned the idea for this piece: "As this international base of sellers grows, so too should our Gross Payment Volume (GPV) and revenue in these regions. We serve sellers of all sizes, ranging from a single vendor at a farmers' market to multinational businesses. Our product and services are built to scale, so sellers can stay with us over the life of their businesses". That sounds quite promising, but what merit does the statement hold if Square were to hypothetically enter a new (emerging) market, right this very minute?
A Note On "Good" Versus "Poor" Emerging Markets
After doing some research, I've concluded that India and Brazil are likely more advantageous prospects than China or Russia for a number of reasons. China, for one, has an established competitor called QFPay. Not only that, but Square's expansion in China is also limited by the cap on transaction fees, which is a maximum of 0.78% (for reference, Square charges 2.75% per transaction). As for Russia, their annual GDP growth has contracted for the last 5 consecutive quarters. Therefore, Square's potential lies in the remaining two emerging markets in BRIC: Brazil and India.
Recognizing potential obstacles and avoiding them effectively will be crucial for Square's success. I feel the company has started to understand this with their ventures abroad in Japan and Canada.
Square's Uniqueness In Emerging Markets
Below is a chart of India's consumer price index over the last 2 years. If nothing else, perhaps the graph might reveal the incredible promise that exists in India's economy and spending habits: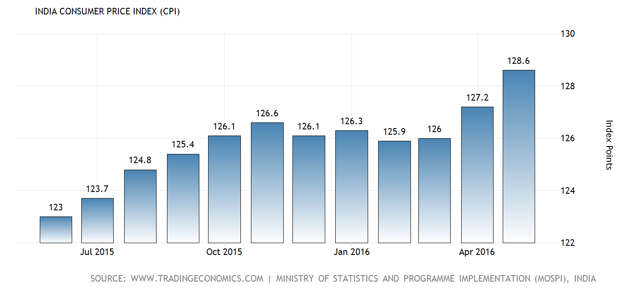 Clearly, there is a consistent increasing trend in the index within the last 2 years in India. However, this is only made significant when connected with the following research: "With total payments approaching $9 trillion, India's payments industry has revenues of nearly $14 billion. Payment flows are 7.8 times GDP ... Most of this derives from transaction banking, credit cards and cash and paper transactions (transaction banking includes cash management plus trade and supply-chain financing). The majority of payment flows occur to and within the business sector" (Kamal, Thomas). The connection here is, not only is the consumer price index trending up, but India as a country is using credit cards and business transactions more often, which is great news for Square. One other plus for Square's presence in India is the fact that it doesn't have much competition. You may be thinking of Ezetap or similar startups at this point- realistically, no amount of Silicon Valley executives or their investments can elevate any similar businesses to Square's level of presence within a reasonable period of time. It is for the above reasons that Square will be able to dominate India's transaction processing market: they are an established, secure, cold-blooded and clean cut company that is serious about helping people start their businesses efficiently, and for cheap.
Let's talk Brazil. Macroeconomically, their consumer confidence index looks extremely promising, with an increase of approximately 23.2% recently: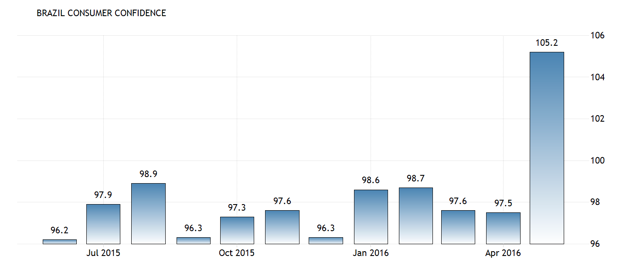 This doesn't necessarily mean that Brazil is using more credit cards or banking, however. Because Square's bread and butter are transactions through purchases on credit, in order for Brazil to be a suitable target for expansion, its credit card penetration and banking presence must be on the rise. Visa's research on emerging markets in Latin America put Brazil in a solid position in terms of the likelihood of a bright, credit-based economic future. According to the report, it is the "most trusting" in terms of credit out of all of the Latin American countries they reported on, at 60%.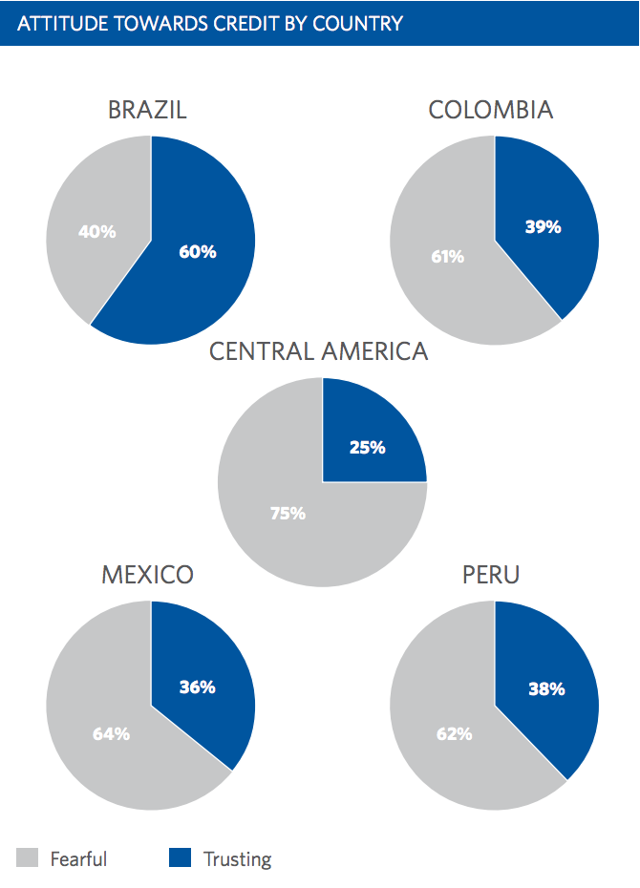 Not only that, but Brazil was found to have the highest percent of "financial consumers", which they defined as individuals most trusting and involved in banking and financial practices, at 61%. These promising numbers make Brazil attractive to Square, again also because of Square's current advantage as the single established transaction payment processor that can expand to these promising countries.
When expanding to the emerging markets like India and Brazil, Square will have the advantage over other transaction companies because of the sheer amount of services they offer, as well as the versatility in the types of plans they can sell as well. Data analytics, transaction processing, and even loans will be extremely attractive to aspiring entrepreneurs. Not only that, but the simplicity with which one can set up their business with Square, I believe, will prove to be a critical selling point for the company.
A Realistic Long Position In A Promising Company
Apart from their potential in emerging markets, Square's financials are reasonable, particularly for such a young company. They've got no debt. They've had a consistent and solid increase their annual GPV (gross payment volume), which I expect to keep rising as they continue to establish themselves more:

Reporting and speculation on Square's relationship with Starbucks has been beaten to death. It is true that it was not a positive financial influence on Square in the short-term. However, if not for the learning experience, simple association with Starbucks is worth something. Perhaps it is not tangible like the loss they took in the deal with the company, but their brand was certainly positively developed and grown in the eyes of the public. Given the amount of positive potential the company has, I believe the financials are at least passable for investors, given the potential for the business in various parts of the world.
Overall, Square's value proposition doesn't lie in the fact that it allows one to process transactions on-the-go. As I've mentioned, many startups domestically and abroad can do the same thing. I see Square's real value and potential in the ways that the company can help one start a business from the ground up, for virtually nothing compared to the alternatives. Will QFPay, or hell, even Apple Pay, help you get a small loan so you can act on your idea for a business almost instantaneously? Will any of Square's competitors allow you to understand your customer's behaviors in immediate and meaningful ways? Will they help you establish virtual rewards programs or automated feedback systems so you can effectively improve your business? The answer is: no. This is where I believe Square's value proposition lies.
Square's entire model is based on giving anyone with a passion for business the powerful tools they need to do so. This is the part of Square that truly shines, and sets it apart from its competitors.
A Word On Dorsey, And Therefore Risk
It is important as an investor to be realistic. Global expansion is harder and more expensive than it sounds- and it sounds expensive in the first place. That being said, I don't worship Jack Dorsey. In fact, I don't think it's effective for Dorsey to run Square and Twitter at the same time. However, his and McKelvey's idea catalyzed something bigger than themselves, and I see potential- as many others do. In order for Square to succeed it will need to be run by someone with a combination of vision, but also someone with realistic and achievable goals as well. I see this in Dorsey, however if new management were to come about, this would not necessarily be a bad thing.
Conclusion
We've already seen what Square can do domestically, and in established economies like Japan. In fact, I imagine that Square will be even more successful in emerging markets like India and Brazil; this makes complete sense, because the prevalence of smart phones and credit cards will help stimulate new ideas. When the next Steve Jobs of Brazil has his or her next brilliant idea, Square will be right there supporting that business every step of the way, and creating long-lasting relationships with people and companies of all sizes across the globe.
Disclosure: I/we have no positions in any stocks mentioned, but may initiate a long position in SQ over the next 72 hours. I wrote this article myself, and it expresses my own opinions. I am not receiving compensation for it (other than from Seeking Alpha). I have no business relationship with any company whose stock is mentioned in this article.