Wal-Mart (NYSE:WMT) is a dividend growth champion with 43 years of increases under the belt. However, some analysts can make a fairly convincing case against the company. I have to admit that I was a bit surprised how effectively the graphs could be used to make the case that Wal-Mart wouldn't be able to sustain their dividend and was simply priced too high.
A Few Different Graphs
There are a few graphs that I think investors should add to the collection of charts for Wal-Mart. Rather than simply charting the dividend growth over time, it would be wise to consider the financial structure of Wal-Mart. Wal-Mart is not only a very successful company trading at low multiples of earnings in a period of record low yields on bonds, they are also trading at remarkably low ratios of EV (enterprise value) to EBITDA (earnings before interest, taxes, depreciation, and amortization):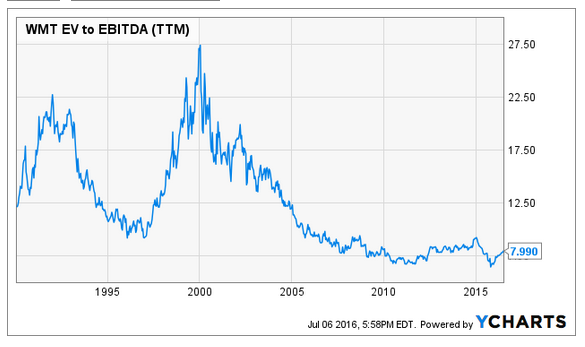 Wal-Mart's ratio of EV to EBITDA was regularly running above 12.5x prior to 2005. They would be reasonable to argue that Wal-Mart was overvalued at those points and that an EV/EBITDA ratio for the company exceeding 20 was just dangerous from the start.
At a ratio just under 8, it is much more difficult to make a strong argument against the valuation of Wal-Mart.
Dividend Growth
The real question for Wal-Mart is how effectively they can sustain and grow their dividend. My opinion is that Wal-Mart will be extremely successful in that regard. Remember that the company will need free cash flows to pay out the dividends. However, they only has to pay dividends on the shares that are outstanding. Therefore, a decrease in free cash flows across the company is far less relevant than the change in free cash flows per share.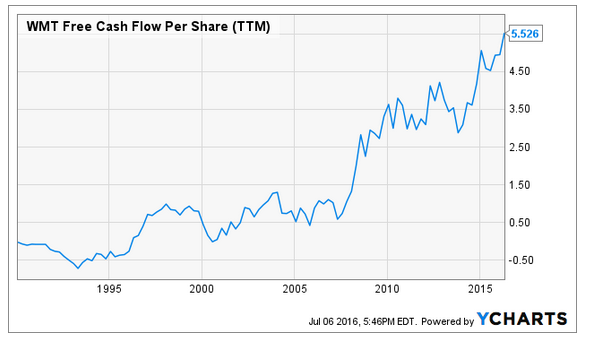 It appears to me that Wal-Mart's free cash flows per share are soaring. They could use those free cash flows to pay dividends or to repurchase shares, but I agree with management's decision to emphasize buying back shares before raising the dividend. Rapid dividend growth could shove share prices higher before the buyback program could get much work done. As a shareholder of Wal-Mart, I would be fine with seeing prices linger at lower levels for a couple of years. That would mean each dividend I received would buy a larger percentage of the company. It also means the share buybacks would grow the metrics faster.
Do you think those free cash flows are enough to sustain a dividend of $2.00 per year? I think Wal-Mart can handle that task.
Challenge for Margins
Wal-Mart is struggling a little with their margins, but it is important to put that in context. The company was developing Wal-Mart Pay (their payment system), a functional website for ordering their products (pretty good, though not perfect), raising wages to improve employee retention (payoff shows up in future periods), and competing with other retailers such as Target (NYSE:TGT) by increasing the volume of locations.
The challenge with that strategy is that intense competition with other retailers drives down prices. Share buybacks are an excellent use for free cash flows and provide an incentive to battle less aggressively against other companies. Remember that Target also initiated a huge buyback plan, so the theory that competition is intensifying seems unlikely to play out. It seems much more likely that Wal-Mart will see margins recover after a year or so of difficulties from higher wages and costs to build the online infrastructure.
Result of Margin Growth
My theory on Wal-Mart should play out over the next 5 years or so. I don't expect large dividend increases unless the share price is already higher. I believe management is looking at the long-term strategy here and seeing enormous value in buying back shares while they trade at lower multiples. When share prices are less attractive for buybacks, then I would expect Wal-Mart to start using more of their cash to grow dividends at a faster pace.
Consequently, I think Wal-Mart will continue to see substantial growth in their "per share" metrics, and I think dividend growth investors will be rewarded over the long term because the dividend is amply covered. If margins ran into bigger challenges over the next few years, Wal-Mart could still reduce the share buybacks to keep paying out the dividend. If the share price went absurdly low at the same time, Wal-Mart could use the record low interest rates currently available to take out a little debt and maintain the buybacks. That isn't the same as using the debt to fund the dividend. Margins would have to get annihilated for the dividend to cease being covered, so the hypothetical debt would simply be to fund share buybacks if prices fell.
Conclusion
The real question is: who would crush Wal-Mart's margins? Who can come into the grocery business and deliver food at a materially lower price point without killing their own company. Costco (NASDAQ:COST) is a strong competitor and has been for quite a while. It seems unlikely that the rivalry would suddenly intensify. Costco's margins are already razor thin. If anything, I expect Costco to boost prices slightly.
The beauty of the low cost leaders is that they determine the level of competition and they are choosing to repurchase shares.
Disclosure: I am/we are long WMT, TGT.
I wrote this article myself, and it expresses my own opinions. I am not receiving compensation for it (other than from Seeking Alpha). I have no business relationship with any company whose stock is mentioned in this article.
Additional disclosure: Information in this article represents the opinion of the analyst. All statements are represented as opinions, rather than facts, and should not be construed as advice to buy or sell a security. This article is prepared solely for publication on Seeking Alpha and any reproduction of it on other sites is unauthorized. Ratings of "outperform" and "underperform" reflect the analyst's estimation of a divergence between the market value for a security and the price that would be appropriate given the potential for risks and returns relative to other securities. The analyst does not know your particular objectives for returns or constraints upon investing. All investors are encouraged to do their own research before making any investment decision. Information is regularly obtained from Yahoo Finance, Google Finance, and SEC Database. If Yahoo, Google, or the SEC database contained faulty or old information it could be incorporated into my analysis.