To call Signet Jewelers' (NYSE:SIG) year rough seems to even be an understatement. The parent company behind Zales, Kay Jewelers, and Jared has had an eventful 2016. First a Buzzfeed story built up steam about gem swapping at Kay Jewelers. The allegations expanded to other consumers and gained substantial national coverage. Then, an influential newsletter from James Grant questioned the company's in-house credit operations as a risky way to drive sales.
Bloomberg, this year, skeptically noted the company's reliance on financing, with Signet fielding a fourth of its sales through delayed payments. Investors were, and remain, concerned that private store debts could be the first to go for consumers in an economic downturn, personally or economy-wide. The accounting methods for the credit operations were also a main concern of critics. Finally, Signet seemed to confirm these credit fears by bringing on Goldman Sachs as a strategic advisor on its credit operations. Despite the criticism, the delinquency rate for the company consistently falls comfortably within the band of private-label credit cards managed by banks. Signet sees it as a competitive advantage that it has the experience and historical data to keep this side of the business in-house.
Still, the stock price slid from $150 in October 2015 to about $95 in February 2016 and just over $81 here in early July. A fellow Seeking Alpha reader set up a Signet account on our real-time monitoring platform and chose Tiffany & Co. (NYSE:TIF), Coach (NYSE:COH), and Macy's, Inc. (NYSE:M) as peers, so we will use those to shows the drop in shareholder return since 2011. Choose your own and see what it looks like. Signet is a particularly difficult company for analytics comparison, as its jewelry peers are private, but it can be considered against other specialty retailers.
Exhibit 1: Total Shareholder Return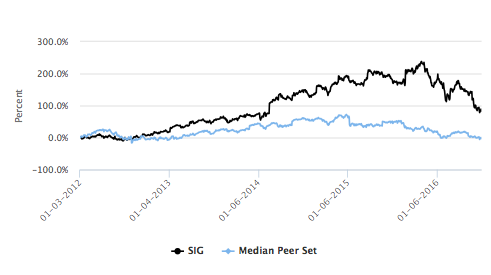 (Source: Enlight Research)
Note: Median Peer Set as described in the article.
Signet, while still outperforming the three, shows the damage of the last year with a total shareholder return at close on July 5th of just over 82% since 2011. Macy's was just under 13%, Tiffany was at negative 3%, and Coach was at negative 24%.
Of course, it is hardly a direct comparison for any of these peers. Though Tiffany is the closest, Signet focuses heavily on the middle of the jewelry market, rather than segmenting itself as a high-end retailer. In its 2016 Annual Report, the company estimated that this middle market accounted for half of the $75 billion fiscal year 2016 American jewelry market. Signet further estimated that its market share was about 20% of this segment, leaving substantial room for growth. In addition to growth along established lines, an off-mall Jared 4.0 concept is being tested for the viability of establishing a presence in smaller markets without malls.
Below is a breakdown of the Signet locations by brand from the company's 2016 Annual Report.
Exhibit 2: Signet Store Count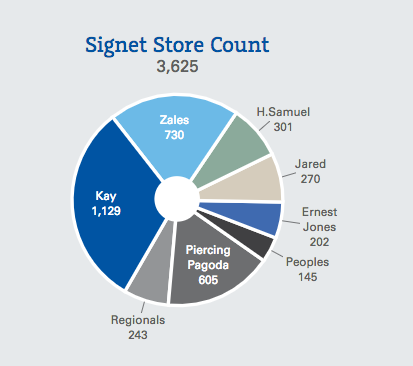 (Source: Signet 2016 Annual Report)
With the most locations, Kay accounted for 39% of sales in fiscal year 2016, while Zales and Jared both figured in at 19%. Jared is the more upscale of the bunch, targeting the "upper middle market". The two United Kingdom brands, Ernest Jones and H. Samuel, accounted for 6% of sales. In terms of overall market, Signet dominates private competitors in terms of size with 2,900 stores in the United States. In a March 2015 report, the second-ranked jewelry company by size in America was Fred Meyer Jewelers with 327 stores. Department stores like Macy's also compete in the space. The nearly 10-1 dominance over the next largest jewelry chain means that, for many Americans, competitively shopping around for jewelry could realistically take you to several stores all owned by Signet.
The company looks to be intently and rightly focused on appealing to millennials by millennials' rules. In the Annual Report, it touted a "best-in-class digital ecosystem" using an omni-channel approach to reinforce messaging. Signet recognizes that jewelry, an emotional purchase, is among the things that will be largely immune to Amazon (NASDAQ:AMZN) dominance. This barrier to Amazon is bolstered, as 50% of FY 2016 Signet sale were from the emotionally significant bridal category, including engagement, wedding and anniversary purchases. Even while providing an e-commerce option in a nod to less sentimental millennials, it is augmented with in-store pickup availability.
Millennials conduct research before purchases using the wide range of available research options online, from social media to a simple Google search. Signet is working to shape this narrative with a consumer education site, Jewelry Wise. The site is upfront with its company affiliation - the very first thing on the About page is a disclaimer that all of the content is sponsored by Signet, followed by a breakdown of the different brands and which collections can be found at which stores. The frankness in branding, I think, is appealing to its target audience, and there is plenty of objective material on the site to make it trusted source of information and catalyst to later Signet purchases.
Better times are blooming for shareholder return. Cowen Research found that the gem swapping stories did not keep Signet's three brands from being the top three in consumer perception. These same three brands had negative perception in line with peers, rather than exceeding them as might be expected with the media onslaught. It seems that consumers feel safe that the problem, if there was one, has been addressed. CEO Mark Light struck back hard on the allegations and noted that the company only received consumer complaints .2 percent of the time. Concerns about its financing operations seem overblown, especially as the company has fallen within the delinquency bands of bank-managed cards. Signet has also taken on millennials on their own terms, going across channels and helping the research process before a purchase decision.
As the dust settles on both the gem swapping controversy and credit concerns, we expect to see Signet rebound significantly, taking advantage of its dominant consumer perception and adaptation to shifting consumer sensibilities. Do you see Signet as a valuable buy at this price, or is there enough merit to the concerns to justify the drop?
Disclosure: I/we have no positions in any stocks mentioned, and no plans to initiate any positions within the next 72 hours.
I wrote this article myself, and it expresses my own opinions. I am not receiving compensation for it (other than from Seeking Alpha). I have no business relationship with any company whose stock is mentioned in this article.