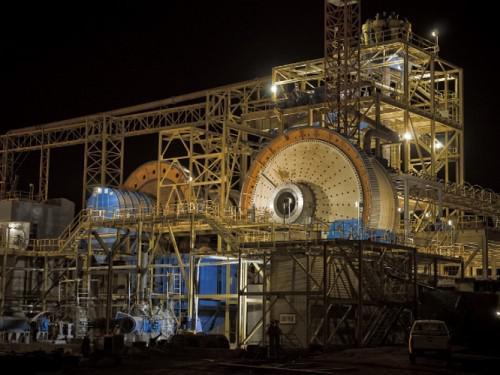 Image: Burkina Faso - Essakane gold mine.
IAMGOLD (NYSE: IAG)
IAMGOLD is a mid-tier gold producer based in Canada with five operating gold mines spread on three different continents. The company also has four development projects (Westwood in Quebec, a Cote Gold project in Ontario, Rare earth elements in Quebec, and Camp Caiman in French Guiana).
This article is an update of the preceding article published on May 5, 2016, about the 1Q'16 results.
On July 5, 2016, Iamgold announced the following:
Additional drilling results from its 100% owned Boto Gold Project in eastern Senegal, West Africa. The Company is reporting assay results from four deep diamond drill holes at the Malikoundi deposit totaling 2,341 metres completed to date during the 2016 drilling program.

...To date, the Company has completed 4,148 metres of diamond drilling, including 2,341 metres to test for extensions of mineralization at depth below the current resource model as well as the re-entry and deepening of selected drill holes which previously stopped in footwall mineralization. A further 765 metres have been completed for geotechnical purposes to help define potential pit wall slopes.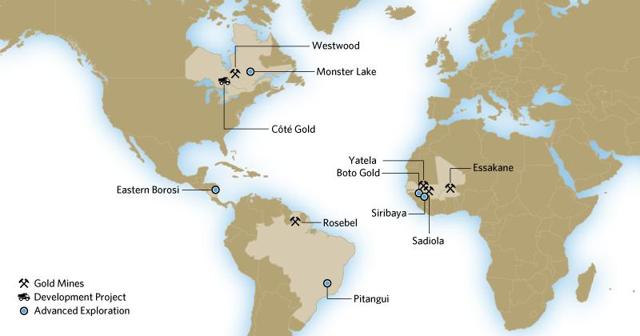 From IAG Website.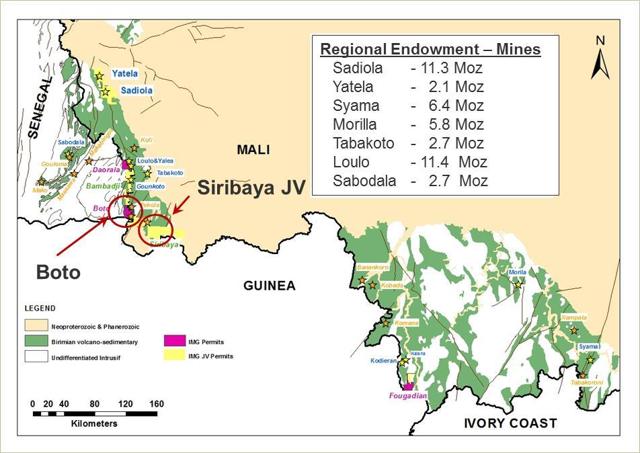 Boto Gold Project, Senegal
Greenfield Exploration
Final 2015 assay results included:Our wholly-owned Boto Gold Project comprises 236 square kilometres, and has an indicated resource of 1.6 million ounces, with an average grade of 1.8 grams of gold per tonne, and a further 125,000 ounces in inferred resources grading 1.3 grams of gold per tonne (resources as at December 31, 2015). In 2015, we completed approximately 14,400 metres of diamond drilling as part of a 50 x 50 metre infill program, principally on the Malikoundi deposit. Final assay results from the 2015 drilling program continued to confirm continuity of mineralization with frequent high grades over wide areas.
The deposit is open at depth.
36 m at 3.59 g/t Au, including 7 m at 9.46 g/t Au
25 m at 4.26 g/t Au, including 8 m at 8.80 g/t Au
On July 2016,
Malikoundi Deposit:
| | | | | |
| --- | --- | --- | --- | --- |
| | | • Drill hole DBDD-2294: | | 84 metres grading 4.12 g/t gold |
| | | | | Includes: 22 metres grading 11.25 g/t gold |
| | | and | | 69 metres grading 1.56 g/t gold |
These results are quite encouraging. The question is when CapEx will be allocated and when the mine will be completed?
IAG - Gold production per mine:
Mines

Production

K Oz 1Q'16

Production

K Oz 4Q'15

Production

K Oz 3Q'15

Production

K Oz 2Q'15

Production

K Oz 1Q'15

Rosebel (95%)
68
70
70
71
76
Essakane (90%)
88
98
107
89
89
Westwood (100%)
15
13
2
23
22
Sadiola (JV 41%)
19
16
17
17
19
Yatela (JV 40%)
1
2
1
2
2
Total
191
199
197
202
208
The company confirmed the 2016 guidance on May 4, 2016.
| | |
| --- | --- |
| Guidance 2016 - IAG | |
| Attributable Gold Production | 770k-800koz |
| Total Cash Costs | $775-$815 |
| All-in Sustaining Costs | $1,000/$1,100 |
| Capital Expenditures | $250 million ±10% |
| Exploration | $47 million |
| Depreciation | $260 and $270 million |
| Cash Taxes | $15.0 million to $20.0 million |
Conclusion:
This update is not really a game changer, but it is important to see that IAG has some prospects down the road, especially in Africa.
The real news has been the gold price momentum after the news of the Brexit vote in the UK.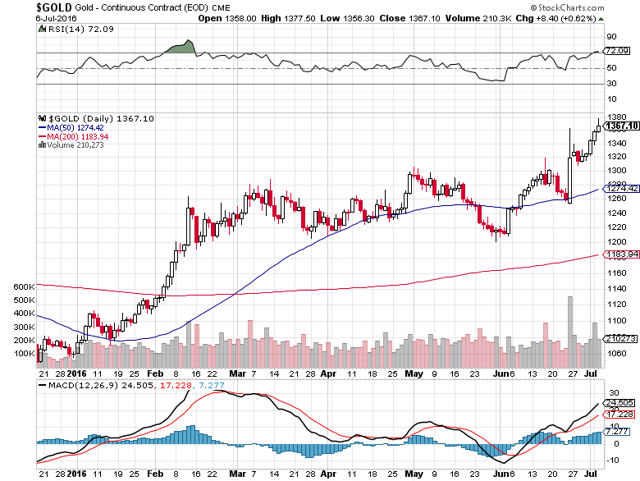 Gold is now trading at $1,367/ Oz which is a big jump since the beginning of 2016. IAG rallied significantly as well and closed at $4.73.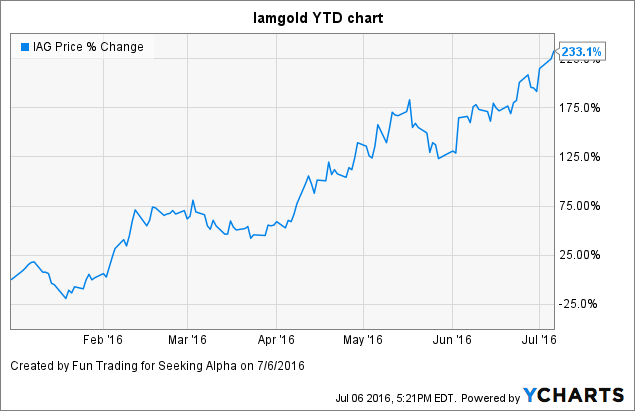 Conclusion:
IAG is rallying in correlation with the gold price, and any potential negative coming from the fundamental are now completely disregarded, until the positive momentum that the gold sector is enjoying, right now, starts to peter out.
I must admit, I was not expecting a Brexit vote, and did not believe in this renewed bullishness due to financial uncertainty in Europe, which is fuelling the gold rally.
I was wrong as many other people on this issue.
Technically, IAG is now entering an overbought situation (RSI>71) and it is often considered as a "partial sell" signal, however, gold may have entered a new positive long trend and IAG may continue to rally?
The question of a paramount importance, is about the gold price going forward, mainly. If gold continues its recovery in $1,400/$1,500+ by the end of 2016, then, IAG will trade above $8, in my opinion. However, any weakness in the gold price, and IAG can re-test the range $2.50-$3?
The risk versus reward for the gold miners is pushing me to recommend a hold with some light buying depending on gold. I do not see and strong potential of a reversal yet and gold will enjoy some solid support for a while
Disclosure: I/we have no positions in any stocks mentioned, and no plans to initiate any positions within the next 72 hours.
I wrote this article myself, and it expresses my own opinions. I am not receiving compensation for it (other than from Seeking Alpha). I have no business relationship with any company whose stock is mentioned in this article.