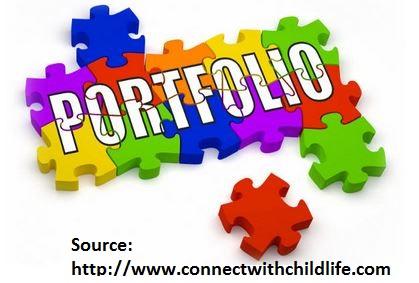 This is the 12th article in a series where the goal is to research and find CEFs and ETFs to provide a 7% cash return portfolio while maintaining or growing capital. The hope is to create a low maintenance portfolio that provides cash for living expenses, one well-suited to a retiree who does not want to constantly follow the market. This article sifts through telecommunications CEFs and ETFs to see if any might fit into this portfolio. Past articles pursuing this goal researching CEFs and ETFs in other sectors of the economy can be found here.
Funds are backtested 5 years to ascertain they are producing 7% yields through dividends or capital growth through time. There is no guarantee that the funds selected will continue to perform as they have in the prior 5 years, but a profitable past performance is likely the best assurance of attaining future gains when shopping for funds.
Researching CEF and ETF websites for funds that concentrate on communications companies, the fund screener at CEF Connect did not offer any funds that cover telecommunications companies. The screener at the ETFdb website offered the resulting table displayed below.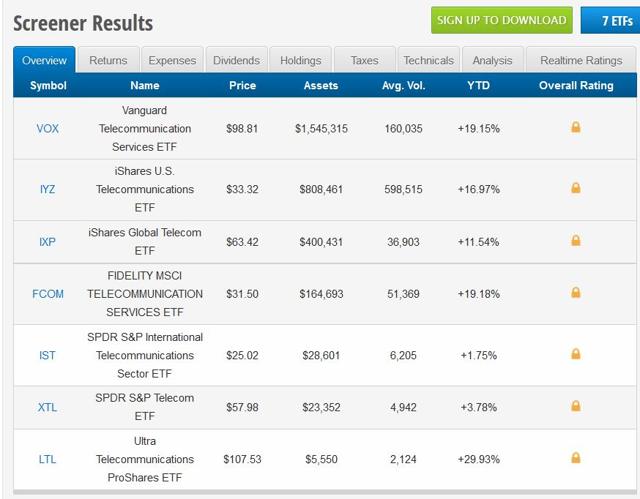 Source: ETFdb website
In order to find the funds with the lowest expense ratios and inception dates, the following table was run.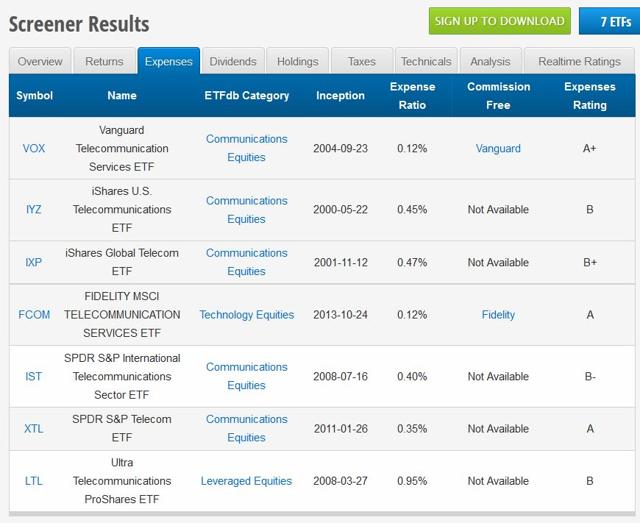 Source: ETFdb website
The funds chosen to backtest over the past 5 years are Vanguard Telecom Services ETF (NYSEARCA:VOX-OLD), SPDR S&P Telecom ETF (NYSEARCA:XTL), iShares Global Telecom (NYSEARCA:IXP), SPDR S&P International Telecommunications Sector ETF (NYSEARCA:IST) and iShares U.S.Telecommunications (BATS:IYZ). These five were chosen because they had a 5-year history and the lowest expense ratios. FCOM was excluded even though it has a very low expense ratio because of its short history.
These funds were placed in TD Ameritrade's (NASDAQ:AMTD) compare funds table which is presented below.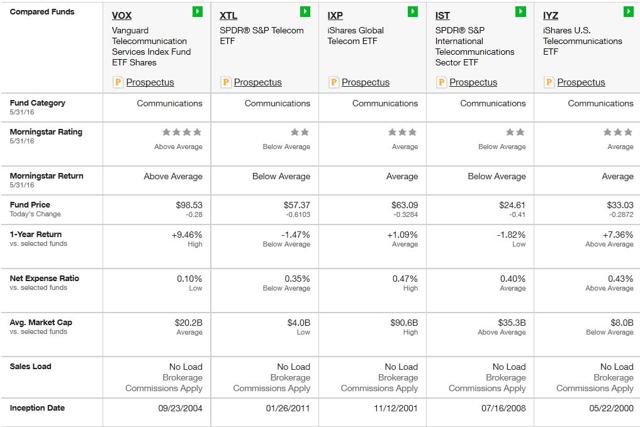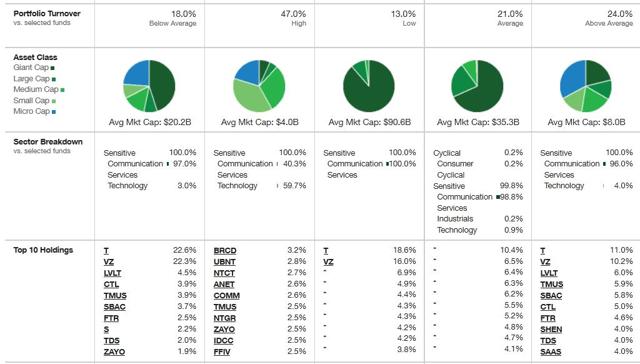 Source: TD Ameritrade website
Since only two of the top 10 holdings for IXP are shown in the table above the list for IXP is displayed below.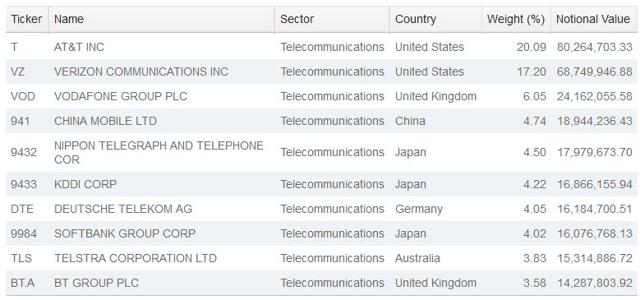 Source: iShares website
The top holdings for IST are shown below since they were also missing from the table.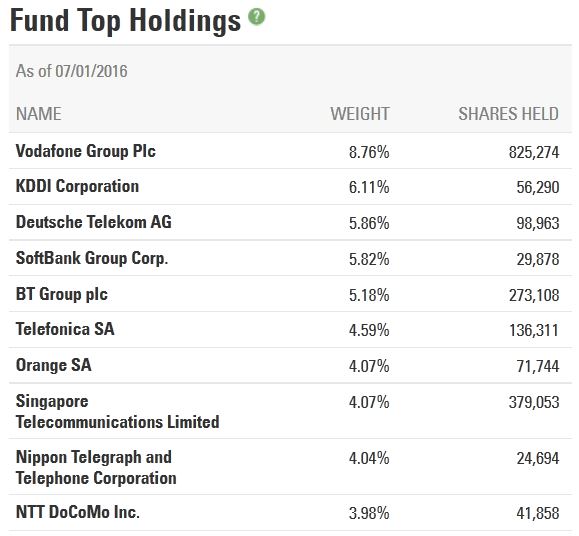 Source: State Street Advisors website
The 5-year history mapping out the market price and dividends of each of the five funds are shown below starting with VOX.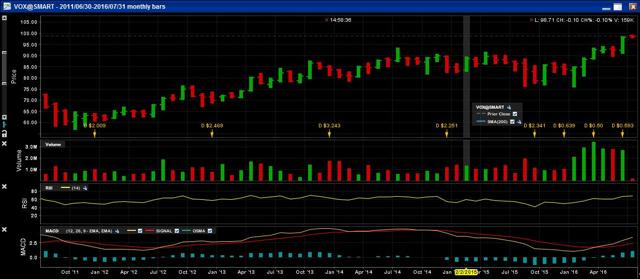 Source: Interactive Brokers website
VOX's market price starts the 5-year period at about $70.00 per share and currently sells for around $98.00, an increase of 40% over the 5-year period. It paid $2.47 in 2012 for a yield of about 3.5% and paid $1.73 in the last 3 quarters. This is the first year for VOX to pay its dividends quarterly since previously it made only 1 payment near the end of the year. Assuming the last quarter payment will be about the same as the last 3 quarters, the annual dividend runs about $2.33 per share which puts the current yield at 2.4%. While the market price of the fund has grown, the dividend has remained stagnant. The only way to get 7% cash from the fund would be to sell some shares on a regular basis. While the capital gains in the fund would allow one to make up the 5% difference, the costs and time involved in selling stock are not ideal. This fund is better left to those who are investing for the future and not for current living expenses.
The next telecommunications fund to examine is XTL and the graph is shown below.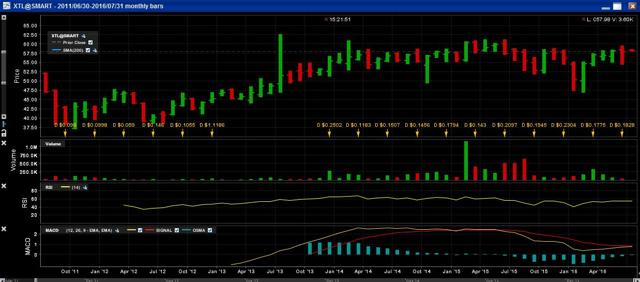 Source: Interactive Brokers website
XTL starts the period at about $50.00 per share and drops down to $40.00 per share within 3 months. Since that time the fund's market price has grown and currently sells for about $60.00 per share, an increase of 20%. Dividend payments have been sparse, $0.40 for the 1st 4 quarters shown here and $0.79 for the latest 4 quarters indicating yields around 1%. XTL does not make the cut for the 7% portfolio and retirees are best served by avoiding this telecommunications ETF.
Forging on down the list IXP's graph is displayed below.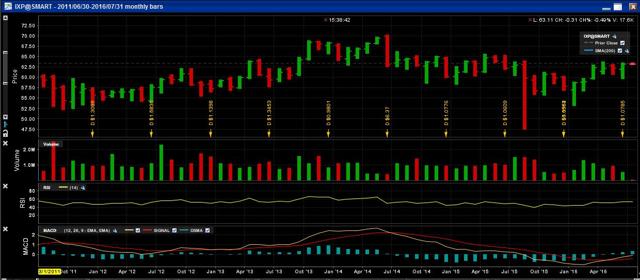 Source: Interactive Brokers website
IXP starts the period selling for about $59.00 per share and currently sells for $63.00 per share, a net gain of $4.00 per share over 5 years. Distributions from this ETF have ranged all over the map. The 1st two semi-annual payments added up to $2.89 per share whereas the latest two semi-annual payments only came to $1.13 per share. There is one huge anomaly in the distributions; a one-time payment of $6.37 was made on June 24, 2014, so that payments totaled $7.45 for 2014. Total cash payments for the 5-year period came to $17.14 and when divided by 5 years came to a $3.43 average annually or a 6% yield. As an investor and researcher I am not sure what to make of these huge differences in cash disbursements. My initial response is to forget this fund and concentrate on other funds where there are more regularity and visibility of dividends and capital gains. A retiree can't wait 2 or 3 years for dividends to be disbursed, but rather needs them on a regular basis.
The next fund to examine is IST and the resulting graph is shown below.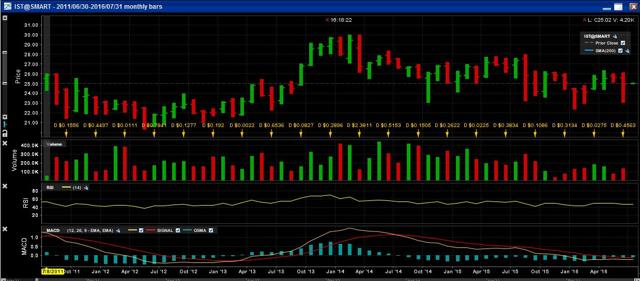 Source: Interactive Brokers website
The market price of IST started out at $25.00 per share and currently sells for the same price. As for dividends which are paid quarterly, the 1st four quarters added up to $1.37 for a yield of 5% and the last four quarters totaled $0.91 for a yield of 4%. Market prices and distributions of this fund are headed in the wrong direction and the retiree would do well to avoid this ETF.
The final ETF to examine is IYZ and the 5-year graph is displayed below.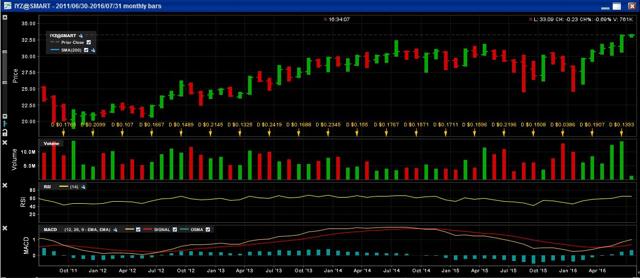 Source: Interactive Brokers website
IYZ starts the period at about $24.00 per share and currently sells for $33.00 per share, a capital gain of 37.5% for the 5-year period. While the market price of the fund has been growing, the dividend has been decreasing; the 1st four quarters added up to $0.66 per share for a yield of 2.75% while the last four quarters added up to $0.52 for a yield of 1.6%. Once again the investor would need to sell shares in order to glean 7% cash from an investment in this fund. While this fund has done reasonably well over the past 5 years, longer term the experience of this fund has been less than glamorous. The chart below shows that from 2000 to now the fund has lost money.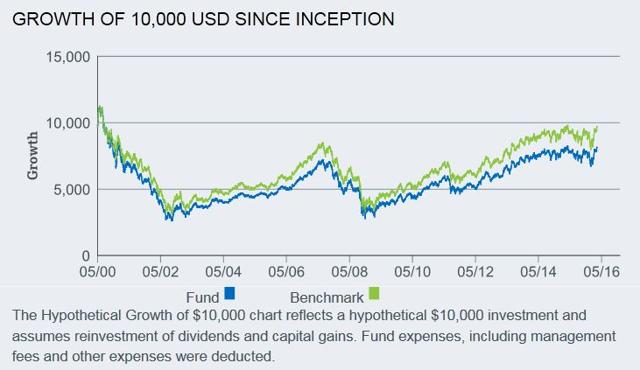 Source: iShares website
Therefore it would be wise to avoid this ETF if one is interested in maintaining capital in one's 7% portfolio.
Conclusion: I was surprised at the lack of returns in the telecommunications business. The smart phone is the one item that Americans, both young and old, carry with them everywhere they go and put them to constant use. Each member of the family has his or her own personal phone and the family may even have another household phone as well. The competition in the business must be so acute that profit margins are cut to the bone.
Retirees would do well to avoid these ETFs since the returns are small to non-existent. The only consistent fund has been VOX. One can manage to eke out 7% if one is willing to sell shares while using a discount broker. On the other hand, VOX could work out very well for the non-retiree who is looking to build a growing portfolio over time because of its consistent growth.
Disclosure: I/we have no positions in any stocks mentioned, and no plans to initiate any positions within the next 72 hours.
I wrote this article myself, and it expresses my own opinions. I am not receiving compensation for it (other than from Seeking Alpha). I have no business relationship with any company whose stock is mentioned in this article.