I initiate coverage on China Online Education Group (NYSE:COE), widely known in China as 51Talk, with a Buy rating and a $23.5 target, implying 17.5% upside.
COE is China's leading online English learning platform that focuses on one-on-one conversational English, a service that is in high demand from China's millennial workforce as they look to improve their language proficiency and start a career in multinational companies. COE generated Rmb353m in gross billings with 69k students. There are over 6,000 foreign teachers on the platform and charges Rmb30/25-minute session for one-on-one conversation.
There are several factors that I think can propel COE higher:
First, English is in high demand in China due to the young and globally-focused work force. This trend is driving China's overall English language and private education market, and will act as a positive tailwind for COE.
Second, COE's competitive advantage lies in its scale, quality and affordability, making it accessible to a wide range of audience in various income groups. The convenience of online platform is another key selling point that differentiates COE from its peers.
Third, K-12 groups will present COE with the most attractive growth potential due to the growing demand for conversational English and the relaxation of the one-child policy, which will act as a medium-term tailwind for COE's services.
COE is currently trading at 21x 2018E consensus earnings, a premium to both TAL Education (NYSE:XRS) and New Oriental (NYSE:EDU), which I think is justified given its higher growth and online model. However, I do not believe that Chinese peers are accurate comparables to COE because none of them operate a significant online platform that has global presence, so international peers such as Bright Horizons (NYSE:BFAM) and Nord Anglia (NYSE:NORD) are more suitable comps. International peers are trading at 20-27x 2018E earnings, so the midpoint is roughly 23.5x earnings. Also, keep in mind that internet companies that generate consistent cash flow should also be factored into the comp.
I took a weighted average of COE's Chinese, International, and Internet peers using a 10%/10%/80% respective split. The 80% weight on the Internet peers is for the obvious reason that COE is an Internet education company. My comparable valuation analysis suggests a 17.5% upside from the current valuation based on 2018 estimate.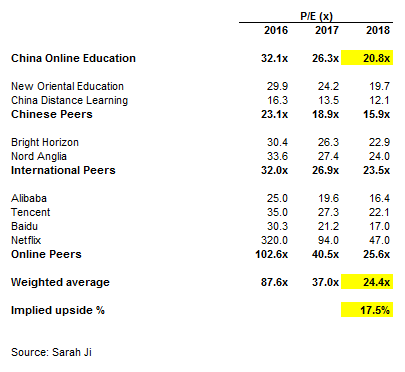 Well positioned in a growing market
According to the Frost & Sullivan report, China's private education market reached US$163b in 2015, and is expected to grow at a 15.4% CAGR to US$333.7 billion by 2020. Within the private education market, online education is growing at a faster rate due to digitalization and growing broadband penetration. Benefits of online education include convenient access to a large pool of teachers, rich course materials, and pre-lesson and post-lesson support at times, and accessibility.
Online education companies are less capex intensive, as no investment is required on expensive rent, lease, and overhead, and this allows online educators to concentrate their resources on improving teacher quality, curriculum development, and upgrading their technology platforms as well as on realizing greater economies of scale compared to offline companies.
In 2015, China's online education market reached US$20.3b and is expected to grow to US$101.1b by 2020, representing a 38% CAGR. Part of the growth will be driven by mobile streaming - with the development of mobile internet infrastructure and technology. This allows online education companies to develop sophisticated mobile platforms that better engage students and offer a comprehensive learning experience to the students through integrated functions including lesson booking, pre-lesson study and live lessons.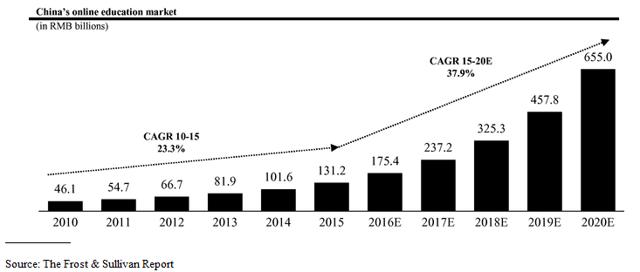 Frost & Sullivan estimates that mobile Internet users as a percentage of all Internet users in China is expected to increase from 90.1% in 2015 to 99.5% in 2020. As the adoption of smart devices in China continues to grow, mobile education platforms have become an increasingly important part of the learning experience for Chinese students.
COE specializes in online English and this segment of the market is also growing at a robust pace. Times have changed in China in that more people are using English in their daily lives and there is a significant demand among the Chinese population for improving their English proficiency, so they can secure a better job, travel abroad or understand foreign media.
China's English education market is roughly $23.7b in 2015, and is expected to hit $68.8b by 2020, a 23.8% CAGR.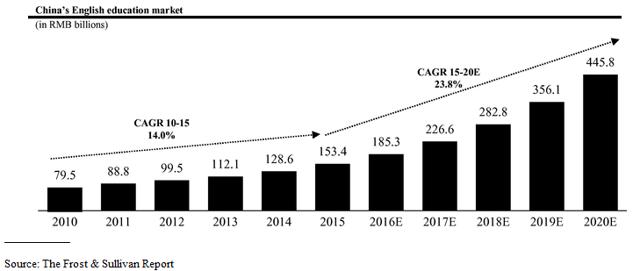 Within this segment, the online English education market was valued at $2.8b in 2015 and is expected to grow at 55% CAGR to reach $24.8b by 2020.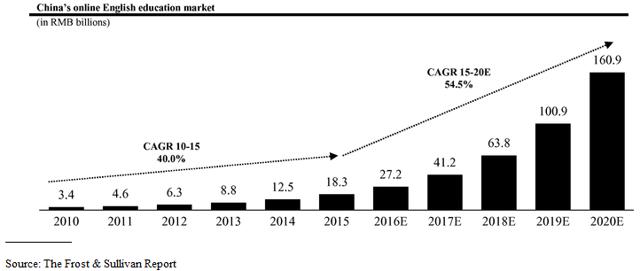 I think COE is well positioned for this industry growth because its business model possesses several competitive advantages over the brick and mortar schools.
First, the online model has greater scalability that requires a minimum capex to expand its business. Thanks to the advancement of cloud computing, online platforms can rely on Alibaba's (NYSE:BABA) cloud service or Baidu Cloud (NASDAQ:BIDU) to conduct their business in a reliable and efficient fashion. Second, China's growing Internet penetration allows COE to reach a broader audience than traditional offline schools. From a marketing perspective, it is also easy to reach, educate and convert students through social media and search portals. Finally, COE can pass the savings to the students and also invest the savings into technology, teachers, data analytics and branding.
Offering value at a reasonable price
COE's entry package is around Rmb5-6k, and this is much lower than the Rmb30-35k package offered by its offline peers. The key behind the attractive pricing is the savings from the online-only model as I have mentioned earlier. This is a key competitive advantage for COE.
All payments are made upfront, which is important from a cash cycle perspective. Customers can either pay using prepaid credit packages or prepaid membership packages. For students outside of the K-12 program, the payment methods are evenly split, but in the K-12 students section, about two-thirds prefer prepaid credit packages.
In terms of per unit pricing, each session is 25 minutes long and cost around Rmb30 per session, or Rmb70/hour, which is a lot cheaper than other one-on-one lessons that are priced at Rmb150-Rmb300/hour. This allows students to take more lessons per week, usually 2.5 vs. 1.5 for the peers. This is important in that the students are getting greater value for the money due to lower cost and longer lessons than conventional programs.
K-12 is a key growth segment
Per Frost & Sullivan estimate, the K-12 segment of the online English education market in China is expected to grow from $1.1b in 2015 to $12.9b by 2020. At the end of the last year, the population of K-12 students, college students and working adults in China reached 180.2m, 26.3m and 774.5m, respectively, and the frequency of overseas travelling of residents in China reached 133.6m.
These groups set a favourable foundation for English education demand. However, China's exam-driven and compulsory education system is unable to meet these demands and enhance the students' learning, so parents are turning to cost-effective online solutions, which is a positive for COE. Parents value quality of teachers, lesson format, and brand reputation as the top considerations when selecting English education providers, and COE is well known across China with solid reputation as an effective online-only platform.
I see COE to be well positioned for this segment for several reasons. The company is by far the most aggressive in this segment when it comes to product launches. Last year, it launched Classic English Junior course for the K-12 segment, and the following year, it launched 51Talk New Concept course designed to help students with test preparation. Both courses saw rising enrolment, and the addition of the teacher rating system added credibility to the platform, which in turn attracts even more students. I note that K-12 group now accounts for 40% of total paying student compared with 20% two years ago. Gross billing is also growing from Rmb8.6m in 2013 to an annualized Rmb286m this year. I am confident that brand, value convenience, and strong industry demand will drive this segment higher for COE.
Risks to consider
Demand risk. Weaker-than-expected student enrolment and growth due to changing demand could hurt COE's gross billing. Competition, specifically online media platforms such as Alibaba, Baidu and Tencent (OTCPK:TCEHY) can easily scale in this area, posing the biggest risk to COE.
Execution risk. A big part of my thesis is on the growth in the K-12 segment and there is execution risk associated with new growth strategies. Failure to attract qualified teachers will lead to poor user experience and cause students to go to rival platforms.
Technology risk. Because COE depends on one-on-one streaming, reliable technology is critical. Any interruption in broadcasting and content delivery will be a negative to student enrolment and billing.
Disclosure: I/we have no positions in any stocks mentioned, and no plans to initiate any positions within the next 72 hours.
I wrote this article myself, and it expresses my own opinions. I am not receiving compensation for it (other than from Seeking Alpha). I have no business relationship with any company whose stock is mentioned in this article.