Investment Leverage to the Resumption of the Secular Gold Mining Bull Market: NovaGold, Seabridge Gold, Sandspring Resources.
Gold mining shares have risen from the ashes of a 5-year cyclical bear market and all technical indicators suggests a resumption of the secular gold bull market as a nascent cyclical bull market has begun to assert itself. For gold bulls, a segment of the mining industry offers tremendous upside potential in the event of further gold price appreciation. These are top notch gold explorers with the most leverage to a rising gold price.
Exploration and development stage gold miners whose projects may not have had compelling economics below $1100/ounce are suddenly much more attractive with gold nearing $1400/ounce. Some gold explorers benefit from tremendous operating leverage as each incremental dollar the gold price increases above a certain level flows through to the bottom line, while others need a higher gold price to press forward with a construction decision.
Operating leverage in the mining industry can essentially be understood as follows:
For companies with slightly higher marginal costs a certain degree of increase in the underlying commodity can have an amplified effect upon net income. For example, a company producing 200,000 ounces of gold per year at a marginal operating cost of $900/ounce generates operating profits of $50 million per year at an $1150/ounce gold price. If fixed overhead (SG&A) costs are $30 million annually this company generates $20 million in pre-tax net income.
However, the economics look significantly different at $1400 gold. Suddenly this same miner is generating $100 million in operating profit (double the operating profit at $1150/oz AU) and pre-tax net income jumps 250% to $70 million!
To extrapolate even further, at US$2000/oz AU this miner generates operating profits of $220 million per year and $190 million in pre-tax net income! That's a 340% increase in operating profits and an 850% increase in pre-tax net income!!
This is the power of operating leverage. Smaller differences in sales volume and selling prices result in much larger differences in profits, valuation multiples, earnings yields, etc. Moreover, operating leverage usually translates into investment leverage as increased profitability (and profit/valuation metrics) results in greater investment demand and higher share prices.
Six months deep into the resumption of the secular gold bull market it's time to refocus on companies that have projects that wouldn't be getting off the ground at $1100/oz AU, but actually have attractive economics north of $1300/oz AU. We use a combination of technical and fundamental factors in order to narrow down a list of top tier gold explorers to capitalize on the next leg of the secular gold bull market. In JuneI highlighted ten gold takeout candidates which included a combination of mid-tier producers and high quality junior explorers. A couple of the explorers mentioned (Newcastle Gold and Sandspring Resources) fall into the category of having projects with exceptional operating leverage to a rising gold price environment.
NovaGold (NYSEMKT:NG) and Seabridge Gold (NYSEMKT:SA) are two other mid-tier explorers which offer substantial leverage to the gold price but in a different form. Both NG's (Donlin Creek) and SA's (NYSE:KSM) are huge projects with hefty constructions bills both north of US$5 billion at last check. A higher gold price (possibly north of $1500/oz) could lead to construction of both of these projects. However, if gold meanders in the US$1200-US$1400 range it is unclear when these projects will get built, if ever.
Moreover, Seabridge currently sports a nearly US$1 billion market cap while NovaGold is well above US$2 billion. These valuations already factor in much of the good news for both of these companies and even likely price in a reasonable probability of permitting and mine construction. This leaves less bang for the incremental investor dollar on the table.
To profit from the next phase of this gold bull market investors will need to dig deeper and find some sub-$100 million market cap explorers which investors have yet to fully appreciate. With a gold price near US$1400/oz, Sandspring Resources (NYSE:SSP) is one such opportunity. SSP is in a position to move its flagship Toroparu Project in Guyana forward to mine construction and production without a multi-billion dollar capital outlay (pre-production capex at Toroparu estimated at US$329 million) . In addition, SSP shares offer substantial leverage to a rising gold price - the difference in economics at Toroparu between $1200/oz AU and $1400/oz AU is striking: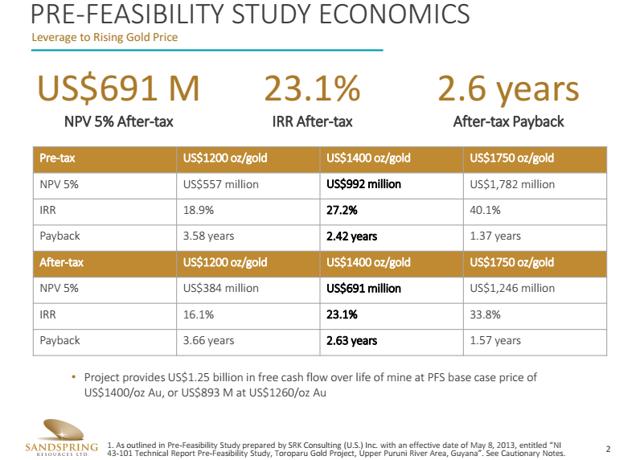 Pre-tax NPV at a 5% discount rate almost doubles to nearly US$1 billion at US$1400/oz AU. This is an example of leverage; a ~17% increase in the gold price results in a nearly 100% increase in the pre-tax project NPV.
Sandspring's Toroparu Project is the fourth-largest gold deposit in South America held by a junior instead of a major. With 4.1 million ounces of 2P reserves (127 million tonnes at 1.0 gram/tonne cutoff) generating 228,000 ounces of annual production with an initial 16 year mine life Toroparu offers attractive economics and a relatively quick payback of the US$464 in pre-production capex (2.6 years).
The economics and validity of Toroparu are further bolstered by an agreement with Silver Wheaton in which Silver Wheaton has agreed to contribute US$153.5 million for project construction in return for 10% of life-of-mine gold production and 50% of life-of-mine silver production, effectively reducing project capex by close to 30%.
From a technical perspective SSP couldn't be trading much better. Since breaking out in February from a 12+ month broad based bottom shares of SSP have stair-stepped higher in textbook manner:
SSP.V (Daily)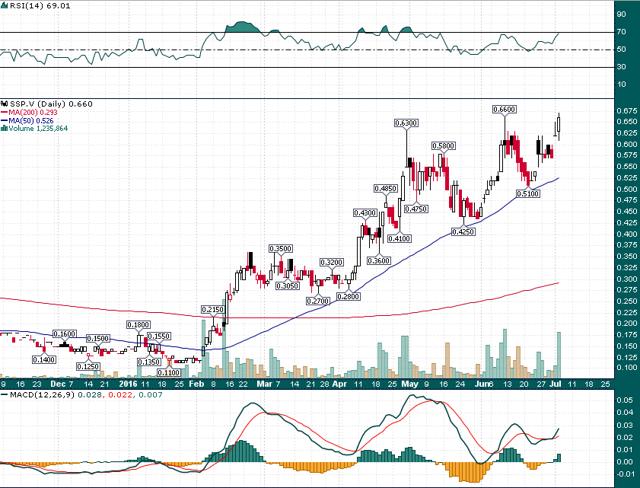 SSP has followed a pattern of advancing on heavy volume and pulling back on light volume while finding support near its rising 50-day moving average on three different occasions during the advance of the last five months.
Toroparu is located in Guyana which is a British Commonwealth country and the only English speaking country in South America. It also boasts impressive geology with numerous gold anomalies surrounding Toroparu at the edge of the Puruni Shear Corridor, a regional feature that can be traced more than 100km into the Venezuelan Gold District.
Sandspring is looking to follow the lead in Guyana of neighboring gold miner Guyana Goldfields (GUY.TO). GUY is located just 50km away from Sandspring's Toroparu Project and they advanced their Aurora Project to production last August. GUY already sports an impressive valuation (enterprise value of ~$200/ounce in gold resources). As Sandspring advances its project toward and eventually into production, SSP shares should revalue upwards in much the same way that Guyana Goldfields shares did as GUY advanced its Aurora Gold Mine into production.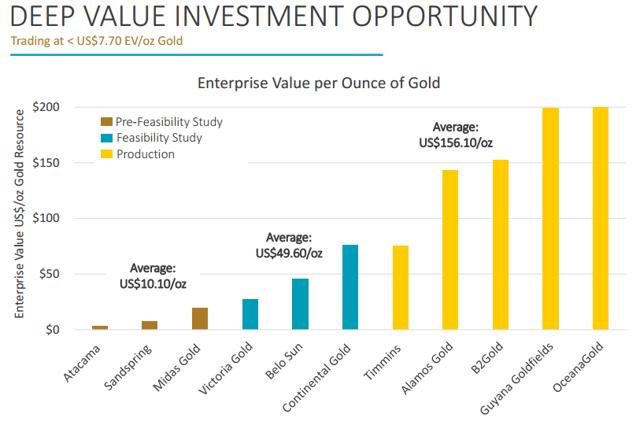 As investors scour the gold mining landscape for the few remaining pieces of low hanging fruit, Sandspring Resources is a gold explorer that could bear some sweet fruit for investors. SSP offers substantial potential for upward revaluation both due to its attractive leverage to a rising gold price and its clear path toward de-risking its flagship Toroparu Project in what is possibly South America's best mining jurisdiction, Guyana.
Disclosure: I/we have no positions in any stocks mentioned, and no plans to initiate any positions within the next 72 hours.
I wrote this article myself, and it expresses my own opinions. I am not receiving compensation for it (other than from Seeking Alpha). I have no business relationship with any company whose stock is mentioned in this article.