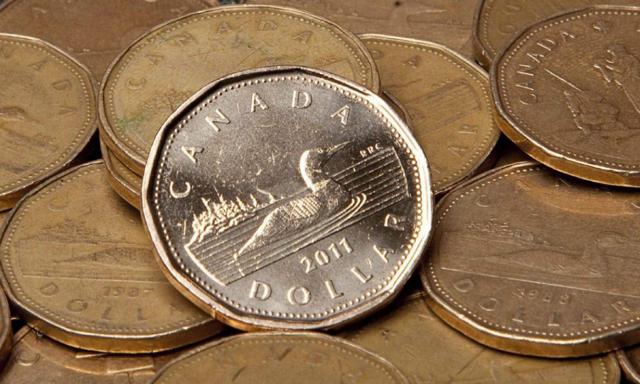 Most figures are in $CAD, unless noted.
Done - TransCanada buys Columbia Pipeline (NYSE:TRP) (CPGX)
TransCanada announced it completed its $13b US acquisition of Columbia on July 1 st. Columbia had traded at a miniscule discount to its takeout price (and even at a premium) of $25.50 up until its close. There was, however, a way to make money on the deal. TransCanada financed the deal with subscription receipts which were issued at a steep discount to TransCanada's share price. Subscribing to the issue offered a big return and going long the receipts and short stock offered a decent return. I subscribed to the issue and shorted TRP shortly after. This was a great return, however holding the receipts long would have been better. Sadly as the receipts have now converted to stock - I can't provide a chart of the spread.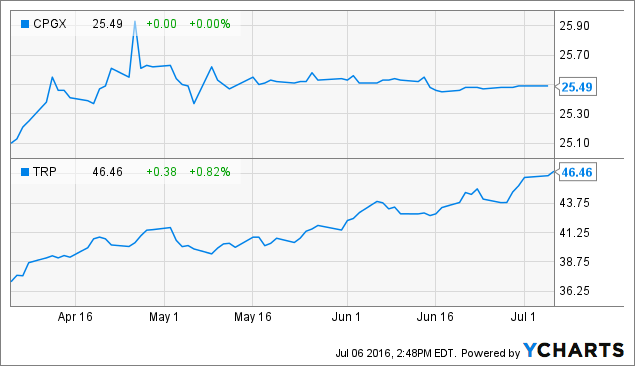 Closing - Long Run Exploration (OTCPK:WFREF)
Long Run announced on Thursday that they had closed their deal to be acquired by Sinoenergy. After Long Run announced the deal (which basically rescued them from bankruptcy), their shares traded at a large discount to the offer price, likely on account of the private Chinese buyers. The deal was delayed due to regulatory clearance from the Investment Canada Act. The debentures offered outsized returns as they traded below $35 (post deal announcement) when I wrote about the opportunity here ( A Deal Mispricing In The Capital Structure). They will be redeemed for $75, plus about $6 in interest. This was a big win for the portfolio. This was a particularly unique situation as long exposure to the debentures could have been hedged with short stock.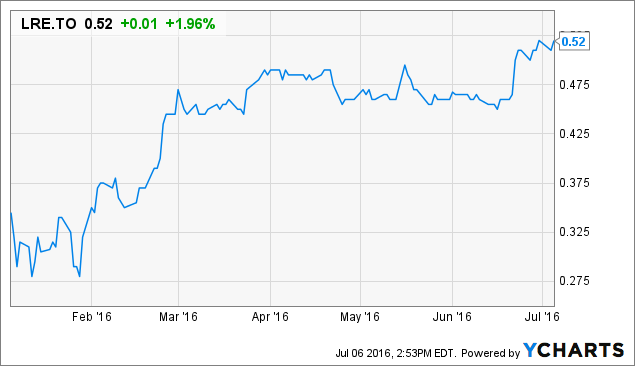 With one Chinese deal complete, can this one make it over the line? - Bankers Petroleum (OTCPK:BNKJF)
Another Oil and Gas company being taken over by Chinese buyers is in the final innings. It received regulatory approval under the Investment Canada Act on the same day as the Long Run deal. The buyers have a murky organizational structure and are undergoing a series of transactions, one of which is the Bankers deal. The biggest risk to this deal from the start has been the financing risk, which remains. For background on the deal, I wrote about it here (Bankers Petroleum Being Acquired - Less Risk Than Priced In). Bankers is trading at $2.03 representing a 8% discount, or 110% annualized should the deal close by the end of the month. Once the Chinese SAFE approval is met, the deal will close for $2.20.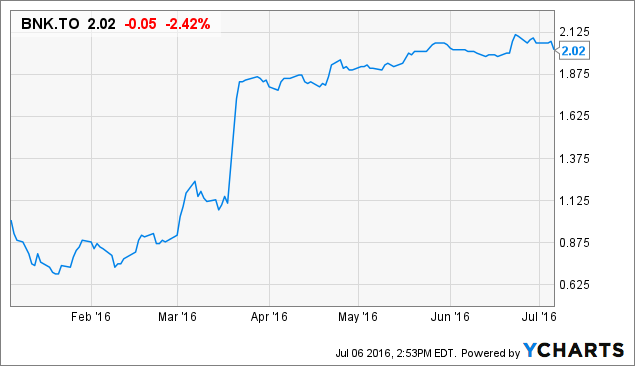 Will this deal happen? - Migao (OTC:MIGGF)
Migao is subject to a bid from a group headed by their current CEO to be taken private for $0.75. With shares trading at a 10% discount to the takeover price (.67-.69) there is some skepticism on whether this deal will make it through the shareholder vote.
Some background on the deal: some shareholders have expressed concern that the CEO is stealing the company at rock bottom prices and have said they will be voting against the deal. The company has net current assets of $162mm, no long term debt, and is being bought for about $40mm. The CEO and his affiliates have 34% of the outstanding shares; 66.7% are required to vote in favor for the shareholder vote to pass. The CEO seems to have structured the deal in his favor and has a financing condition in the arrangement agreement under which he has until July 22 nd to get backing, otherwise he can walk. Should the deal be completed by the end of August, it would be a 58% annualized return.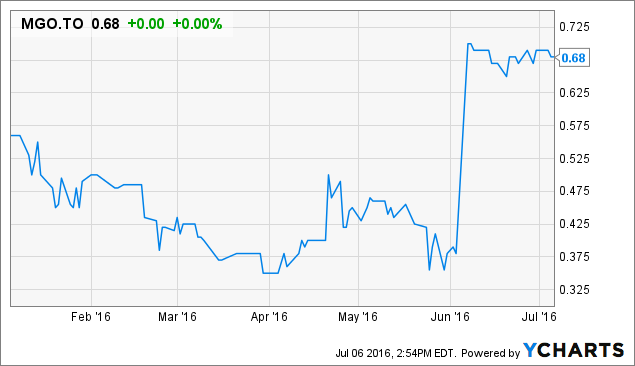 Deal's Off - Canexus/Superior (OTCPK:CXUSF), (OTCPK:SUUIF)
The FTC blocked the acquisition of Canexus by Superior Plus at the end of June and Canexus decided not to pursue legal action against the FTC as was requested by Superior. The $25mm termination fee is now in contention with Canexus stating they will take legal action if it isn't paid. The deal breaking is negative for both sides. The deal would have provided synergies for Superior going forward and Canexus is back to a situation where it's going to struggle with its debt in the near term. Canexus has $584mm of LT debt vs E2016 EBITDA of $105mm (CIBC WM). Cutting the $0.04/Q dividend is quite possible at this point. Shares would not respond well to this. Canexus have a $298mm revolving credit facility due in June of 2017, followed by $60mm of convertibles due in 2018. One item of note is the 2018 debentures (CUS.DB.B -TSX) which are trading over $90 vs a pre-deal price of $76. This seems quite rich.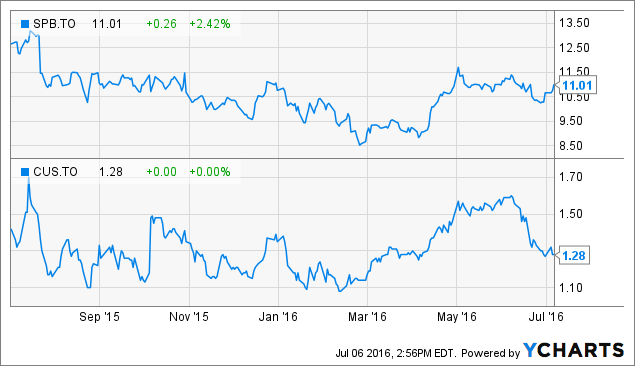 Below is a graph of the deal spread; as you can see, there was lots of opportunity to make money trading the spread.

Another Rescue from Bankruptcy - Twin Butte (OTC:TBTEF)
Twin Butte has agreed to be acquired by Reignwood Resources for $0.06 in cash for all outstanding common shares and $14 per $100 of the outstanding convertible debentures. The debentures will also receive roughly $3.65 in interest upon closing, but are trading interest flat as of the announcement. The purchase price represents EV of roughly $540mm and values the common at just over $20mm. This equates to essentially a rescue from bankruptcy by the purchasers, similar to the Long Run deal. The Purchasers are a partnership of "Reignwood Group and Horizon Holding Group, both privately held corporations domiciled in Hong Kong and Canada, respectively". The purchasers have "also reached agreement with Twin Butte's senior secured lenders with respect to the terms and conditions of a new credit facility to be available to the Company upon closing of the Transaction". In the mean time, lenders have entered into a forbearance agreement to allow the transaction to be completed. The transaction provides an interesting opportunity with the common trading at $0.045-0.05 and the debenture at $14.60, both at roughly a 20% discount. The downside, however, is likely $0 should the deal fail.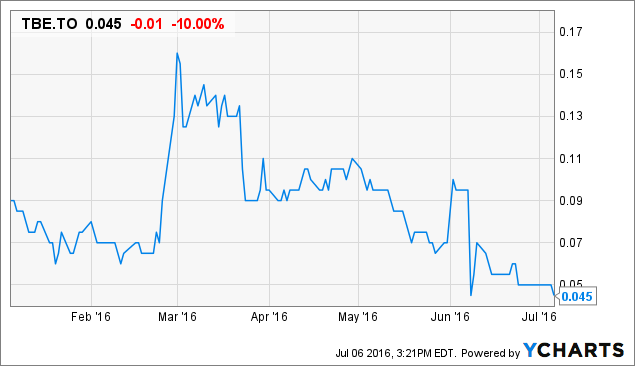 Note: Some of the stocks/debentures discussed here are small-cap stocks which may carry a greater amount of risk.
Disclosure: I am/we are long LRE.DB, BNK.TO, TBE.DB, MGO.TO.
I wrote this article myself, and it expresses my own opinions. I am not receiving compensation for it (other than from Seeking Alpha). I have no business relationship with any company whose stock is mentioned in this article.
Additional disclosure: Disclosing long positions, however, size is very small given risk. Gauge appropriately.
Editor's Note: This article covers one or more stocks trading at less than $1 per share and/or with less than a $100 million market cap. Please be aware of the risks associated with these stocks.