Zacks Investment Research, late last week, reported that the NYSE ARCA Airlines Index had declined over 12% in the last three months behind various drivers - from concerns about decreased business travel due to Brexit, to increased terrorist attacks, to dropping unit revenues, to the potential for capacity growth exceeding traffic growth. Add to that huge losses on hedging fuel costs, and it makes for a rough 2016 so far.
The industry as a whole is struggling, and we will leave it to industry experts and economists to predict when elements will combine to revive airline returns. What we want to look at today is our specialty, and something often deeply entrenched - i.e., corporate governance - among the major airlines. We used our real-time monitoring platform to compare Delta Air Lines Inc. (NYSE:DAL) with its United States-based peers, including Alaska Air Group, Inc. (NYSE:ALK), Allegiant Travel Company (NASDAQ:ALGT), American Airlines Group Inc. (NASDAQ:AAL), Hawaiian Holdings Inc. (NASDAQ:HA), JetBlue Airways Corporation (NASDAQ:JBLU), Southwest Airlines Co. (NYSE:LUV), Spirit Airlines, Inc. (NASDAQ:SAVE), United Continental Holdings, Inc. (NYSE:UAL), and Virgin America (NASDAQ:VA).
Total Shareholder Return
First, we took a look at total shareholder return between Delta and the peer set using our real-time monitoring platform . At close on July 5th, Delta had returned 356.2% since the beginning of 2011. The breakdown for each peer is noted on the graph for your convenience, with only low-cost option Southwest surpassing Delta in return.
Exhibit 1: Total Shareholder Return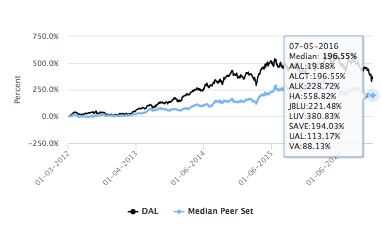 (Source: Enlight Research)
Board Director Tenure and Compensation
Delta has a lower tenure median than most of its peers, but notably, has a higher tenure than two of the larger peers, American Airlines and United Airlines. It has a broad range of years served on the board and took on two new board members as recently as 2015.
Exhibit 2: Board Director Tenure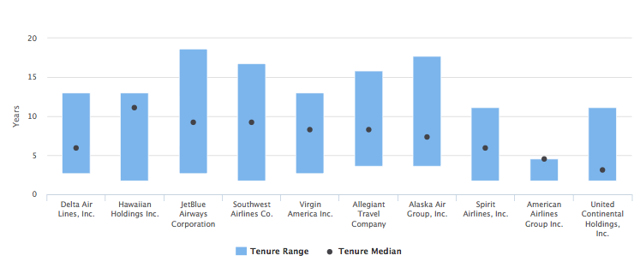 (Source: Enlight Research)
Delta leads its peers substantially in director compensation. It is also among the group that emphasizes tying compensation to incentives. Over $8 million of the $15 million package is tied to long-term incentives.
Exhibit 3: Board Director Compensation

(Source: Enlight Research)
Consistency, Reliability, and Corporate Governance
Expanding Wi-Fi, offering snacks, covering TSA PreCheck costs, and other direct appeals to consumer perception are replicable across the airline industry and hardly constitute a sustainable competitive advantage. Some airlines, like Southwest, have found success cutting costs and targeting lower-budget travelers. Beyond the low-cost segment, airlines are largely left with consistency, reliability, and the softer factors of customer experience in distinguishing themselves.
Delta has been strong in consistency and reliability, and this is reflected in its shareholder returns and improvements, especially in cancellation rates (compare this to a cancellation rate above 1.2% for American Airlines in 2016). There is still noticeable room for improvement, especially in average delay, but Delta is a leader in on-time flights, helping to minimize this weakness.
Exhibit 4: Delta Airlines On-Time Performance Summary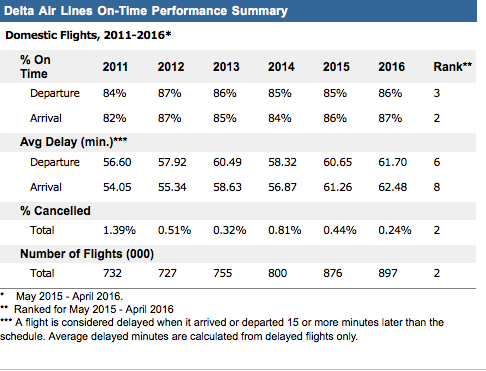 Source: United States Department of Transportation, Office of the Assistant Secretary for Research and Technology, Bureau of Transportation Statistics (here)
To me, this advantage is a strong part of Delta's corporate governance structure that is not readily apparent on the charts and may not be known to some shareholders or potential investors. In an uncommon arrangement, the company's pilot union group, the Delta Master Executive Council (MEC), has a representative on the board of directors. As of 2015, this representative is Douglas Ralph, who has been a Delta pilot since 1991. He continues to fly as he serves his board position. Mr. Ralph provides a current perspective to the board about employee and consumer conditions. He also helps serve as a reassurance for pilots, some recently picketing Delta for improved salaries, that their interests are represented in the boardroom. This is particularly poignant in the headwind of a shortage of pilots in the United States that is looming larger every year. With regard to this shortage, aviation economist Dan Atkins commented, "After 35 years analyzing and following this industry, I've never seen anything like it - and it's only going to get worse... Everyone knows the house is on fire and no one can find the hose." Cutting and delaying routes based on pilot shortages leaves demand on the table and is certainly not the way to retain customers, though, according to the NYT article, it is already a reality. Engaging with pilots, especially having a trusted veteran pilot on the board of directors, seems helpful in such a market. Beyond retainment, it could also help with enticing new pilot hires over competitor offers.
A board might know what kind of amenities are available to customers on the flight, but it is harder to keep up with the shifting morale of flight attendants and overall customer experience. Reading a briefing about an uptick in delays or cancellations is different from having someone in the boardroom who was working through it that day pointing out the havoc and frustration it caused on the ground. The voice of someone experiencing the business day in and day out should help keep the board knowledgeable of issues and opportunities.
When United Airlines CEO Oscar Munoz spoke at the company's Annual Meeting in June, he focused on how out of touch the board had become to the consumer experience. Disgusted shareholders had stopped using the airline in favor of competitors, the faulty reservation system grounded flights, and employee morale dropped from payment issues. It was such a mess that in June, employees from United and Continental, which merged in 2010, still could not work the same flights because of separate contracts, substantially hampering scheduling. With this issue recently addressed, Munoz is working to undo further damage of disconnect by spending time among employees. United's total shareholder return since 2011, not even a third of Delta's, shows the steep potential price of disconnected governance.
It is admittedly a small piece of the puzzle, but we think having an ear to the cockpits and, by extension, flight attendants and consumers is a strong strategy for Delta. To assess the overall direction of a company in such a competitive and distributed industry, it is insufficient for a board to live in a bubble of figures and reports from upper management. Having an active pilot double as a board member should continue to help fill this knowledge and urgency gap for the Delta board in ways that were lacking at United and are unique in the industry.
Do you think this should matter to Delta shareholders? Is it a competitive advantage over peers that are potentially disconnected from day-to-day business? Drop us a comment, send us a message, or check out our profile to access our free real-time monitoring platform.
Disclosure: I/we have no positions in any stocks mentioned, and no plans to initiate any positions within the next 72 hours.
I wrote this article myself, and it expresses my own opinions. I am not receiving compensation for it (other than from Seeking Alpha). I have no business relationship with any company whose stock is mentioned in this article.