Introduction
Recently, the yield on the U.S. 10-year Treasury note touched record lows, according to Federal Reserve data, dragging down some corporate bond yields along with it. So, a logical question might be, wouldn't that stimulate economic growth? After all, businesses can issue corporate bonds to fund new projects.
But just because they could does not mean they would. Decisions to borrow to invest or spend aren't made based on computer algorithms analyzing bond yields and economic trends, with an army of robots scouting locations for a new plant. Those decisions are made by people, who have some degree of optimism or pessimism inherent to the decisions they make. And regardless of who (or what) makes the decisions, nobody has a crystal ball to see where conditions are headed.
Yields have been low for years
And yet, we have not seen a surge in business investment in property, plant or equipment, as seen in the nearby graph. We might expect there to be some degree of an inverse correlation between Treasury yields and business investment. Instead, the correlation was positive, with business investment rising on a year-over-year basis while Treasury yields increased, and vice versa.
This makes sense if you flip around cause versus effect: Treasury yields fall because economic growth tends to be weak, and vice versa. After all, yields are driven by supply and demand too, and low yields are in part due to lowered demand for credit by borrowers (along with central bank actions too).
Low Treasury yields by themselves might not be enough to stimulate investment. After all, if interest rates were the primary factor, we would have seen business investment take off when rates began their descent into record-low territory. Instead, we've see growth in capex spending as measured by the technical-sounding name of "non-defense capital goods excluding aircraft" hover around zero - and often negative - on a year-over-year basis in the past several years, according to the Census Bureau.
Since businesses would not have known Treasury yields would fall further - expectations among many prognosticators had been for yields to rise - they arguably would have increased investment then. But they didn't, and that means they might not do so now either.
What are businesses thinking?
The Business Roundtable is an organization representing large companies that surveys its members every quarter. The results provide a good insight into many different facets of CEOs' views and intentions.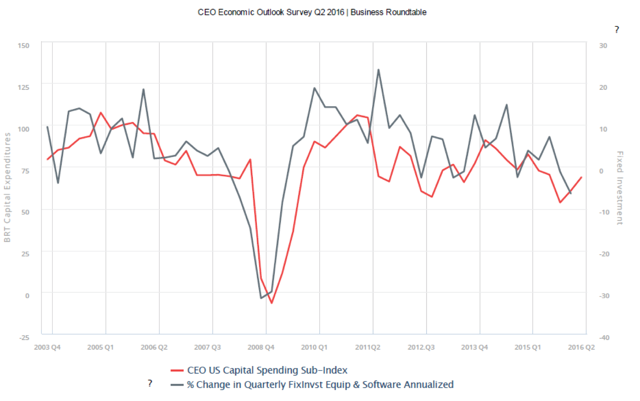 What we find from the most recent survey is that capital expenditure intentions have, in fact, increased from the first quarter to the second quarter, but are still lower than when interest rates have been higher over recent years. Thus, we can infer that interest rates are not the primary driver of business investment.
Instead, what we learn from the Business Roundtable survey is the following:
"Increased plans for near-term sales, investment and hiring indicate modest economic improvement," said Doug Oberhelman, Chairman & CEO of Caterpillar Inc., and Chairman of Business Roundtable. "But the CEO estimate for barely more than 2 percent GDP growth this year points to an economy that continues to perform below its potential. Unfortunately, it's more of the same 'one step forward, one step back' we've been experiencing for a number of years now."
How is borrowed capital being used?
We need to rework the thesis that low rates will automatically increase business investment, and think of alternative uses of borrowed capital. For the time being, companies have repurchased shares and boosted dividends with the funds they raised in the corporate bond market. According to SIFMA, a trade organization representing the investment industry, total corporate bonds outstanding increased to $8.36 trillion in the first quarter of 2016 from $5.42 trillion in 2008, during the financial crisis.
That represented an increase of 54% in corporate bond debt outstanding. And what was the total change in business capex investment? It fell by 4.3% from the average annual amount in 2008 to May 2016, according to the Census Bureau. Just to belabor the point a bit more, the yield was 3.66% on average over 2008, but was just 1.91% for the first quarter of 2016.

The bottom line: Low rates can encourage companies to borrow to restructure their balance sheets or pay out dividends, but they alone might not be sufficient to induce companies to invest. As such, low borrowing costs might not stimulate business investment and the economy along with it. Instead, low rates may be a symptom of a lack of economic vigor, not a palliative to induce a return to health.
Disclosures
Investing involves risk, including possible loss of principal, and investors should carefully consider their own investment objectives and never rely on any single chart, graph or marketing piece to make decisions. The information contained in this piece is intended for information only, is not a recommendation to buy or sell any securities, and should not be considered investment advice. Please contact your financial adviser with questions about your specific needs and circumstances.
The information and opinions expressed herein are obtained from sources believed to be reliable, however their accuracy and completeness cannot be guaranteed. All data are driven from publicly available information and has not been independently verified by United Capital. Opinions expressed are current as of the date of this publication and are subject to change. Certain statements contained within are forward-looking statements including, but not limited to, predictions or indications of future events, trends, plans or objectives. Undue reliance should not be placed on such statements because, by their nature, they are subject to known and unknown risks and uncertainties.
© 2016 United Capital Financial Advisers, LLC. All Rights Reserved
Disclosure: I/we have no positions in any stocks mentioned, and no plans to initiate any positions within the next 72 hours.
I wrote this article myself, and it expresses my own opinions. I am not receiving compensation for it. I have no business relationship with any company whose stock is mentioned in this article.