Shares of Prospect Capital Corporation (NASDAQ:PSEC) have risen 48% since hitting bottom last February. Driving the returns are dividends and dividend coverage. Payments in that time period bring total returns to 55% and that number grows each month as dividends are paid.
At the February low share price of $5.21 yield was 19%, providing returns far beyond the broader market. Today the yield is near 13% and returns still look pretty good compared to the general run of dividend paying stocks.
Distributions To Weather Uncertain Times
Prospect's earnings in the prior quarter were flat, missing estimates by a penny, and sparked a round of downward revisions to earnings estimates. Even so, earnings are expected to more than cover distributions and that is what really counts. Based on current quarter expectations, full year 2016 and 2017 outlook Prospect is projected to more than cover its dividends for the next 15 months at least.
At the end of last quarter, fiscal Q3, year-to-date earnings were $0.78/share, 104% coverage of YTD distributions. The current quarter, fiscal Q4, is expected to produce NII of $0.25 so even if they miss by 4 cents dividends remain covered. Considering low estimate is $0.24 a miss that large looks unlikely.
One reason for the miss in Q3 was a decline in new portfolio investment, an issue explained by management and one not likely to occur in the current quarter. "We slowed originations in the March 2016 quarter due to market volatility but expect to increase our investment pace, depending on market conditions, in the coming quarters." These statements were proved true when it was later announced that $115.4 million in new investment had already been made in Q4, with the intention of additional loans as the quarter wore on. "Since March 31, 2016 (in the current June 2016) quarter, we have completed new and follow-on investments of $115.4 million, sold $25.0 million of one investment, and received partial repayments of $22.4 million"
Since then there has been further investment activity, $17 million in first lien notes issued by Inpatient Care Management Co, and an exit from Harbor Touch that will provide nearly $330 million in investable funds for new loans. Some of that new investment turns out to be $27.5 million in newly issued 2nd lien notes from Harbor Touch.
Within the report were other signs of earnings strength that give credence to the safety of dividend coverage. Perhaps the most notable is rising annualized portfolio yield. Last quarter was a 10 basis point increase, the fourth quarter of consistent yield increases and not expected to be the last. This is being accomplished through ongoing efforts of management to improve yield including a project to roll lower yielding assets into higher yielding investments.
"So far in the June 2016 fiscal year, we have made four sales of such lower yielding investments totaling $91.9 million with a weighted average coupon of 6.1%. We receive recurring servicing fees paid by multiple loan purchasers in conjunction with certain divested loans. We expect additional similar sales in the future as a potential earnings contributor for the June 2016 fiscal year and beyond."
Since we know there have already been improvements in Q4 portfolio yield and can expect more, and that portfolio growth has resumed, and that cash is available for additional growth, it really looks like Prospect Capital will have no trouble originating new loans and covering distributions into the next year and beyond.
Prospect Capital Is Still Undervalued
Despite the whopping yield and positive distribution coverage Prospect Capital is still undervalued. The discount has been narrowing in recent months, due more to an increase in share price than to a decline in NAV, but there is still room for share prices to run. At last report net asset value was $9.61, at this level shares are trading at a discount near 19% and considerably beneath the long running average of 12%.
With new investment on the rise and capital available for more the portfolio is poised for the growth. If the company is able to improve NAV it could spark a major rally in shares as investors try to lock in the best yields.
There is still some risk that NAV will decline as the market remains in turmoil. Unrealized mark downs in asset value can not be ruled out. Even so, as long as NII remains steady and distributions are covered there is no reason to think a major sell-off in the stock is on the way. There may some weakness in near or short term trading but those will only be opportunities for savvy investors to lock in better yields.
The average analyst price target is $7.91, a level that has been providing resistance over the past two months so a break above here would be bullish for share price. With a 13% dividend and deep discount to NAV the potential for such a move is very good. Simply coming in line with historical NAV could add at least another $0.55 or 7% to today's share prices before factoring in the yield. The high estimate is $9.50, a substantial 21.7% upside for investors should the market reach that level. If NAV were to rise theoretical gains would rise along with it.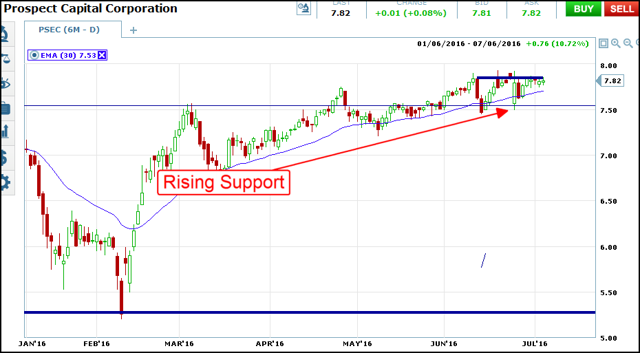 Short interest may play a role as well. It remains high relative to last year, up +4% to 10.25%, but has fallen since hitting its high of 11.1% in February. With outlook at least stable it may continue to fall and add support for the stock. A short covering rally is not out of the question either, should a proper catalyst arise.
Outlook Good With A Chance Of Turning Great
Prospect Capital's outlook is at least good with a chance of being great. Even if the company is not able to increase NII or NAV over the next year distributions, nearly 13% at current levels, are more than covered which alone make the stock a potential buy. What makes this a potentially great investment is that the stock is undervalued and has additional factors such as declining short interest supporting prices.
Considering these factors, and not even thinking there is a possibility that earnings will be a positive surprise, there is plenty of reason to believe the dividend is safe and share prices are supported by upward momentum. Add in the chances earnings will be better than expected and the potential for 1 year total returns in the range of 30% to 40% begins to look very good.
Disclosure: I am/we are long PSEC.
I wrote this article myself, and it expresses my own opinions. I am not receiving compensation for it (other than from Seeking Alpha). I have no business relationship with any company whose stock is mentioned in this article.
Additional disclosure: I am long PSEC and will likely buy more on weakness in share prices.