By Rupert Hargreaves
Even though the UK counts for a tiny percentage of the world's economic output, the prospect of Brexit has sent shockwaves through the global financial system. Bank of England governor Mark Carney has acted swiftly to try to ease concerns about the state of the UK's banking industry by hinting that rate cuts are ahead, and today the BoE announced that it was reducing capital buffers by £5.7 billion, effectively allowing banks to lend £150 billion more to households and businesses.
While the UK struggles to get to grips with the risks now emanating as a result of Brexit, the risk that the UK might leave the EU has had a severe impact on the global credit markets.
This is becoming a big headache for the European Central Bank and its bond-buying programme - a theme Bank of America discusses in a new research report issued to clients today.
ECB QE will be forced to expand by its limitations
The ECB's QE buying programme has three key constraints: 1) obeying the capital key, 2) only buying bonds that yield more than the deposit rate (-40 bps) and 3) Only buy up to 33% of any given issuer.
Brexit has sent investors running for cover, and the risk-off tone in markets is putting the second criteria above under severe strain. Indeed, between June 23 and June 27, the share of the German bund market two-year or more with a yield of -40 bps dropped from around 70% at close on the 23 to around 55% at close on the 27. The ECB is currently buying €20 billion a month of German paper across eligible assets. As more and more German bonds move into negative territory, it's going to be harder for the bank to keep up this run rate.
BoA points out that if the ECB wants to keep up its current level of QE bond purchases, without changing its buying criteria, the bank is going to have to move further out the rate curve. This shift could involve more buying of peripheral debt or buying lower quality corporate debt.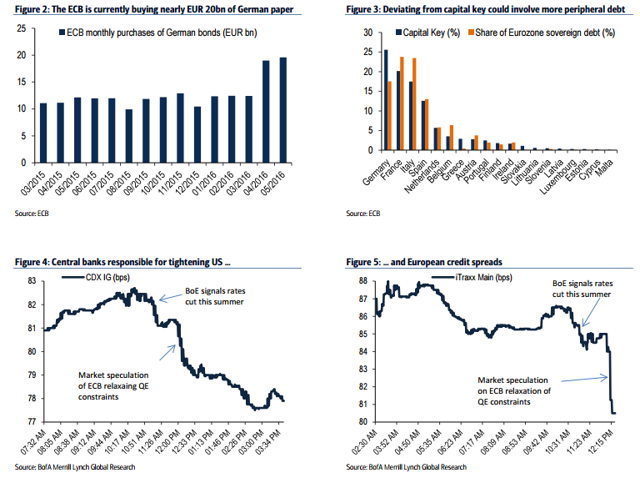 ECB QE - Great news for high yield
Good news for US high yield
Analysts at Bank of America speculate that either of these two scenarios could be good news for US high-yield investors. Buying by the ECB along the curve would push rates further down across Europe, leaving the US market the "only game in town where investors can find meaningful credit risk."
The good news is that the US high-yield market remains relatively well supplied, so there are still plenty of issues for yield hungry investors to choose.
BoA notes that high-grade new issue supply volumes totaled $86 billion in June, down significantly from the record $176 billion priced in May and also below $96 billion issued in June of last year. Year-to-date supply stands at $706 billion, down 2% from last year's $720 billion priced over the same period.
Disclosure: Rupert may hold positions in one or more of the companies mentioned in this article. You can find a full list of Rupert's positions on his blog.
Disclaimer: This should not be interpreted as investment advice, or a recommendation to buy or sell securities. You should make your own decisions and seek independent professional advice before doing so. Past performance is not a guide to future performance.