The WSJ and various other financial media outlets have reported that Danone is purchasing the organic food maker, WhiteWave (NYSE:WWAV), in a deal valued at $56.25 per share, which equates to an enterprise value of $12.5 billion. At face value, this appears to give Danone a stronger foothold in the North American dairy segment and adds some organic brands that command premium prices in the consumer grocery space. Given the lowest interest rates in history, combined with anemic global growth, high-quality companies with strong brands start to look enticing to conglomerates like Danone (OTCQX:DANOY) with access to tap the debt market to fund acquisitions.
I have no position in WWAV, but my wife and I own 650 shares of Whole Foods (WFM) with a cost basis of about $33. As an investor, I love seeing more and more M&A activity at elevated valuations. I realize that WhiteWave and Whole Foods are different companies with different business models, but both have very strong brands names with a focus in the organic food space. No question, WFM's growth trajectory has slowed over the past eighteen months, but if you look purely at valuation, I would be super nervous if I were short Whole Foods.
Here is the WSJ article breaking the Danone/WhiteWave news.

Let's look at valuations.
Danone paid 40 times FY16 consensus estimates. Whole Foods is trading at about 22 times FY16 estimates.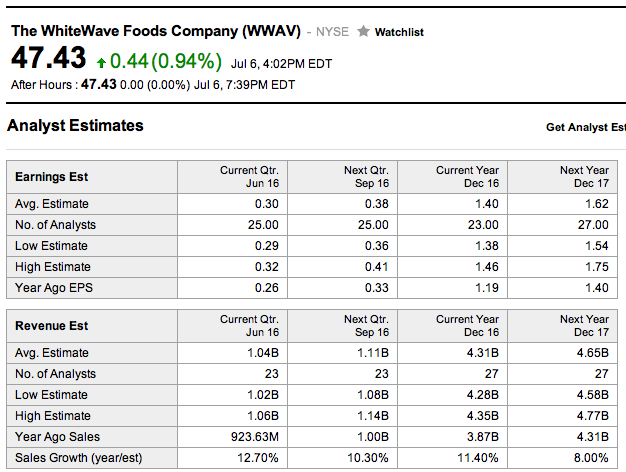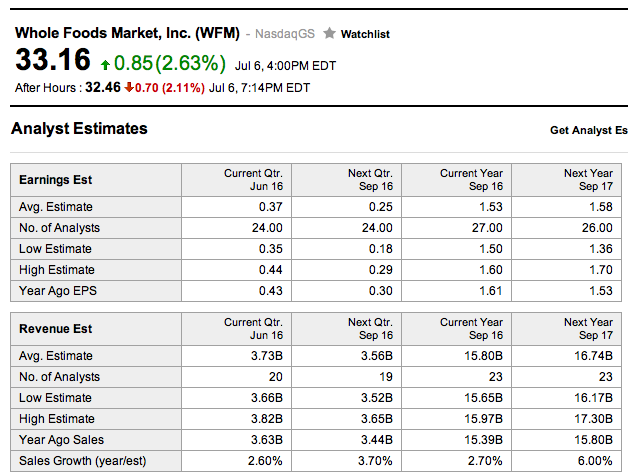 (Source: Yahoo Finance)
Next, let's look at FY15 EBITDA to Enterprise Value.
Here is Whole Foods' trailing snapshot. Using yesterday's approximate enterprise value of roughly $11 billion, I calculate $1.39 billion / $11 billion is a 12.6% EBITDA-to-EV yield for WFM.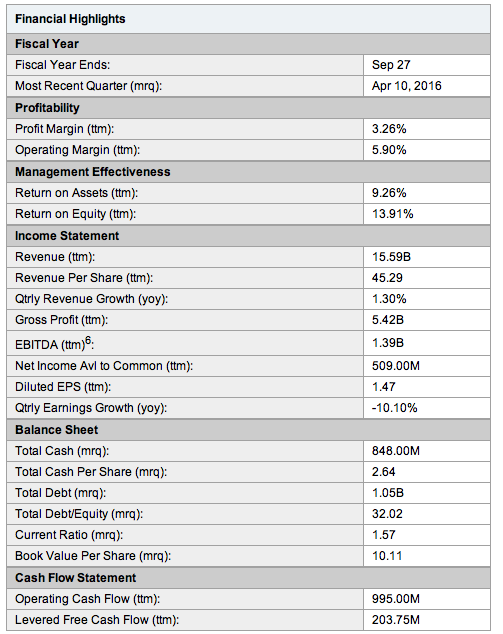 (Source: Yahoo Finance)
Here is WhiteWave's trailing snapshot. Using today's approximate enterprise value of roughly $12.5 billion, I calculate $480 million / $12.5 billion is a 3.8% EBITDA-to-EV yield for WWAV.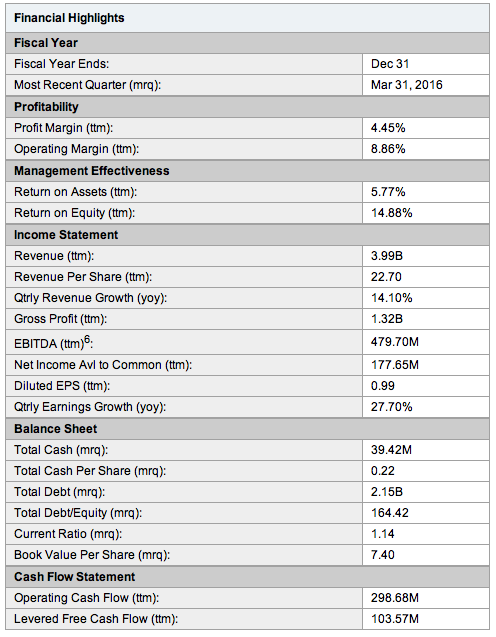 (Source: Yahoo Finance)
Let's look at trailing cash flow from operations for WFM and WWAV and compare. In FY15, WFM generated $1.13 billion in cash from operations and WWAV generated $315 million.


Concluding thoughts
We have exhibit A in spades that a $12.5 billion deal at a stretched valuation of 40X earnings with a trailing FY15 EBITDA/EV yield of 3.8% just happened. This isn't theory or speculation, it is an actual deal. I have no idea why any hedge fund or individual is short WFM, at its current valuation, given the company's strong brand, robust cash flow generation, and prospect of renewed growth through the deliberate rollout of its new "365" store format. In a world where the U.S. 10-year Treasury is 1.40%, a $10 billion deal can easily be funded. Again, I can't explain why 13% of WFM's float is short.
Disclosure: I am/we are long WFM.
I wrote this article myself, and it expresses my own opinions. I am not receiving compensation for it (other than from Seeking Alpha). I have no business relationship with any company whose stock is mentioned in this article.