Though Kroger's (NYSE:KR) "Customer 1st Strategy" was launched 12 years ago, it remains a primary focus for the company. Likely driven by it's attention to evolving consumer demands for reasonably-priced natural and healthy products and an easier, more engaging grocery store experience, Kroger announced it's 50th quarter of consecutive positive identical supermarket sales growth (excluding fuel) in Q1 of 2016.
In his letter to shareholders, Kroger Chairman and CEO W. Rodney McMullen noted "Customer 1st" as a key differentiator, in addition to the company's:
"Ability to leverage scale as a large company and remain local and relevant to individual customers through our use of data;
Strong manufacturing base and diverse Corporate Brands offering; and…
Commitment to making our customers lives better through the use of technology and innovation, to name just a few."
Considering Kroger's portfolio of grocery store chains in a range of domestic markets, it could be challenging to maintain the authenticity of individual brands successfully. However, the company continues to expand, including their recent merger with Roundy's, Inc., and their return on invested capital is well above their peers at 4.15% in Q1 2016 versus 3.01% (median for peer group, including: COST, SVU, RAD, CVS, TGT, WMB, WBA). We used our free real-time monitoring platform to take a look at return on invested capital and a few other metrics between Kroger and the peer group.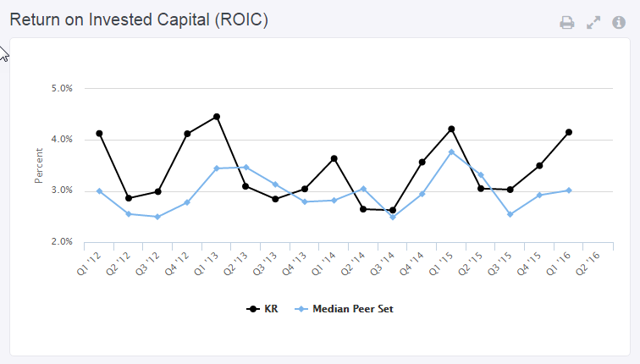 Kroger company continues to invest in marketing and data initiatives to further personalize the shopper's experience-and to learn even more about their customers. Working with analytics and marketing firm 84.91°, Kroger takes not only uses transactional data from loyalty cards, but also lifestyle attributes, geographic location, and even mobile engagement patterns. The company has used this data to customize coupons, newsletters, digital shopping lists and even the assortment of products available within stores-which particularly benefits its own private label brands.
Since Kroger manufactures many of its own private label products, and has this plethora of consumer data, it can quickly pilot new products, refine placement and ultimately improve its operating margin on a trailing twelve-month basis, which is trending upward but below the median of its peer set at 3.34% versus 4.90% (Q1 2016). They are also offering this valuable data to CPG companies as a revenue-driving partnership avenue.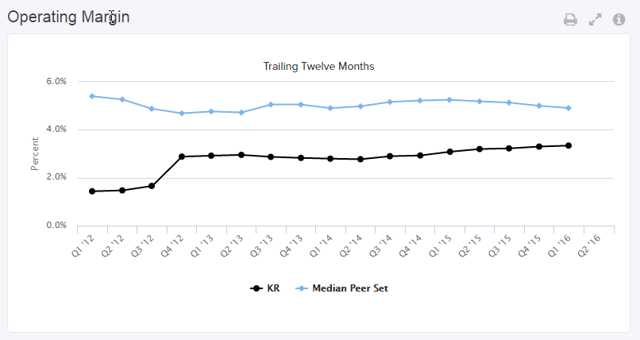 Kroger also continues to invest in innovative technologies that may improve the shopper experience and operating margins, such as: Digital Shelf Edge, a pilot program that uses digital shelf tags with rich content; ClickList, an online grocery ordering service; QueVision, an infrared technology that limits wait times; and even photoluminescent exit signs that emanate light but don't consume energy.
Moody's upgraded Kroger's debt rating on June 1 to Baa1. The company also boasts steadily increasing returns since 2012, with a total shareholder return (TSR) of 226.44% as of July 5, 2016 (see below). Given their focused strategy, analysts expect Kroger's performance to continuously improve into 2017 and beyond.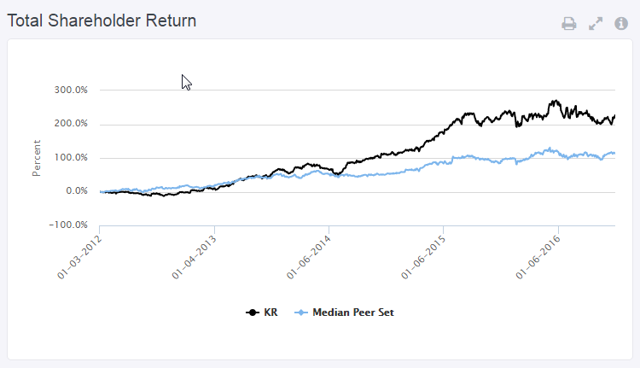 What do you think? Drop us a comment, send us a message, or check out our profile to access our free real-time monitoring platform.
Disclosure: I/we have no positions in any stocks mentioned, and no plans to initiate any positions within the next 72 hours.
I wrote this article myself, and it expresses my own opinions. I am not receiving compensation for it (other than from Seeking Alpha). I have no business relationship with any company whose stock is mentioned in this article.