If you've read my recent articles on oil (NYSEARCA:USO), you may know that I'm bearish on the commodity. Between rising imports and the threat of higher production as the result of rig additions, oil bulls will be fighting an uphill battle.
Having a view is great, but we must closely monitor any major changes that would suggest the contrary. Here's what I'll be looking for in this week's report from EIA.
Crude Oil Inventory
This is the number that everyone focuses on, but one that I think is the least important. It captures the end result of supply and demand, but it doesn't go any deeper than that. As I mentioned in my other article (read Oil Can't Go Higher), there is a seasonal factor; so while a decline is expected (consensus is -2.5 MMbbl), I wouldn't read too much into it.
In 2015, the average weekly decline was 22 bps for the nine weeks after April. This compares to the average weekly decline of 17 bps for the same period this year and the consensus of -20 bps for the week ended July 1 st. This aggressive estimate may have been influenced by last week's miss (4.1 MMbbl actual vs. 2.5 MMbbl consensus).
Since making an accurate prediction is essentially a gamble, I believe that the best way to use the weekly report is to see if the change in inventory breaches any pre-established range. Based on data between April and July since 2010, the average change in inventory has been -9.5 bps. But since the commodity environment has undergone structural changes (i.e. the rise and fall of fracking, Saudi Arabia's desire to regain market share, etc.), I believe that it's best to use 2015's data instead. The highest rate of decline was 58 bps and the highest rate of increase was 24 bps, translating to a range of -7.1 MMbbl and +2.9 MMbbl based on the most recent ending inventory of 1221.7 MMbbl. If inventory change falls outside of this range, then we may have to take a harder look.
Crude Imports
EIA estimates have shown that average weekly imports have likely risen by 8% year to date. However, you probably couldn't tell where imports will trend from the following chart: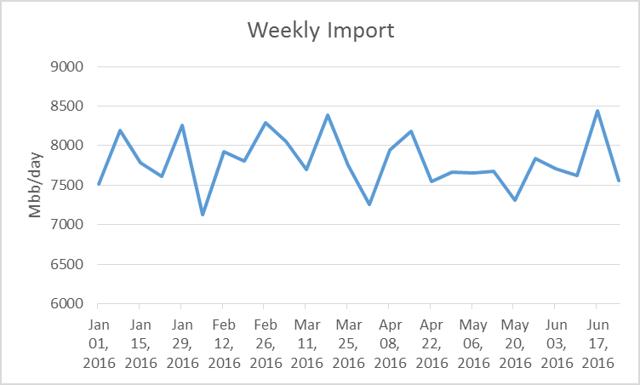 Even though imports have been trending upwards, there is a lot of noise when we look at the weekly data. If we smooth the weekly figures by taking a 12-week average, the trend is a lot clearer: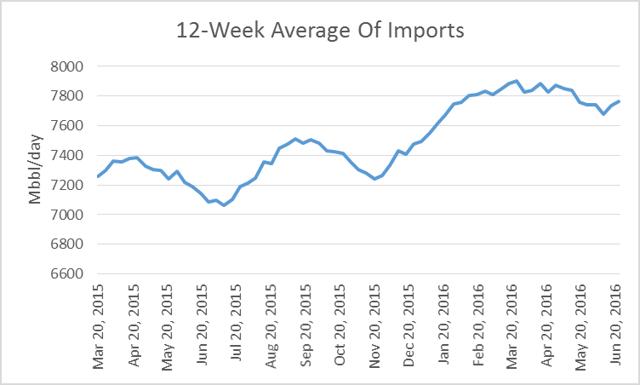 This upward trend supports the fact that international producers desire to gain back market share. Because weekly variations are large enough to mask trends, I do not think that investors should be overly concerned if there is a large move. The long-term equilibrium of imports will depend on the energy policies of international producers. So until there is major disruption in international supply, I believe that imports will continue to rise over the long-term.
Takeaway
Don't focus too much on the crude inventory change. The consensus is a bit aggressive given the slower rate of decline thus far (except the last release), but unless inventory change exceeds the -7.1 MMbbl to +2.9 MMbbl range, I don't think there would be much of a story. There is a caveat however. If there are persistent larger than normal declines in crud e inventory, then we may have to revisit our bearish view. If crude inventory drops by 5 MMbbl next week I wouldn't pay any attention, but if this occurs for say eight straight weeks, then it may signal the presence of new structural changes that we have to uncover. As for imports, even though the short-term trend is foggy due to the volatility of weekly numbers, the long-term upward trend is still well supported by production policies of major international producers (i.e. keep pumping).
Below are some energy related stocks:
Click the "Follow" button beside my name on the top of the page to be updated with my latest insights. To learn more about the V20 Portfolio, whose goal is to compound capital at 20% over the long term, I encourage you to read the introduction to my investment process. Premium subscribers get full access to the V20 Portfolio.
Disclosure: I/we have no positions in any stocks mentioned, and no plans to initiate any positions within the next 72 hours.
I wrote this article myself, and it expresses my own opinions. I am not receiving compensation for it (other than from Seeking Alpha). I have no business relationship with any company whose stock is mentioned in this article.