As the American Petroleum Institute (API) released its data on Wednesday, markets reacted positively as both WTI (WTI) and Brent posted some decent gains. Oil prices had earlier fallen by around 5 % on Tuesday. So when API reported that the U.S. crude oil inventories had fallen by 6.7 million barrels for the week ended July 1, the prices went up with WTI and Brent trading at $47.71 and $49.02 respectively at the time of writing this article.
Is this the biggest inventory draw in 13 months?
A poll that was conducted by Reuters revealed that analysts were actually expecting the crude oil inventories to fall by 2.3-2.5 million barrels and gasoline inventories to fall by 1.2 million barrels. However, API data revealed a massive decline in crude oil inventories which is also the biggest in last 13 years. Even gasoline stocks fell by a massive 3.6 million barrels (as per API) which is almost three times more the market expectations. On the other hand, API reported that crude stocks at Cushing witnessed a modest increase of 80,000 barrels. It is hardly surprising as to why oil prices reacted so positively to this development. (Figure)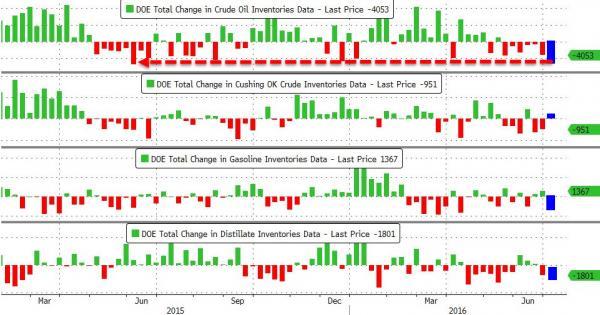 Image Source: Zerohedge
Interestingly, this also marks the seventh consecutive weekly drop for US crude oil inventories.
Can markets sustain these gains?
Although oil prices have surged because of U.S crude oil inventory data, the question is whether these gains can be sustained in the longer run. To know this, we need to take a look at a couple of crucial factors. One of them is the issue of increasing U.S. gasoline glut. The gasoline crack spreads have fallen below $13 a barrel because of an oversupply of motor fuel. This gasoline glut has even forced the U.S. refiners to reduce their outputs at the moment. In fact, some of the vessels that were carrying gasoline components were unable to unload at New York harbor due to congestion. Even a weaker pound (because of Brexit) and a stronger dollar will try and push oil prices down in the coming time. It will be interesting to see what the U.S. Energy Information Administration (EIA) oil data reveals on Thursday, as it often happens that there is a significant difference in EIA and API data. I am sure that even EIA will report a substantial drawdown in U.S. crude oil inventories. However, I am not sure if even EIA will come out with figures similar to API. If EIA's crude oil inventory figures are similar to API, I expect oil (NYSEARCA:USO) to increase in the shorter run. However, if EIA figure are less sensational when compared to API, oil prices may even drop a bit.
Conclusion
It is a hard fact that negative sentiments related to US gasoline glut and Brexit are not going to fade away any time sooner. These factors will push the prices down in the coming time. Although the falling US crude oil inventories signify that the global oil supply glut is easing and supply -demand is rebalancing, there are countries like Canada and Nigeria that are looking to regain their production levels. Looking at all these factors, I believe that oil will be finding some resistance at its current levels and any sudden increase in prices because of crude oil inventory figures will be short - lived.