On June 21st after the market had closed, Tesla (NASDAQ:TSLA) made known its intent to acquire SolarCity (SCTY) in an all-stock transaction. Professional analysts and media commentators alike widely panned the action. If anything, it only reinforced and increased distaste toward the publicly-traded corporations.
The offer entails between 0.122 and 0.131 shares of TSLA, or 0.1265 at the midpoint, for each share of SCTY. At the time of the announcement, with TSLA at $219.61 and SCTY at $21.19, the value to a SCTY investor could have been $27.78, or a 31.1% premium (0.1265 * $219.61). However, as investors in both TSLA and SCTY are not extended-hours traders, but rather mutual fund managers at firms such as Fidelity Investments, patience is required in order to wait out the risks of an uncertain buyout.
TSLA's closure the following day at $196.66, 10.45% lower and offsetting a 3.26% gain enjoyed by owners of SCTY, evidences investor perception. The action of the stocks since can probably be described as an "Arbitrage spread," reflecting upon the probability of closure and ultimate worth. Some tables can provide insight. Here is what the offer's value is per share of SCTY when assuming that the deal is consummated: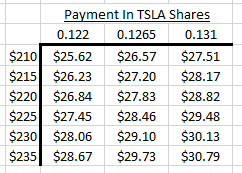 With TSLA closed at $214.44 on 7/6/16, SCTY would be just under $27.20 in the absence of risk. (No one I am familiar with has even implied that another offer could be the in the making - from a white knight or otherwise - let alone a higher bid. Each company is unprofitable and largely reliant upon the dilutive issuance of equity to keep its doors open). However, there are potential pitfalls, and a probability that is just under 88%, or the possibility of an SCTY payoff in excess of 12%, is being priced in: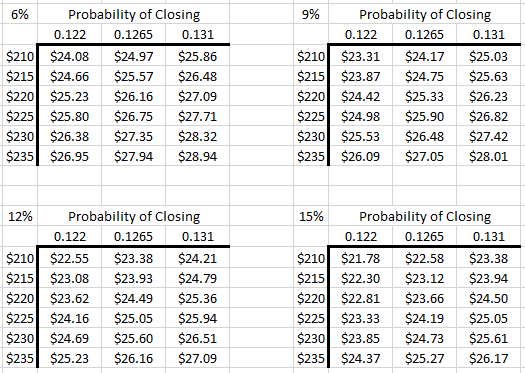 The spread is not static. The market has been relatively pessimistic this month, pursuant to an unfortunate death of a TSLA owner in an accident, and also the release of vehicle delivery data that could be described as disappointing (though the share price(s) may not trade off of it):
Uncertainty toward the possibility of completion must suggest concerns about corporate governance issues among other considerations. If successful, the offer should prevent the failure of SolarCity. Thus we have the recusal of board members with specific interest in the two companies from deliberation and the establishment of a "Special committee," that comprises the remaining two who do not have an obvious conflict. Though there has been commentary about the likelihood of litigation that derails the initiative, including the pre-announcement amendment to corporate bylaws that eliminates some legal liability, an aggrieved shareholder has yet to come forward.
Self-respecting TSLA investors may be considering a lawsuit. If there is anyone who expresses the opinion that his or her case is viable to the media, then the spread can widen. Until then, while it probably is what should happen, there is also saying that "The market can stay irrational longer than you can stay solvent."
The deal is anything but done and there is a double-digit risk that the acquisition falls through. There is the possibility of it being derailed through the courts. Anyone thinking they can buy TSLA at a price that is 12% cheaper through SCTY must be mindful of the risk.
Disclosure: I am/we are short SCTY.
I wrote this article myself, and it expresses my own opinions. I am not receiving compensation for it (other than from Seeking Alpha). I have no business relationship with any company whose stock is mentioned in this article.