Introduction
On June 9, OnDeck (NYSE: ONDK) hosted its first analyst day. The company believes that online lending is shifting away from an initial boom phase, which was characterized by a "stampede" of VC funding and new origination. It sees 2016 as the transition period to a "shakeout phase," one with less VC funding and more rational behavior. It made a strong case that between its hybrid funding model, leading credit scoring technology, and diversified acquisition channels, it is ideally situated to maintain its leadership position in SMB online lending. The company has a well thought out strategy for growing the business, becoming profitable, and can pull a number of levers to expand its scope. During the post-Brexit sell-off, the stock once again began to hover around book value, a valuation that simply does not give any credit for the potential runway of available opportunity for the company. Moreover, it completely fails to account for growth in areas outside of the company's core US-based SMB lending operations. These include the company's "OnDeck as a Service" offering and international expansion.
"OnDeck as a Service" (ODaaS)
ONDK's emerging "ODaas" initiative is an outsourced technology offering that enables partners (banks and other large lending institutions) to leverage ONDK's underwriting capabilities and expertise in technology, data, and analytics. The initiative has the potential to become a large, profitable, and complementary business for ONDK over time. Instead of becoming purely a financial company, ONDK can pivot towards a fee-based software model. ONDK's first-mover advantage in and concentrated investment in SMB lending and its significant technology/data assets make it a logical partner for banks/other institutions looking to capitalize on the shift of lending to online channels. As such, it will prove helpful in highlighting the company's strategic value to the future of SMB lending. Over time, ONDK has the potential to become the technological infrastructure that underpins SMB lending. It can effectively remove all balance-sheet and capital market risk, becoming a purely technology firm. Of course, this is a long ways off, but it is free optionality for investors near current prices.
Over the years, ONDK has been cultivating a relatively broad ecosystem of partners, including traditional banks and other companies with SMB lending exposure. The former category include Chase in the US, and Commonwealth Bank of Australia internationally. The latter category includes payments companies such as Heartland Payment Systems, and accounting software company Intuit. ONDK's allocation of resources to this area will have limited impact on financials (and by extension, possibly the stock price) in the very short-term. Over the intermediate to longer term, this business can ramp up substantially with minimal capital requirements. Management is guiding towards a more sizeable contribution by 2017-18.
As far as the financial impact of this business goes, it is difficult to assess currently. In terms of the topline impact, per loan revenues from ODaaS will obviously be lower than the accumulated interest income collected by the owner of the loan. ONDK has indicated that, over time, it believes this business should be able to collect between 3%-5% of related loan amounts via a combination of origination and servicing fees. As this will require very little incremental cost, it should eventually be significantly accretive to ONDK's consolidated margin profile. While I imagine it would depend on the specific partnership, this funding model is not expected to incur customer acquisition costs, funding costs, and credit provisioning costs. In the near-term, scaling this opportunity will require ONDK to invest incrementally in technology/infrastructure. Over the longer term, ONDK management sounds confident that these investments will enable it to build out the majority of the infrastructure needed to accommodate the seamless on-boarding of future strategic partners to the platform. The hope is that, as a result, there will be minimal customized engineering spend required to incorporate other partnerships. Management confirmed as much during the analyst day.
Post Analyst Day Comments on ODaaS
OnDeck invested heavily in its ODaaS platform in 2015, building compliance, control, and security features. Some of these were specific to the JP Morgan deal (announced in 2015) and some can be leveraged in future deployments, making them cheaper and faster. JP Morgan is now slowly rolling out Chase Business Quick Capital to its SMB customers. As stated earlier, OnDeck doesn't expect much revenue from the deal in 2016. Longer-term, the platform could grow into a high-margin revenue stream. A 3% take rate equates to $30M in revenue at $1B in platform originations. This could be accomplished by originating 20k loans, at the company's current average size of $50,000 per loan. For reference, JP Morgan has over 4M SBM customers. Management described the platform pipeline as robust and long-term plans incorporate multiple partners and substantially larger (than $1B) origination volume.
The first such deal with JPM Chase is certainly a strong endorsement of ONDK's positioning and underwriting capabilities relative to other Fintech startups. During the analyst day, the company noted a healthy pipeline with several top 50 banks, so it is clear that there is a substantial opportunity ahead. As a theoretical exercise, one can attempt to quantify what the potential impact of this may be. Assuming that ODaaS can originate just 1.5% of the $281B market for SMB loans, at a 3% take rate and 35% tax rate, this can provide a $82M contribution to Net Income. Now, these numbers are obviously subject to assumptions that may prove conservative or aggressive. My point is to simply show that if they are anywhere close to reality, then ONDK is massively undervalued. At a 15X multiple, ODaaS alone would be worth $17.61 per ONDK share, more than triple the current price. This will certainly be many years away, but I believe that capturing 1.5% of the market (roughly $4.2B loan originations) is not too unrealistic a goal within the coming few years.
| | |
| --- | --- |
| TAM | $281B |
| Market Share | 1.5% |
| Take Rate | 3% |
| Net Income Contribution | $0.082B |
| Value (15x) | $1.23B |
| Per ONDK Share | $17.61 |
Origination Growth Through Expanded Product Offerings
In addition to the ODaaS initiative, recent new core SMB loan product launches and geographic expansions into Australia and Canada should provide tailwinds to ONDK's origination growth over the intermediate term. ONDK originally launched its platform by solely offering shorter-term term loan products of between $5k-$250k for 12 months or less. ONDK significantly expanded its product set in October 2015 to meet a broader range of SMB financing needs. Currently, it offers an expanded term loan range of $5,000-500,000 with 3-36 month terms. The company also increased its line of credit range to $100,000 (up from $20,000) with a low $20 monthly fee. It has also begun to offer lower rates for select customers (as low as 5.99%) and certain loyalty pricing benefits for repeat customers. This is clearly manifest in the company's steadily decreasing APR statistics, which have fallen from the mid 60s at the time of IPO to 40.6% as of the latest quarter. While many bears have commented on ONDK being a predatory lender only able to service riskier, underserved borrowers, ONDK's growing ability to lend across the spectrum clearly demonstrates otherwise. OnDeck's lower cost structure relative to a traditional bank and automated credit scoring models mean that it can often underwrite an SMB earlier in its life and before it might qualify for a loan from a traditional bank. By expanding its credit products into longer-terms and larger loan values, ONDK can grow with its customers, service a broader range of them, and form meaningful long-term business relationships. These relationships manifest in high Net Promoters Scores (NPS), as shown in the graph below. The NPS, for those unfamiliar with it, is a metric used to gauge customer loyalty and satisfaction. It ranges from -100 to 100, with higher, positive numbers being more favorable. For most SMB owners, the company ranks above 70. ONDK's expanding financing solutions combine with a level of speed and convenience to make the company an important source of capital for SMB owners.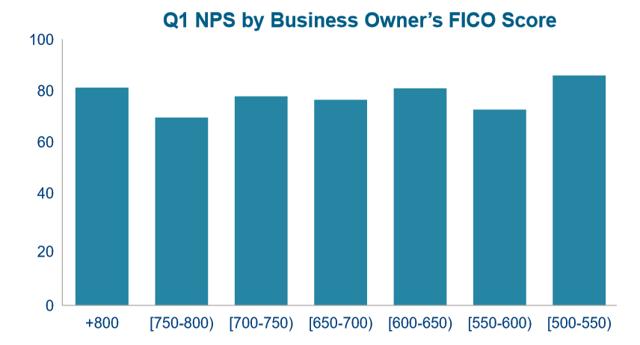 Source: Analyst Day
2015 proved a difficult year for the company's Funding Advisor Program ("FAP") Channel, which accounted for 28% of the dollar value of the platform's loans. Funding Advisors are third-party/independent drivers of referrals for ONDK loans, and include business loan brokers, local insurance agents, equipment leasing brokers etc. FAP partners earn less on a commission basis while conducting their own marketing activities and act as intermediaries between potential customers and ONDK. In 2015, many of these funding advisors were associated with frauds, scams, and other scandals. The company has worked to separate itself from them immediately and implemented a stricter certification process. This additional compliance focus should ensure stability going forward. While this is not a separate offering per se, it represents another lever the company can pull to grow its business, increase its brand awareness, and ultimately reach SMB borrowers.
International Expansion
Until recently, ONDK has been seen as a primarily US growth story. The TAM figures most analysts use (and this article itself cites) refer to the market for SMB loans solely in the US. However, there is nothing to say the company's success should stop domestically. ONDK recently launched operations in Canada and Australia, which should become meaningful growth drivers in the coming few years. ONDK began making loans in Canada in the summer of 2014 and the early growth there has been remarkable. Originations were up 117% YoY in Q1 2016 (according to the quarterly call). In Q3 2015, the company hired a company manager to focus on the region. Currently, ONDK is offering a limited set of loan products there, but recently launched a line of credit offering. ONDK also launched operations in Australia in Q4 2015 via partnerships with MYOB and Commonwealth Bank of Australia. Because of a more structured expansion in Australia, the business there has grown even faster. For competitive reasons, the company does not break out details, but provided a graph during the analyst day to show the trajectory of growth in both Canada and Australia (see below). ONDK's ability to expand internationally is a testament to its ability to scale very rapidly in other geographies. For instance, its Australian operations were initiated in four months and the hiring of six technical staff. As the company grows, operating leverage will rapidly take effect and the company should be able to replicate its success in the US. As of the latest quarter, ONDK's loans under management were just shy of $1B, relative to the roughly $280B estimated TAM in the US alone. Even though there is considerable growth ahead domestically, it appears the company can expand its already massive scope through international markets. Many developed countries, even beyond Canada and Australia, likely offer a similar lending environment. For such significant opportunities, investors at current prices are paying only a slight premium to book value (and in previous weeks, could have purchased at a discount to book). With that said, any price at or below book value represents a highly asymmetric risk-reward.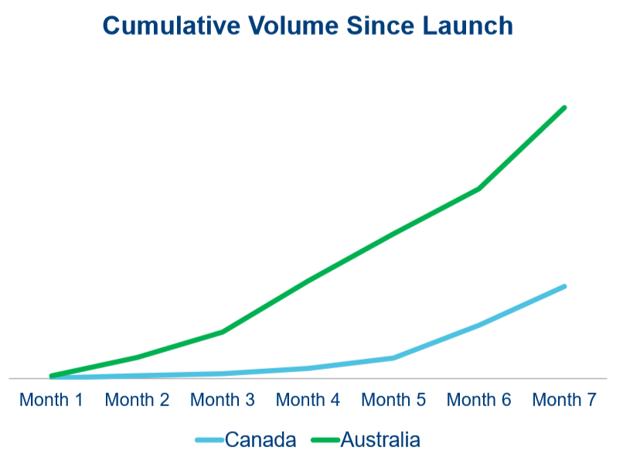 Source: Analyst Day
Disclosure: I am/we are long ONDK.
I wrote this article myself, and it expresses my own opinions. I am not receiving compensation for it (other than from Seeking Alpha). I have no business relationship with any company whose stock is mentioned in this article.