On June 29th, 2016, Morgan Stanley (NYSE:MS) announced a $3.5 billion share repurchase authorization to go along with an increase in the quarterly dividend from $0.15 to $0.20. This news came as the Federal Reserve Board said that it did not object to the capital plans of 30+ banks. It should be noted that while the capital plan did not receive an objection, Morgan Stanley will have to submit an additional plan addressing weaknesses in the firm's capital planning process.
When you see this sort of headline - "$3.5 billion share repurchase program" - it can be hard to determine whether or not you ought to be impressed. Those sort of headlines are all around the news, and without doing some applicable math, the numbers can remain out of context. So let's look a bit closer.
One thing that I like to look at is whether or not the companies announcing capital plans have been true to their announcement in the years to come. It's one thing to announce an anticipation, and another thing to actually follow through.
In March 2015, Morgan Stanley announced a $0.15 quarterly dividend and a repurchase authorization of up to $3.1 billion for the five quarters just ending.
In March 2014, the company announced its intention to pay a $0.10 quarterly dividend and authorized a repurchase program of $1 billion.
Prior to that, Morgan Stanley kept its dividend at $0.05 per quarter from 2009 through 2014. Here's what this has looked like graphically: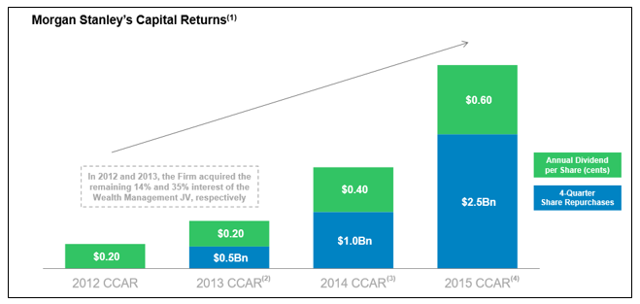 Morgan Stanley is a bit more volatile than, say, Wells Fargo (NYSE:WFC) or JPMorgan (NYSE:JPM). Both of those companies naturally had a down year during the financial crisis, but have since steadily improved profit-wise. Morgan Stanley is also generating substantial earnings, but profits still haven't come close to the pre-recession mark, and have taken investors for a much bumpier ride along the way.
Still, you have a company that generated $5.7 billion in profits available to common shareholders last year, with the expectation of solid profitability and even more growth to come. And let's be honest, that graphic above looks pretty promising if you're talking about an improving business.
So let's revisit that capital return program that Morgan Stanley just announced. I'm going to leave out an important note for the time being, just to give you some context as to the disparity between what is announced in the headlines and what may actually occur.
If The Program Were Executed Like It Sounds
The first scenario is reading from the headline: $3.5 billion in share repurchases and a $0.20 quarterly dividend for Morgan Stanley.
Based on a share price near $25, the $0.20 quarterly dividend represents a 3.2% starting annual yield, which is well above the company's historical mark. With 1.92 billion shares outstanding, this equates to $1.5 billion going toward dividend payments, or a trailing payout ratio around 25%.
The share repurchase authorization represents a trailing payout ratio near 60%, indicating a total net payout (without grow or decline) of around 85%. Should Morgan Stanley be able to return that sort of capital, investors could be looking at very strong returns. Especially given the lower comparative valuation that has come about. Here I'll show you what I mean.
Analysts are expecting the company to generate higher profits in the future. I've seen estimates of over $10 billion for the intermediate term. Let's scale that back a bit and suggest that Morgan Stanley's profits stagnate for years instead. In this scenario, it's conceivable that the currently announced capital return program could continue. Let's see what that would look like in billions: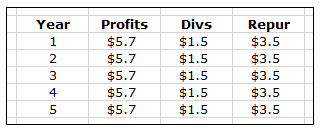 Naturally, something much better (some are calling for $10 billion in profits) or worse (the company did have a streak of earning $1-4 billion for several years) could come about. The above is merely a baseline. However, it would give you an idea of the scale of the current program, should it actually come to fruition. With the above assumptions, you would not anticipate company, dividend or share repurchase growth - each segment is expected to stagnate. However, this does not simultaneously indicate that your per share metrics will stagnate as well.
Here's what the above assumptions could mean on a per share level:

Based on those assumptions, today's capital allocation program would look exceptionally intriguing. Without any company growth, you'd see a substantial decrease in the number of common shares outstanding to go along with 9% annualized gains. But here's the problem:
The Headline Share Repurchase Number Likely Isn't As Impressive As It First Appears
If Morgan Stanley spent $3.5 billion retiring shares annually and did not issue new shares, the above demonstration is what you might expect - and those are some very solid results (reminiscent of Travelers' (NYSE:TRV) share repurchase program) if they were to formulate. Yet, Morgan Stanley does routinely issue shares in conjunction with its share repurchase program. I'll give you some examples.
Let's look at the last two years using annual numbers. According to note 15 in Morgan Stanley's 2015 10-K, to start 2014, the company had 1.945 billion common shares outstanding. During the course of the year, it spent nearly $1.5 billion retiring shares. And indeed, note 15 denotes that 46 million shares were retired, indicating an average cost per share near $32.
If this were the end of the story, you'd have a very effective share repurchase program. Yet, this is not the end. In addition to retiring 46 million shares under its program in 2014, Morgan Stanley had a second line item - "other" - which includes shares issued through stock-based compensation. This number added 52 million shares. To end 2014, Morgan Stanley had 1.951 billion shares outstanding, an increase of 6 million shares.
That's the sort of thing that doesn't make the headlines. The bank touted the $1 billion in share repurchases that year, but it didn't follow it up with this disclosure: "But our share count is still going to increase."
The next year wasn't quite as bad, depending on your viewpoint. Morgan Stanley spent $2.8 billion retiring 78 million shares, indicating an average purchase per share price of around $36. Yet, the share count did not decline by 78 million. Instead, 47 million shares were issued via stock-based compensation, resulting in a "net" retirement of 31 million shares for 2015.
Over the course of the last two years, Morgan Stanley has spent $4.2 billion retiring shares, and yet, the share count has only declined by about 25 million during this time. If you just looked at the headline numbers and where the share price traded hands during that time, you might believe that the company could have retired 100-150 million shares. Instead, it was merely a fraction of that.
Now, none of this means that Morgan Stanley can't be a solid investment today. The dividend yield is still well above average, and the valuation is quite reasonable in comparison to many alternatives. However, it does mean that you shouldn't get too excited about the headline share repurchase number. For some companies, what you see is an approximation of what you'll get. For Morgan Stanley, the number of shares that have actually been retired has been a far cry from what the headline would suggest.
Disclosure: I am/we are long WFC, JPM.
I wrote this article myself, and it expresses my own opinions. I am not receiving compensation for it (other than from Seeking Alpha). I have no business relationship with any company whose stock is mentioned in this article.