As U.S. crude oil (NYSEARCA:USO) stocks have reached record highs, investors have been left wondering what exactly that means. With U.S. crude stocks hundreds of millions of barrels above seasonal averages, it's hard to gauge the effect on the market.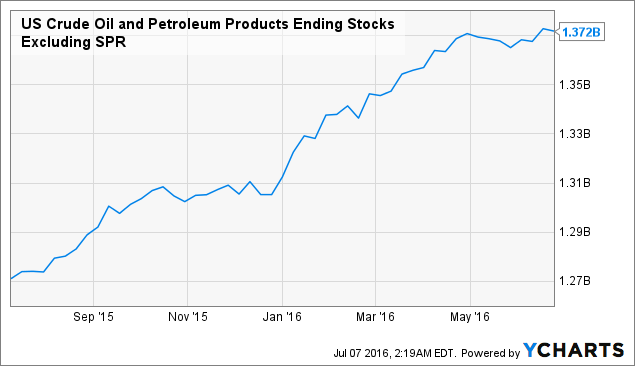 US Crude Oil and Petroleum Products Ending Stocks Excluding SPR data by YCharts
My thesis is that as the expectation of rising oil prices dwindle, a dumping of physical oil onto the market could be the next catalyst for a substantial price rout. U.S. crude exports could be the data to watch in the coming weeks and months. Four-week averages have been rising, and exports reached a recordof 662,000 bpd in May.
The mammoth stock build may finally be seeing its way onto the market, and be a primary reason that oil has failed to edge much above $50 despite production outages.
Rising Imports
While we can not yet claim the recent data of rising exports as a longer-term trend, it does start to show a trend worth noticing. Data in the chart below (delayed by two weeks) shows a rapid rise in exports from mid-April.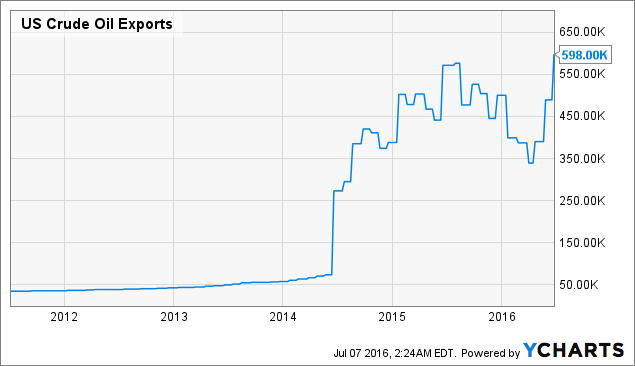 US Crude Oil Exports data by YCharts
There is evidence that this trend will continue. Back in March, I wrote an article titled "U.S. Shale Has A Hidden Oversupply Problem." Using refinery data as evidence, I argued that the primary concentration of the world's oversupply is within U.S. light oil. It is clear that America's ability to process light oil has fallen far behind its capacity to produce it. The owners of all that oil in storage may have finally begun to find a way to sell the excess abroad -- an event which could cause tremors to the oil price, or at the very least cap it for a while to come.
Oversupply Of Light Oil
A large percentage of the U.S. oil in storage is light oil and super light oil, both of which remain in oversupply due to slim margins and refining constraints. Up until recently, there seemed to be little demand for WTI due to its distance from markets that purchase Brent, and refineries in the U.S. have not begun taking steps to process the large surplus of LTO. I speculated at the beginning of the year that if the U.S. could not ramp up exports, storage would continue to rise to a dangerous tipping point. The opposite now -- rising exports -- could have the same effect.
Changing Light Oil Market
On the demand side, growth in diesel and gasoline demand through the summer months is substantial. Different oils can act as nearly distinct commodities, and it takes refineries time and money to adapt to a change in market pricing, and therefore modify the makeup of their inputs. I continue to see a shortage of heavy crude (evidenced by imports from heavy oil producing regions) within the U.S. and a large surplus of super light crude.
Market Speculators
If speculation of rising prices gives way to speculation of falling prices, the oil price could fall fast as physical owners of oil in storage look to dump. I believe that WTI is the most fundamentally susceptible to a price drop. However, the interconnections in the oil market mean it will drag down the other benchmarks.
U.S. Exports To Continue To Rise
As the summer driving season hits in the northern hemisphere, demand for light oil will increase. This could lead to a reduction of demand for the heavy oil produced by much of OPEC. If Saudi Arabia sees a loss of market share for its heavy oil to Europe, it will respond with a price cut.
Investor Takeaway
The thesis that U.S. oil in storage will be a new competitor on the oil market will play out, right or wrong, over the next few months. If oil prices fail to rise through $50 and up to $60 through summer, then the winter months will be a time of reckoning for prices. With a rising rig count in the U.S. and a crude price that has failed to edge higher despite record high outages, it is clear the market is nervous.
I have the view that the market has priced in all the bullish data, and then added a few heaping tablespoons of speculative bullishness. The pushing aside of bear theories could result in a sharp trend reversal. I see the market reacting harshly to a rising U.S. rig count, and I see a large risk of dumping from physical inventories once the market realizes the over-exuberance of the bullish news. The timeframe for this theory to play out is near the end of summer. Once the summer driving season comes to an end, or once it is clear that the summer months has not yet driven oil prices to expected highs, a bearish force will take oil back to the low $40s and likely even further.
Disclosure: I/we have no positions in any stocks mentioned, and no plans to initiate any positions within the next 72 hours.
I wrote this article myself, and it expresses my own opinions. I am not receiving compensation for it (other than from Seeking Alpha). I have no business relationship with any company whose stock is mentioned in this article.