You know that whole "OPEC is dead" meme?
Yeah, I don't buy it. Never have.
The idea that a bunch of cash flow negative wildcatters were going to supplant the Saudi-controlled cartel as the determinant of global crude (NYSEARCA:USO) prices was always silly. Sorry.
If you actually believe the Saudis were so concerned about a handful of US producers that collectively rely entirely (see table below) on capital markets for their very existence that Riyadh decided to blow a giant hole in its fiscal account on purpose, then you don't know a whole lot about geopolitics.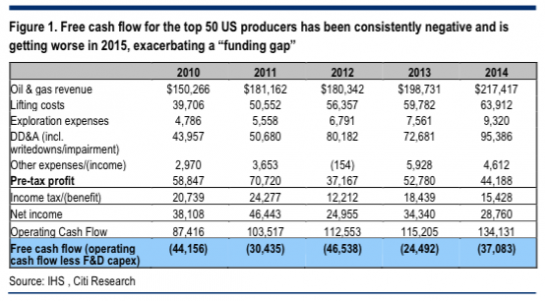 (Table: Citi)
That's not to say the Saudis aren't concerned about market share. They are. But there's a whole helluva lot going on here and some of it has nothing to do with US production.
I've gone over this on any number of occasions. Here's what I said back in May:
Sure, some of this is about market share. As one non-Gulf OPEC state put it to Reuters last week, "Saudi Arabia doesn't give a damn about OPEC any more. They are after U.S. shale, Canadian oil sands and Russia." But they are also after Iran - and that's more about Mid-East power politics than it is about market share.

Russia's move to join Iran in propping up the Assad regime in Syria gave the Saudis one more reason to keep prices low (the other being the fight for market share in Eastern Europe and in China, where Russia surpassed the kingdom as the top supplier of crude in May and October of last year).
Subsequently, I opened my mouth again about the implications of the sectarian divide on OPEC and oil prices. Here's what came out:
The Saudis simply aren't going to capitulate until they've spent every last penny of reserves they have. And it's not because Riyadh cares about US production. As I've been pounding the table on for months, the Saudis care far more about doing whatever they can to limit the amount of revenue Iran brings in from crude sales than they do about shale oil in the US.

As for Iran and the Shiite community, they aren't about to back down in any of the proxy wars with the Sunnis no matter where they are fought. That goes double for the oil market. Here's what Oil Minister Bijan Namdar Zanganeh said last week: "We'll continue increasing production even if the price of crude drops to $20/barrel."
Not to put too fine a point on it, but given the geopolitical backdrop, it's patently absurd to think that Saudi Arabia cares one way or another about a bunch of US E&Ps who are collectively in such bad shape that their borrowing bases were cut by 21% in April. Riyadh cares about Tehran. And that means keeping prices low. Iran cares about ramping production to 4 million b/d. Which will also keep prices low.
So yeah, OPEC still matters. A lot.
But don't take my word for it. Just ask Big Data. That's right, Big Data. SocGen has taken a unique approach to measuring OPEC's supposedly "insignificant" significance. Here's what they did:
We expand on the original SG research publication "Introducing the SG Inflation Newsflow Indicator", in which SG analysts put Big Data to work. In their previous research the analysts summarised newsflow trends by taking a controlled approach towards collecting relevant inflation news and analysing how inflation is talked about. Here we use that approach and analyse the frequency of certain words pertaining to OPEC (cut, maintain, increase, etc) and their effect on volatility in oil markets. The main question is this: do certain words matter more than other in the sense they have a more profound impact on the formation of prices/volatility?
Actually I think the "main question" isn't that. The main question is whether volatility still responds to OPEC headlines the same way it used to. After all, if the cartel doesn't matter, then neither should the headlines. I'm sure you can guess what SocGen found:
The trace statistics for each of the three OPEC words and volatility plotted over time illustrate that during the price decline of 2014 (firstly due to years of rapid growth in US shale oil output causing global oversupply and secondly due to the market's reaction to the OPEC decision in November 2014) that the relationships fell apart. In other words, even though "key words" about OPEC were being reported, the relationship to volatility crumbled. However, in the case of "increase" and "unchanged", their relationships to volatility picked up again in January 2015. In other words as the market began to speculate on OPEC activity and in particular if they would cut production or keep it unchanged, volatility would pick up. The word "cut" was basically irrelevant in terms of impacting volatility until late 2015. While all three words seem to be closely tied to volatility since January 2016, when the word count for "unchanged" increases, volatility rises the most, followed by "increase" and then "cut".

(Charts: SocGen)
Caveat: this study is more about which words matter than about the extent to which any words that come out of OPEC's collective mouth count.
Be that as it may, this quite clearly suggests that far from fading into oblivion, the cartel lives.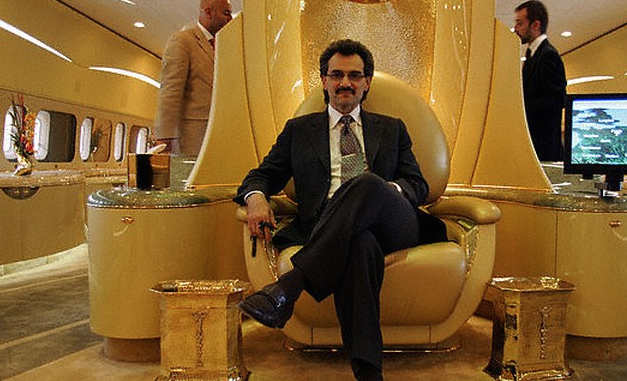 (Obligatory nod to Prince Alwaleed bin Talal bin Abdulaziz Al-Saud's golden plane)
Disclosure: I/we have no positions in any stocks mentioned, and no plans to initiate any positions within the next 72 hours.
I wrote this article myself, and it expresses my own opinions. I am not receiving compensation for it (other than from Seeking Alpha). I have no business relationship with any company whose stock is mentioned in this article.