The nature of conflict is ever-changing. Just 100 years ago the Battle of the Somme was taking place in Northern France and men were throwing themselves into an almost impossible fray from trenches dug in the earth. Aircraft were barely a factor at this time and men still rode horses into battle and wielded cutlasses. Just 100 years later and a man or woman, from the safety and comfort of an air-conditioned room, can launch a precision guided bomb through a window from the belly of a UAV. About the only area we do not have weapons deployed is space, but that will not always be the case and is the reason I have my eye on Orbital ATK (NYSE:OA).
The rapid mechanization of warfare during World War I led to the birth of many of the most well-known defense companies in the world today. Boeing (NYSE:BA) was created in 1916 and really took off (pun intended) by manufacturing bi-planes for the US Navy. Lockheed Martin (NYSE:LMT) can trace its roots to 1912 and also carved out a niche for itself manufacturing airplanes, most notably the first ever twin-engine bomber in 1918. What these two companies had in common and what we must understand as investors is that they successfully exploited the next stage of warfare and the next big movement in human history - air travel.
Like Boeing and Lockheed, we must identify and exploit the next "big thing." From a defense perspective I view the next big thing as space, which I suppose is the biggest thing there is or ever will be and it gets bigger each passing second. More so than just space the weaponization of space will be of utmost importance if we wish to maintain our military dominance. As conflict evolves into a very precise and mostly risk-off endeavor, space and our ability to access and control it are ever-important. Area denial on sea, air and land is very important in conflict and in the future area denial in space will trump all others. For that reason I find Orbital ATK very compelling.
Orbital ATK is a pretty interesting company. Born from Orbital Sciences (ORB) and the defense portion of Alliant Techsystems (ATK), the company can trace its roots back to 1940. The company now makes medium-caliber ammunition and weapons, rocket propulsion systems, satellites and everything in between, spread between its three segments of Flight Systems, Defense Systems and Space Systems.
Orbital is probably best known for resupplying the International Space Station at the behest of NASA. Using its Cygnus cargo delivery system the company has successfully re-supplied the ISS twice this year and conducted several experiments such as setting the craft on fire (on purpose) and launching several small satellites. Its expertise in launch vehicles, propulsion systems, satellite construction and technologically advanced defense systems makes Orbital a virtual one-stop-shop for producing space weapons.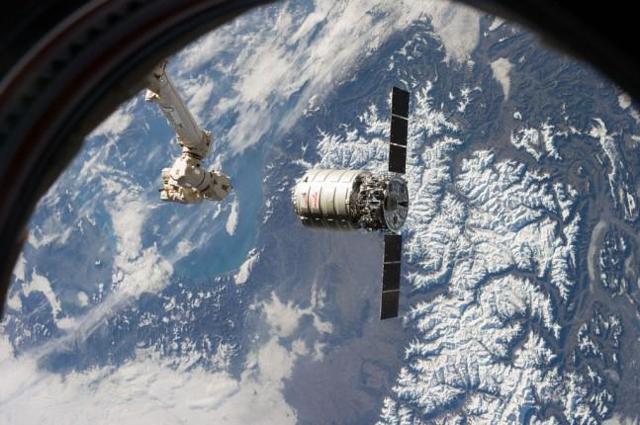 (Cygnus outside the ISS, courtesy of Space Flight Insider)
The weaponization of space is something that does not get very much attention but is the natural next-step in modern warfare. Many may be surprised to learn that the weaponization of space is actually supported by a treaty. The Outer Space Treaty was signed in 1967 and is recognized as the "law of the land" for space. As far as weapons go in space, so long as you don't place a nuke (or any other WMD) on the moon, in orbit, or on any other "celestial body" you can pretty much do whatever you want... and let's not be naive, WMDs are a natural fit for space and will happen. Electronic weapons (frequency jammers for example), precision lasers and other directed energy weapons, rail guns, anti-satellite weapons, parasitic satellites, even orbiting bomber planes that can drop tungsten rods on land targets. There are literally hundreds of possible weapons you can deploy in space to attack both space and land-based targets.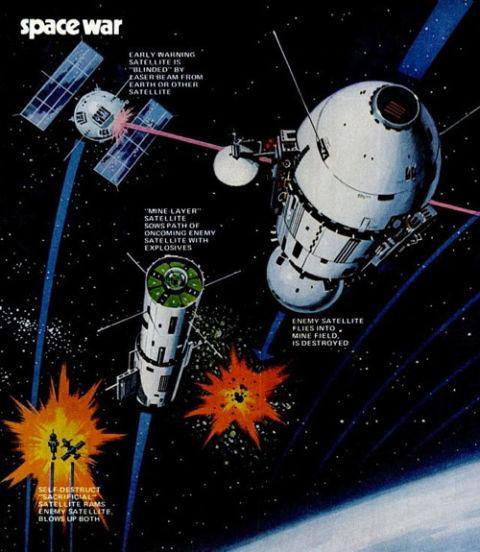 (Courtesy Popular Mechanics)
So why do I like Orbital ATK as a bet on the weaponization of space? It already possesses the technology and expertise to thrive in that area of defense. It is also easy to like the company because even without space weapons it has a solid and profitable business that provides an essential service. Its moat is also incredibly large and new competitors face a daunting task of raising enough capital to be competitive with OA. Financially the company is on solid footing with the balance sheet containing $73.5 million in cash and $1.5 billion in long-term debt. The debt is a concern but the backlog of $14.8 billion and net receivables of $1.97 billion help mitigate those fears. The contract backlog is a particular bright spot and grew 23% YoY.
At these prices the company is also attractively valued on company estimated forward earnings. Orbital ATK reaffirmed 2016 EPS estimates last quarter at $5.25-$5.50. On the low end of the estimate, that places shares trading hands at just 16.2 times. Currently shares are going for 19.9 times TTM EPS. Comparing its P/E to Boeing, Lockheed, Northrop Grumman (NYSE:NOC) and Aerojet Rocketdyne (NYSE:AJRD) shows Orbital is competitively priced here.
| | | |
| --- | --- | --- |
| COMPANY | P/E | MARKET CAP |
| Orbital | 19.99 | $4.94b |
| Boeing | 17.15 | $80.99b |
| Lockheed | 22.09 | $75.98b |
| Aerojet | 16.07 | $1.16b |
| Northrop | 20.13 | $40.17 |
| A&D Industry | 17.8 | N/A |
There is competition that OA must deal with but this industry is very complex. Its two largest competitors, at least when looking at their niche in space, are SpaceX (Private:SPACE) and Aerojet Rocketdyne. SpaceX is another provider of commercial re-supply services to the ISS and Aerojet's propulsion systems directly compete with Orbital's. Despite the competition for contracts the companies all rely on each other for certain services and products. In December of 2015, Aerojet helped propel Orbital's Cygnus vehicle during their ISS re-supply mission. SpaceX is finding itself in a "the enemy of my enemy is my friend" situation. SpaceX's niche is in reusable rockets, something Orbital says it has no interest in. A new company called Sierra Nevada, who also won part of the ISS re-supply contract, aims to develop its own reusable spacecraft. This makes Sierra Nevada a direct competitor to SpaceX and Orbital more of a nuisance. The structure of the industry, contracts and wide variety of missions leave plenty of space (another intended pun) for these three competitors and I look forward to seeing the potential consolidation in the industry.
With China and Russia increasing their rhetoric against the West and weapons systems on land evolving to the point where they all but cancel each other out, I think the next decade will see a rise in space weaponization as global powers seek an edge over their global competition. I must admit I like AJRD at this point too, but Orbital is a little better diversified thanks to its ammunition and weapons systems. I think investors would do well with either company over the long term but I plan to add OA first.
I hope you all got something out of this article. I do appreciate the time you took reading it. If you are one of those who follows me here, I appreciate it; if you'd like to include yourself amongst those individuals, please hit the "Follow" button next to my name. As always please leave any feedback and questions you may have in the comments below. Best of luck to you all.
Disclosure: I/we have no positions in any stocks mentioned, but may initiate a long position in OA over the next 72 hours.
I wrote this article myself, and it expresses my own opinions. I am not receiving compensation for it (other than from Seeking Alpha). I have no business relationship with any company whose stock is mentioned in this article.