When Bad News is Good News
In his book, The Future for Investors, legendary stock market researcher and scholar Jeremy Siegel describes how many past investors have been doomed to poor returns through their "relentless pursuit of growth-through buying hot stocks, seeking exciting new technologies, or investing in the fastest-growing countries." Siegel's conclusions are based on exhaustive research of the past half century of actual returns among the original firms of the S&P 500.
To support his view, Siegel offers a case study of IBM and Standard Oil from 1950 through 2003, during which time IBM significantly outpaced Standard Oil on popular measures of revenue, dividend, and earnings growth. Despite superior business performance by IBM, Standard Oil produced a higher return due to a superior dividend yield and an average price-earnings ratio of one-half that of IBM.
Siegel goes on to highlight the performance of Philip Morris. Despite its position in a deeply troubled industry that faced unfavorable regulation and a string of costly litigation, Philip Morris stock produced the single best return among all original S&P 500 firms with $1,000 invested in 1957 growing to $4.6 million in 2003, including reinvested dividends. The key to this outperformance was accumulating shares at consistently depressed valuations, which boosted returns by a spectacular degree once the problems were behind the company.
While investors can't benefit from the performance history of Standard Oil or Philip Morris, we can apply these principles if we can recognize similar circumstances in today's market. With that in mind, let's turn our attention to an industry that has fallen out of favor recently. Pharmaceutical distribution is an oligopoly-style industry with three companies collecting approximately 85% of revenues. The industry has come under pressure recently for a couple of key reasons: generic price deflation and government posturing against the high drug prices of biotechnology firms.
While a rise in generic drug releases is a headwind against distributors' revenue, it is a positive for margins and profitability. Prices for generics are far less than those for their branded counterparts. However, margins realized are much greater for distributors. This is particularly true in the early stages after the release of a generic drug. Subsequently, though, margins gradually decline as similar drugs are introduced and competition increas. In the prior couple of years, there has been a sudden and rapid increase in the price of some generic drugs, which has generally benefited distributors. This trend has been reversing recently, however, as generic pricing has begun a deflationary trajectory and become a headwind against profitability for pharmaceutical distributors.
Even more well known is the political posturing against biotechnology firms and the high drug prices they command. While these branded drugs generate lower margins for distributors, the dialogue has produced weakening sentiment across the broader pharmaceutical industry with investors fearing the worst of this uncertain outcome.
The culmination of these factors have produced lower share prices for all key players in the pharmaceutical distribution industry: AmerisourceBergen (NYSE:ABC), Cardinal Health (NYSE:CAH), and McKesson (NYSE:MCK). While these recent trends have been bad news for the underlying companies, I believe it has great potential to become good news for investors. That's why it behooves us to take advantage of the current weakness and depressed share prices to learn what we can about the overall industry and the underlying companies within it.
Industry Overview
Major pharmaceutical distribution companies must invest heavily in infrastructure to build their capabilities and achieve an efficient cost structure. This characteristic means that new market entrants will likely experience significant difficulty trying to break into the industry, which causes the risk of disruptive innovation by outsiders to be very low. Because of the large scale of buyers, another key trait of the industry is its massive customer concentration. Loss of a single large customer can easily cost a distributor 10% to 15% or more of their revenue.
To emphasize the significance of the deflationary pricing environment alluded to earlier, these companies work on very small margins. As distributors in a market with several links in the industry value chain (manufacturers, PBMs, pharmacies, distributors), each individual company only takes a small part of the industry profits. The gross margin of CAH has ranged from 4.9% to 5.7% in the past three years. MCK has been between 6.1% and 6.4%. ABC managed just 2.5% to 2.9% in the same time frame. Net profit margins stand just above 1% for CAH and MCK, while ABC reported a GAAP loss in 2015. Clearly, none of the three can afford further narrowing of their margins.
Positive factors of an aging population and extension of health care coverage to the previously uninsured under the Affordable Care Act are often cited by those covering the health insurance industry. While these are real and important factors, a keen investor is likely aware that companies that fail to remain competitive and maintain market share have little to gain from these trends. While this fate could befall any single distributor, the industry as a whole stands to benefit from the emerging trends as any market share losses by a single company will be a gain for another.
Investment Rationale
With the beaten down stock valuations and current industry headwinds, the key players in this oligopoly-style industry may well represent a long-term opportunity. However, stockpickers may be in a bit of a quandary as to which stock stands to benefit the most in the event of an industry turnaround. A brief summary of the key risks relevant to each specific company helps shed some light as to why this is:
AmerisourceBergen - ABC has the largest concentration with 46% of revenue from just two customers, and 64% from its top ten. Its relationship with Walgreens Boots Alliance also subjects it to potential share dilution given the warrants Walgreens has to purchase new shares at a discount to its current market price.
Cardinal Health - CAH seems to be humming along recently, but it's been a major victim of customer concentration with losses of contracts with Express Scripts in 2012 and Walgreens in 2013. If large customer losses become a trend with CAH, it could lose lots of ground to the other two distributors.
McKesson - MCK is the top dog in the industry, which is usually an important trait in an investment decision. However, it appears to have the clearest risk of near-term customer attrition, with one of its top clients, Rite Aid, being acquired by Walgreens. Understandably, there is speculation that Rite Aid-which some estimate to provide up to 15% of MCK revenue-may migrate to AmerisourceBergen, its parent company's supplier. Also, management's intentions seem to be more questionable than do the other two companies'. MCK has one of the highest paid CEOs, large recent layoffs, and below-average shareholder returns through its dividend policy.
Clearly, investors will find a unique set of concerns which may cause them to avoid any of the individual companies. On an industry-wide basis, though, the concerns surrounding generic and branded drugs could make this a good time to buy on bad news. While these headwinds won't likely disappear overnight, investors can take solace in the fact that these distributors are key cogs in the pharmaceutical industry. With the three boasting ownership of approximately 85% of the market and the major investment that would be required to build a competing distribution infrastructure, there's little alternative for moving product from supplier to end user unless it's done by ABC, CAH, or MCK. The need for pharmaceutical drugs won't likely diminish materially in the future, nor will the key distributors likely lose their position at the top of the industry.
The major customer concentration is a serious consideration for investors focused on a single company within this field. However, on an industry-wide basis, the loss of a major customer by one company will be offset with a win by a competitor. The net effect would essentially be zero, aside from any small efficiency lost in the transition. As a result, owning two or more of these three companies mitigates much of the risk of customer concentration.
Additionally, the already narrow margins represent a risk, but it should also be considered that there's very little room for lowering margins or price for distribution services while still allowing these companies to provide their vital service in a profitable manner. Essentially, the low profit margins create a floor below which margins would not likely drop any further before there's no economic benefit for distributors to provide their service. That's why in the long run investors should expect the economics of the industry to win out as the distribution triad continues to operate profitably.
The economics and combined competitive advantages within the industry are attractive, particularly in light of current valuations, but there are also substantial risks in selecting any single company. At the same time, the majority of these risks are mitigated by spreading bets across all three, similar to a mini-ETF for this segment of the pharmaceutical industry. While keeping the foregoing in mind, investors with an interest in the industry could consider adding a position in each company to gain the upside potential while limiting the risk of loss inherent in each individual company.
What should be expected from these investments? Most importantly, an investor adopting such a strategy should anticipate relatively slow progress. The headwinds impacting the industry haven't played out entirely, and there may still be a downtrend in the shares of some or all of the three selections before they recover. These are value investments which collectively hold a dominant competitive advantage in a highly consolidated industry. As the industry grows, this advantage promises to create value for the three as they increase shareholder returns through dividends and buybacks, reinvest future earnings, and compound their intrinsic value over a long time horizon. Patience is the name of the game.
Portfolio Allocation
We already highlighted the respective risks of each of these companies. Now, let's review some financial highlights and use this and preceding information to determine a possible portfolio allocation for each stock.
AmerisourceBergen - ABC has achieved share price appreciation of more than 13% annualized over the past three- and five-year periods, and 15% annualized over the prior ten years. Similarly, it has paid dividends each year since 2001 with annual increases each year since 2006. It booked $136 billion of revenue in 2015. ABC is trading at 14.7 times this year's adjusted earnings estimates.
Cardinal Health - CAH is a dividend aristocrat with dividends declared increasing each year since 1986. The company booked $103 billion in revenue in 2015, had a debt-to-equity ratio of 0.88, and free cash flow per share of $6.69 (ignoring cash paid for acquisitions). CAH has diversified its business into distribution of various medical supplies through recent acquisitions, but remains heavily concentrated in drug distribution. CAH now trades for just 15.3 times estimated adjusted earnings.
McKesson - MCK is the industry leader with $191 billion of revenue in 2015. The company's free cash flow has ranged from $10.92 to $12.85 per share over the last three years (ignoring acquisitions). The company has paid dividends since 2000 with relatively consistent increases to its payout beginning in 2008. MCK sports the lowest forward earnings multiple at 14.1 based on analyst estimates.
All three companies have done well, returning approximately 150% to 300% and far outpacing the S&P 500 index over the past ten years, per the below chart.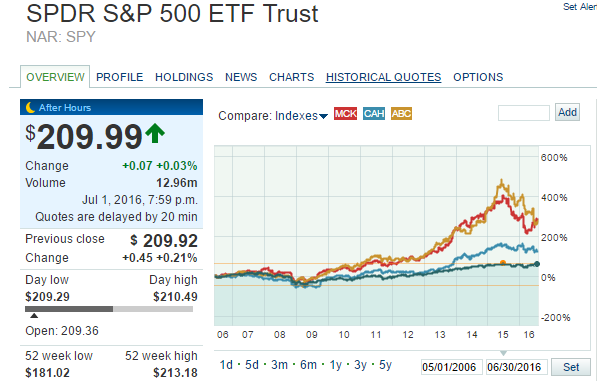 Source: MarketWatch.com
For the final decision, the allocation I'd suggest is: ABC 37.5% | CAH 37.5%| MCK 25%. While all three companies are attractive, MCK is being awarded the smallest allocation, owing mostly to its lower perceived corporate stewardship, lower dividend yield, and prospect for possible loss of Rite Aid as a customer.
While the pharmaceutical distribution industry has encountered headwinds this year that have caused Wall Street sentiment to sour, investors who believe the industry will be resilient and will continue to operate profitably in future years can take the opportunity to review the situation and take action as they see fit to capitalize on this collection of quality enterprises trading at a discount to average market valuations.
Authors Note: Investors who valued this analysis and who wish to receive future articles and ideas from The Virtuous Cycle can do so by clicking the "Follow" button at the top of the article.
Supporting Documents
Disclosure: I am/we are long ABC, CAH.
I wrote this article myself, and it expresses my own opinions. I am not receiving compensation for it (other than from Seeking Alpha). I have no business relationship with any company whose stock is mentioned in this article.
Additional disclosure: All investments involve risks. Investors are encouraged to do their own due diligence prior to making buy or sell decisions.