Fundamental Overview
The Greenbrier Companies (NYSE:GBX) provides three primary operating segments including railcar manufacturing and wheels and parts and leasing services. The company's core competitors include American Railcar Industries (NASDAQ:ARII), Freightcar America (NASDAQ:RAIL) and Trinity Industries (NYSE:TRN) for railcar manufacturing and other services. Both GATX, Inc. (NYSE:GATX) and Westinghouse Air Brake Technologies (NYSE:WAB) compete against Greenbrier's leasing and parts business.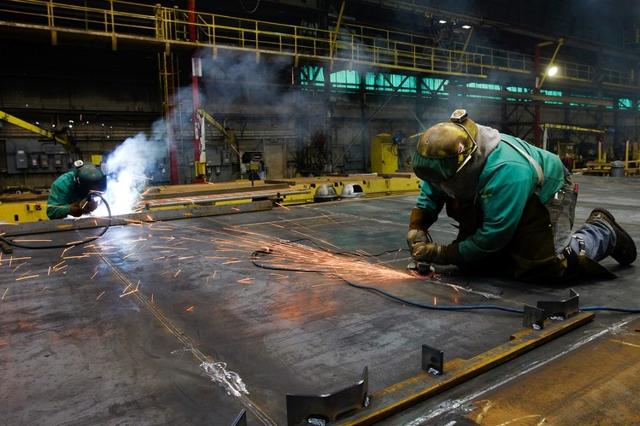 Greenbrier is the second transport-based company to announce its earnings after FedEx Corporation (NYSE:FDX). The company operates on a fiscal year, which ends in August. The substantial majority of transport companies operate on the calendar year, so it is prudent to consider Greenbrier's second and third quarters against the first and second calendar year, especially for its direct peers.
Most investors are already aware of Greenbrier's quarter-over-quarter performance with respect to revenue and diluted earnings per share, EPS. The company witnessed a 14 percent decline in revenue, led by a 23 percent decline in the railcar manufacturing operating segment. Earnings from operations declined by 22 percent and diluted EPS declined by 16 percent.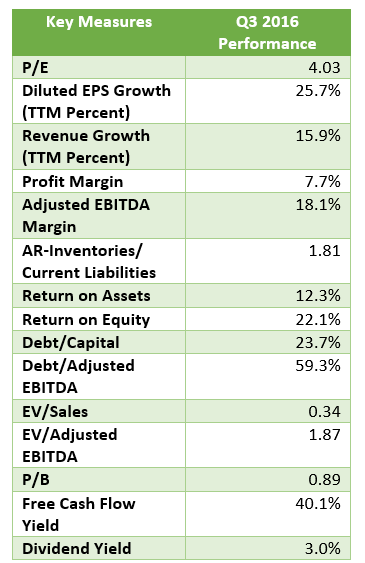 Source: SEC filings and personal database
But what many investors are focused on are Greenbrier's fundamental performance measures. From the table above, investors should be keyed in on the company's return on assets and equity, leverage, EV/adjusted EBITDA and free cash flow and dividend yield.
Historically, Greenbrier's dividend yield has not been this high since 2001 when it was over 4 percent, and the free cash flow yield has not breached the 40 percent level since August of 2009. Since Greenbrier's fiscal year ends in August, the company was not far from the 2009 low-point during March. The company's EV/sales, EV/adjusted EBITDA and P/B ratios have not been at today's level since the 2002, 2004 and 2010 time periods.
Despite the fact that there is not currently a recession in the U.S., Greenbrier is trading at valuation levels which in the recent past, were evident of a recession. There are those who believe we are in a freight recession, which could be a harbinger of an eventual U.S. recession, but this is yet to be seen.
The current table above is evidence that Greenbrier trades at extreme discounts, especially when compared to direct peers. But as we all know, the broader market indices are forward-looking. The primary weight impacting the company's stock price valuation is the near-term uncertainty surrounding important growth drivers.
Valuation Is Depressed Due To Uncertainty
There are important factors to consider that may continue to weigh on Greenbrier's stock price appreciation, despite a continued discount valuation. Most of these factors are interconnected with macroeconomic trends. They include Class I rail traffic as a proxy for future railcar manufacturing demand, specifically related to tank and covered hopper cars, and broader slowing freight demand as evidenced by indicators such as declining container twenty-foot equivalent units, TEUs, and reduced pricing for container shipping line rail and trucking industries due to overcapacity.
Major macroeconomic trends include slowing gross domestic product, GDP, sustained high sales to inventory ratio and flat consumer sentiment for the U.S., contrasted with a recently improving ISM Manufacturing index. Larger global slowing GDP and the recent Brexit results also provide near-term potential impacts, which may affect Greenbrier, among many other industries.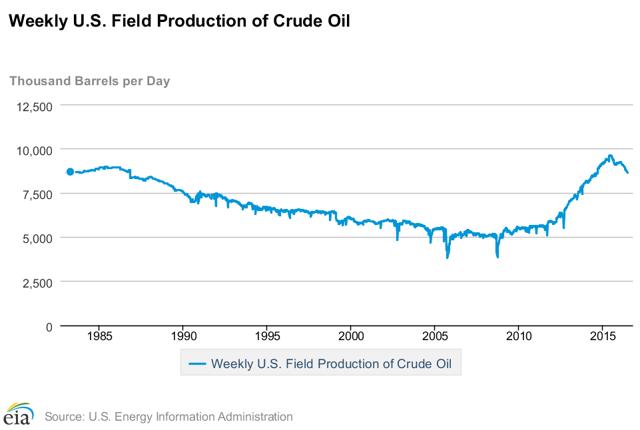 Current negative rail traffic trends have largely been impacted by major commodities exposed to energy including coal and coke, petroleum and sand and gravel. The impacts based upon the substantial ramp-up in U.S. oil production, followed by a sharp decline as global oversupply has driven prices down can be seen in the figure above.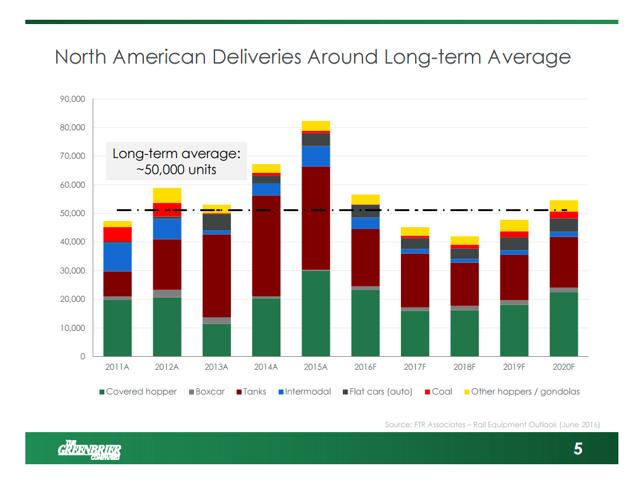 For Greenbrier and all other railcar manufacturers, the driving force for the 2014 and 2015 abnormal surging tank and covered hopper car demand was driven by the shale boom leading to tremendous oil production in the U.S. Based upon the estimates from FTR Associates in the slide above, the current cycle will possibly hit a bottom sometime in 2018 and then recover to the historical 50,000 railcar unit deliveries per year.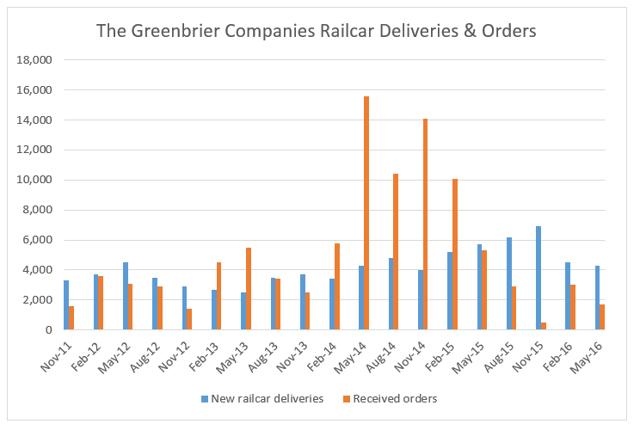 Source: Company financials and personal database
There is a strong correlation for Greenbrier's received orders and lagging new railcar deliveries that align directly with the preceding two graphics. There is no question that Greenbrier benefited greatly from the recent shale boom across the U.S.
Greenbrier recently reduced diluted EPS guidance expectations for the remainder of the fiscal year. This was part of the reason for yesterday's stock decline. But with uncertainties for the future in the U.S., North America and globally, with Brexit's added pressure to these uncertainties, confidence that Greenbrier will be able to meet fiscal year 2017's estimates have been lessened.
Short- And Long-Term Potential To Remain During 2016
Yahoo! Finance
When we think about the next few years and the uncertainty surrounding transports, it makes sense that investors would punish Greenbrier, despite already low valuation levels. As the figure above displays, investors have had the opportunity to take advantage of some substantial short-term gains.
The current depressed level may yet again offer a double-digit return in a short period of time as the previous three highlighted above. But long-term investors should think about historical valuation levels for Greenbrier.
Since 2000 and at the close of each fiscal year, Greenbrier has only traded above 20 times diluted EPS three times, twice occurring near peaks before substantial economic collapses during 2007 and 2014. Aside from these times, the stock has mostly traded between the high-single digits to mid-teens. Based upon FTR Associates' estimate out to 2020, it would seem highly unlikely for Greenbrier to trade near or above 20 times diluted EPS. This leaves the company to trade somewhere between 7 to 15 times earnings, depending upon how the global and domestic economies progress.
Average analyst estimates for 2017 diluted EPS were at $3.44/share, down recently by about two percent. It would make sense for a further reduction in diluted EPS, which would further pressure the stock price over the next twelve-month period. The market could be anticipating possible downgrades and/or stock price target reductions.
During the current down-cycle, it would be premature to expect Greenbrier to recover to a 15 P/E ratio anytime soon, especially if 2017 may not lead to a robust recovery for rail traffic, which is currently an unknown. So long-term investors should consider the fact that Greenbrier may trade between 7 to 9 times diluted EPS. If earnings estimates continue to go lower, and if Greenbrier reduces guidance further, the price will continue to get cheaper.
Based upon this, long-term investors should be prepared to have cash to further invest, as well as time horizon ideally out to 2020 at a minimum. For short-term investors, getting in below $25/share, closer to $20/share would be a prudent approach.
Relationship With Class I Rail Performance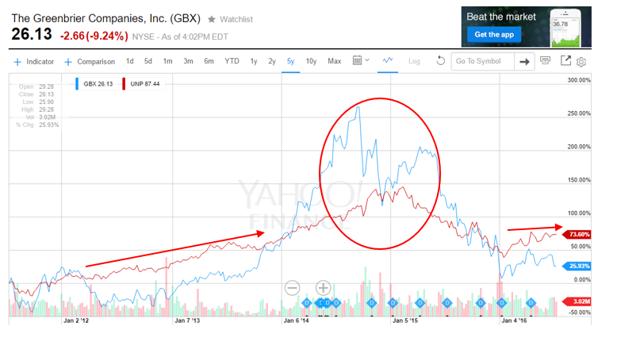 Yahoo! Finance
Rail traffic performance peaked during 2014 and witnessed an increasing decline during 2015, which has exacerbated during 2016. With many Class I rail operators averaging weekly carload traffic at levels below late fall and early winter amounts of last year, most in the industry are beginning to realize that a volume-based recovery will not likely occur until 2017 at the earliest.
Over the past five years, Greenbrier has traded in a pattern similar to the railroads, via Union Pacific (NYSE:UNP) as an example. However, during the peak, Greenbrier fundamentally got ahead of itself and unfortunately, investors paid the price if they bought shares during and/or between 2014 and 2015 summers.
Greenbrier has now returned to a similar trading relationship during early 2012 through late 2013, and investors should continue to monitor these trends as the company is highly susceptible to underperforming the railroads during boom-bust cycles.
Greenbrier may also take longer to get back to parity with its trading relationship to the railroads. As a result, a prudent review should consider when Greenbrier crosses an over-performance threshold above 10 percent as a sign to begin to pay close attention to rail traffic levels and to attempt to appropriately gauge the current cycle in the future.
Investor Perspectives
The strong volatility displayed yesterday was impacted by macroeconomic uncertainties including a lengthening expectation for rail traffic recoveries. Based on the 2017 estimated P/E ratio and near-term unknown estimate revisions, yesterday's price is not an immediate buy for investors looking for either short-term or long-term opportunities.
This does not mean that short-term or long-term investors could not make money had they taken an action yesterday. It only suggests that patience may be a good approach at the moment, to consider what type of adjustments may be made for average diluted EPS estimates, how broader market volatility may continue to interpret overcapacity within freight industries and how near-term unknowns such as Brexit will continue to play out.
Many freight economists have been revising their volume estimates lower as 2016 has continued to progress. While trailing fundamentals look strong and Greenbrier is poised to continue to generate strong cash flows, pay down debt and improve the company's overall strengths, chances are a better buying opportunity may emerge in the not-so-distant future.
Disclosure: I/we have no positions in any stocks mentioned, and no plans to initiate any positions within the next 72 hours.
I wrote this article myself, and it expresses my own opinions. I am not receiving compensation for it (other than from Seeking Alpha). I have no business relationship with any company whose stock is mentioned in this article.