Skyworks (NASDAQ:SWKS) has been a volatile name in 2016 with, among other downward catalysts, any negative mention of the iPhone 7 sending the stock spiraling down: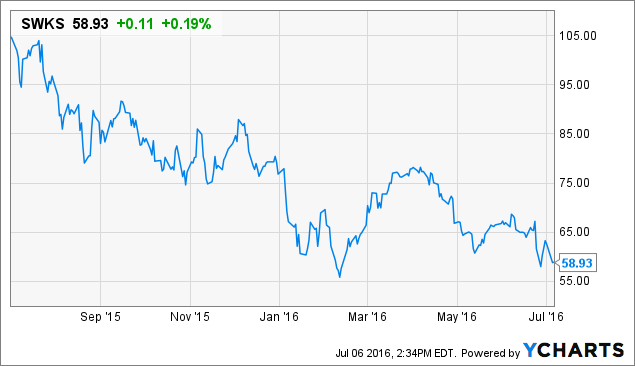 Just when it looked like SWKS might be on the road to recovery a couple weeks ago, Brexit happened and halted any sort of momentum the stock had built up. In the two trading days post-Brexit referendum, which occurred on June 23rd, SWKS fell as much as 15%, which made for some very disappointed investors, myself included. The stock again started to claw its way back but then of course guilt by Apple (NASDAQ:AAPL) association reared its ugly head.
Pacific Crest Securities downgraded SWKS, among other Apple suppliers, to Sector Weight (the equivalent of hold or neutral). The firm cited lower iPhone sales estimates based on supply chain forecasts and set a price range for the stock of between $60 and $67. As has happened far too often with Skyworks stock lately, the market heard "iPhone" mentioned in a negative light and sold SWKS, sending the stock down 6%. The frustrating thing here for SWKS investors is that there was no new information in the Pacific Crest report, just a re-hash of speculation, estimates, and forecasts that have already been mentioned. Yet still, the stock is punished.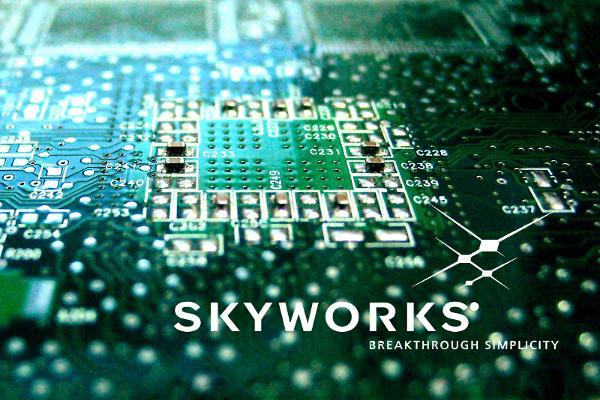 I wrote an article a couple months ago discussing how Skyworks is supplying all sides in the smartphone war and is diversifying its revenue beyond Apple. That article can be found here. Yes, Apple is a substantial part of Skyworks top line, but the degree to which the companies are connected by the market is well overdone. After the Pac Crest downgrade, SWKS fell below $60 again, despite that price being below the range the firm set.
But who am I to complain? SWKS gets hammered on negative iPhone chatter, I buy the dip, then the stock starts to inch back up again. I've been doing this for a few months now. But it is still frustrating to see how the stock continues to get dragged down by a market that cannot see, or does not care about, Skyworks' revenue diversification away from its largest customer.
As I write this, SWKS currently trades at $59.10 per share, which yields a forward P/E ratio of less than 10 and a PEG ratio of 0.6. Even with minimal iPhone revenue over the last 12 months, Skyworks has been raking in the profit and the cash. And let me dispel the sentiment that the iPhone 7 will be a flop or that it will be an unprecedented sales drop for Apple. The iPhone 7 is a massively profitable consumer good for all companies involved, and make no mistake, Skyworks will be more than fine no matter where actual iPhone sales end up.
SWKS current has an enterprise value multiple (Enterprise value/EBIDTA) of 7.3, which indicates that the stock is significantly undervalued. Skyworks competitor Qorvo (NASDAQ:QRVO) has an enterprise value multiple of close to 10 and Broadcom (NASDAQ:AVGO) has one of more than 20 (though that comparison is a bit stretched considering Broadcom has a much wider product mix).
I have been adding to my SWKS position along the price rollercoaster and it is now the largest position in my portfolio. For long-term investors without fear of some volatility and frustrating short-term price movements, SWKS has tremendous upside potential and minimal risk, especially at the current depressed price. I think this a great buy-in point for those looking for an entry point and for those looking to add to their positions.
Because of the potential for a downward price movement after Q3 on negative Apple sentiment, I will be hedging my long position with put options. However, I am still cautiously optimistic for a positive quarter due to the company's light Q3 guidance from last quarter's report. Management has set the bar low so hopefully results will beat expectations.
If you want to stay up to date on my articles, you can Follow me by going to my author page or by clicking "Follow" at the top of this page.
Thanks for reading!
Disclosure: I am/we are long SWKS.
I wrote this article myself, and it expresses my own opinions. I am not receiving compensation for it (other than from Seeking Alpha). I have no business relationship with any company whose stock is mentioned in this article.