By Parke Shall
It was announced last night that international yogurt maker Dannone would be making a $12.5 billion dollar all cash ($56.25) bid for WhiteWave Foods (NYSE:WWAV), manufacture of Silk, Horizon, and some of the other largest brand name organic foods available to normal retail consumers.
CNBC reported,
France's Danone, the world's largest yogurt maker, said on Thursday it would buy WhiteWave Foods in a deal that values the U.S. organic foods producer at $12.5 billion, including debt.

A statement released by Danone early on Thursday said that it was to acquire WhiteWave with a transaction price of $56.25 per share in cash. It said the acquisition would double the size of Danone's U.S. business.

In addition, Danone said the acquisition "immediately accelerates (its) journey towards strong sustainable and profitable growth by 2020."
WhiteWave has long been rumored to be a takeover target, as has its main peer in the industry, HAIN Celestial (NASDAQ:HAIN).
Continued mergers and acquisition action in the food space is going to be positive for all names contained therein. We will expect to see a strong day in the sector today, especially with futures trying to inch green and overnight action in Europe and being mostly positive.
In this article we wanted to talk about one obvious positive and one obvious negative to the WhiteWave acquisition and why we think it values HAIN at a minimum of $69. We think HAIN is the stock to own after this acquisition and we think that Whole Foods (NASDAQ:WFM) may face the most challenges from an acquisition like this.
It is obvious that HAIN is the closest peer to WWAV in the sector. Both companies have a portfolio of organic and all natural food names and both companies have been growing aggressively over the last few years. The millennial shift in taste to non-GMO organic food has driven these two companies to astronomical gains over the last five years, as you can see in the chart below,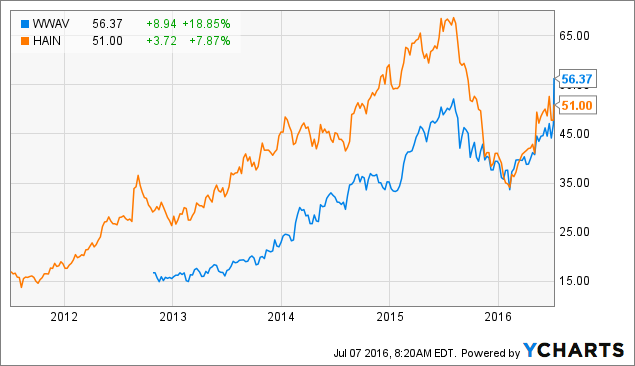 WWAV data by YCharts
HAIN has long been rumored to also be a takeover target, and there are numerous companies that could benefit from having HAIN in their portfolio. The idea behind these acquisitions, especially Dannone's, is to take organic brands and organic food portfolios and make them available outside of specialty stores like WFM. You have seen, and you will continue to see, and increased presence in organic food in normal food stores.
The fact that this niche is now outside of specialty shops is a large negative for companies like Whole Foods.
Conversely, this gives companies like HAIN serious appeal. We would not be surprised to see HAIN taken private by a larger food company with a considerable reach into traditional food stores. This could help any number of staple food brands increase their portfolio and move into an area that is high growth, versus traditional food processing which has been a laggard over the last couple of years.
The spreadsheet below shows us what HAIN could be worth if it were taken private at the same multiples as WWAV.


We expect to see some pressure on WFM, as this acquisition may do more to cut into their sales via mainstream channels.
WWAV is trading above its buyout price early this morning, too, indicating that shareholders are expecting an even higher bid.
It was certainly a good morning for shareholders of WWAV. Judging by this buyout, HAIN shareholders may be in for a similar ride at some point. We know many WWAV shareholders who are also shareholders of HAIN and expecting a similar move from what is now the only large public organic food specialty company on the market. We would not be surprised if a well known food and beverage company comes out and makes a bid for HAIN , given that there is now that the sector has been put on notice that M&A is in play.
Disclosure: I am/we are long HAIN.
I wrote this article myself, and it expresses my own opinions. I am not receiving compensation for it (other than from Seeking Alpha). I have no business relationship with any company whose stock is mentioned in this article.