Japanese messaging app company Line Corporation (PENDING: LN) has filed its F-1/A with the Securities and Exchange Commission for its upcoming IPO on July 14 in New York and July 15 in Tokyo. The company hopes to raise 115.5 billion Yen ($1.12 billion) with a price range of $28.50 to $32.50, or ¥2,900 to ¥3,300. This price range was raised by the company from its previous set range of ¥2,700 to ¥3,200. The company will be offering 22 million shares in New York and 13 million in Tokyo. It will also have an additional 5.5 million shares available as an overallotment option. The underwriters for the IPO include Morgan Stanley, J.P. Morgan, Goldman Sachs & Co. and Nomura.
Business Summary: Major Mobile Messaging Provider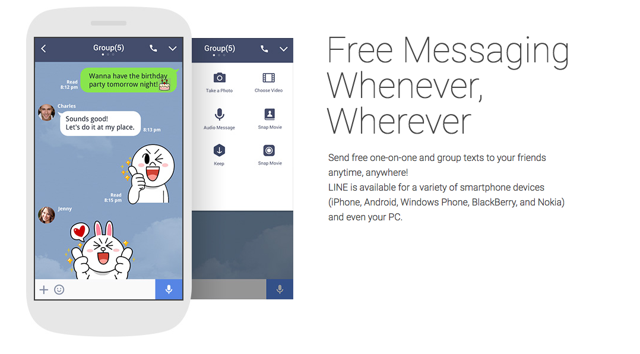 (line.me/en/ )
Line Corporation is headquartered in Tokyo and is a technology company that is focused primarily in the area of mobile messaging with a substantial presence in Japan, Indonesia, Taiwan and Thailand. According to its filings, the company has 218 million active users per month, or MAUs, around the globe. 152 million MAUs are located in its four largest Asian markets. For the 2-year period ending on March 31, 2016, Line says that download data shows it was the fourth biggest mobile application publisher in the world. The company is owned by Naver, Inc., a Korean technology company that holds 100 percent of Line Corporation's private shares. Line allows its users to call others and to send messages for free regardless of their mobile service providers.
Executive management overview
CEO Takeshi Idezawa previously served as the company's COO until he took over the helm as CEO in March 2015. Before joining Line Corp. in 2013 as a director, Idezawa previously served as the CEO of Livedoor and as a senior executive vice president of Livin' on the Edge Co. Idezawa completed his undergraduate education at Waseda University, graduating in 1996.
Financial highlights and potential risks
Line Corp. generates revenue in a number of different ways, including through offering games, advertising and offering stickers on its online social messaging platform. The company reports that it had ¥120,406 million of revenues in 2015 and ¥33,456 million for the first three months of 2016 ending on March 31, 2016. These revenue amounts have grown since 2013, when the company reports it had revenues of ¥39,586 million in 2013 and of ¥86,366 million in 2014. The company launched its social messaging app in Japan in June 2011.
The company has experienced a slowing of its user growth. The company says it plans to expand into global markets in which it has little current presence. It indicates that that exposure could give it added financial and economic risks that could negatively impact its business. The company, while dominant in Japan and with a good presence in certain parts of Southeast Asia, is not well known outside of that region. The company would like to expand into China, but the Chinese government blocked it in August 2014 in a censorship bid. This takes away a potentially huge market for Line's future ability to expand its user base.
Competitors: Facebook's WhatsApp and Tencent Holding's WeChat
In the U.S. and Europe, Line would face substantial competition from the ever-popular WhatsApp, Facebook's (NASDAQ:FB) social messaging app, which has market dominance. In China, Tencent Holding's (OTCPK:TCEHY) WeChat dominates as the allowed social messaging app. Line Corp. indicates that it is working to expand its mobile customer base as only about 50 percent of Japan's population has smartphones.
Conclusion: Consider Buying In
While Line is very popular in Japan, its user growth has slowed. It faces significant competition in its effort to expand globally from both WhatsApp and WeChat as well as the block from the Chinese government.
We recommend that investors remember the risks to Line's longer-term growth; however, we look forward to the IPO. Given a relatively dry tech IPO market in 2016, Line could whet investor's appetites. As Japan's economic growth rate is still relatively slow, a fast-growing tech company might be of great interest to money managers with a mandate to invest in Japan or Asia in general, which could also support demand.
We already hear the deal is multiple times oversubscribed.
Disclosure: I/we have no positions in any stocks mentioned, and no plans to initiate any positions within the next 72 hours.
I wrote this article myself, and it expresses my own opinions. I am not receiving compensation for it (other than from Seeking Alpha). I have no business relationship with any company whose stock is mentioned in this article.
Editor's Note: This article discusses one or more securities that do not trade on a major U.S. exchange. Please be aware of the risks associated with these stocks.