I argue that Foot Locker (NYSE:FL) is a strong growth stock trading at a relatively cheap valuation. I think the stock has strong share price appreciation potential in front of it, and think the risk is limited by a compressed valuation. Several tailwinds should drive increased traffic to FL over the next several quarters, and I do not think investors will have to wait long to see significant gains.
FL is trading at a dramatic discount to the market despite having stronger growth forecasts. FL's 5-year forward growth rate of 10.3% is a premium to the S&P 500's, and yet FL's 14x P/E multiple is far lower than the market's 24x multiple. I like it when stocks position themselves at cheaper-than-market valuations but have stronger growth potential. It gives the stock an attractive risk:reward profile.
Moreover, the stock is as cheap as it has been over the past 12 months. The stock's 6.5x EV/EBITDA multiple is much lower than the over-9x EV/EBITDA multiple the stock sported late in 2015. This cheap valuation is additionally attractive relative to the company's main comp, Finish Line (NASDAQ:FINL). In March, FINL's valuation jumped to be more expensive than FL's valuation. A recent spike in FINL's stock price following a strong ER coupled with consistent multiple compression at FL means that FINL's current EV/EBITDA multiple is almost double FL's. Again, I like it when stocks trade at a discount to comps they are traditionally more richly valued than. This contributes to FL's attractive risk:reward profile.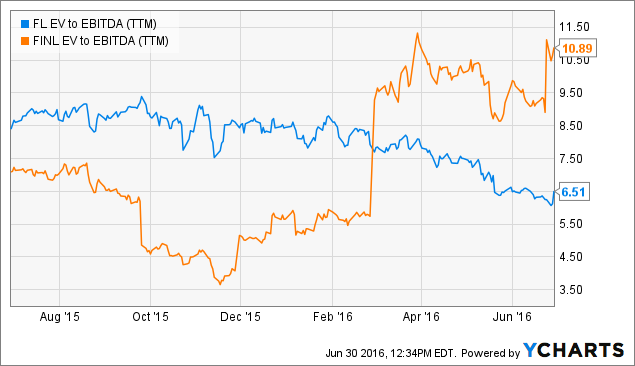 FL EV to EBITDA (TTM) data by YCharts
Right now, there is a lot of pessimism baked into FL regarding nonstore retailer encroachment and crumbling mall sales. FL is not exempt from this headwind, but shoe sales feel like a rather safe place to park your money. Shoes are among one of the few consumer goods wherein the shopping experience cannot be replicated online. Shoes are something individuals like to try on, walk around in, and find the perfect pair before making a purchase.
This experience cannot be replicated online. This moat against Amazon (NASDAQ:AMZN) gives me confidence in the longevity of the business. Moreover, FL owns Eastbay, and this segment of the business seems especially safe against AMZN's encroachment since Eastbay is a non-store retailer. Eastbay is entirely DTC, and this means no "shift" is required away from brick-and-mortar. Its entire audience is already digital.
Brexit will inevitably cause FX-related headwinds as the value of the pound tanks relative to the dollar. Having 18% of its store base in Europe does not help assuage Brexit-related concerns, but FL is also positioned to benefit from several strong international tailwinds. These tailwinds include the Euro Cup, the Rio Olympics, Copa America, and an extremely popular NBA Finals.
The Euro Cup will provide a particularly large boost to FL sales. Soccer is the most popular sport in Europe with 1.5 billion fans. Euro Cup 2016 has kicked off with record TV ratings, symbolizing increasing awareness and popularity. The Iceland versus England match captivated literally the entire country of Iceland. This one-in-every-4-year contest will combat increased FX headwinds by driving soccer jersey and cleats sales in the EU and UK. Back in 2012, FL management commented on how the Euro Cup provided momentum for the European business. Similar things should play out this year.
The Olympics will also provide a strategic boost to sales. Track and field is the most popular Olympic event, and with 100-meter legend Usain Bolt returning to the track after a 4-year break from the global spotlight, running sales are primed for superb growth this summer. In the United States, running and healthy eating has already been trending, so an additional catalyst from the 2016 Summer Olympics should provide a huge boost to running sales.
This builds on already strong trends, as total company footwear comps were up mid-single digits in Q1, driven by strength in lifestyle running. Again, in Q2 of 2012, management commented on how the Olympics provided a boost to sales. The company comped 9.8% in that quarter.
Domestically, Copa America should provide a significant tailwind to push an already growing soccer trend. From this article, we can observe the growth of soccer in America, with each major soccer event providing a significant spike in interest. Copa America likely resulted in a similar spike, and we should see a similar spike with the 2016 Olympics. For Copa America, it helps when the home team makes a Cinderella of itself and makes it to the semi-finals.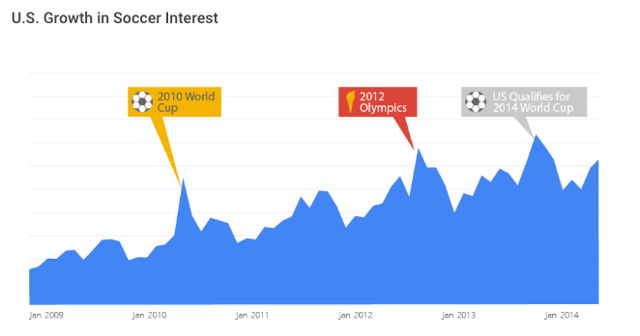 Finally, basketball sales should continue to be strong. There is a multi-year story line in the NBA developing of the perennial favorite versus unlikely underdog, Nike (NYSE:NKE) versus Under Armour (NYSE:UA), and LeBron James versus Stephen Curry. The underdog won year 1, and the perennial favorite reclaimed the throne in year 2. This multi-year story line is far from a conclusion, and I expect excitement to continue to build over the next several years. The rise of new, young stars such as Cleveland Cavaliers' point guard Kyrie Irving also allows for an unexpected boost to sales. Kyrie's shoe is the fourth best-selling performance basketball shoe on Footlocker.com. FL's CEO shares this sentiment, saying on the Q1 conference call:
Between Nike resetting the price value relationship of many of its shoes and focusing their incredible innovation engine, along with the strength of Under Armour and potential momentum at Adidas, we're confident that by the back half of the year there will be in place all the elements of a more robust, diverse signature basketball business.
In Q2 of last year, basketball posted a double-digit sales gain. The sales gain was in large part due to the emergence of star athletes such as Kyrie Irving and Stephen Curry. Popularity of these athletes has only grown, and so basketball sales in Q2 of this year should likewise be very strong.
At the end of the day, FL is a growth stock with a strong moat and several tailwinds to give upside to current estimates. The stock, though, is being valued like a company with peak earnings behind it, no moat against digital encroachment, and several near-term headwinds negatively affecting sales. This discrepancy offers investors a solid buying opportunity. I reiterate my bullishness on this stock.
Disclosure: I am/we are long FL.
I wrote this article myself, and it expresses my own opinions. I am not receiving compensation for it (other than from Seeking Alpha). I have no business relationship with any company whose stock is mentioned in this article.