American International Group (NYSE:AIG) was recently added to Zacks' "strong sell" list, so I wanted to spend some time explaining why I believe that now may be the best time for long-term investors to purchase shares of this insurer, not sell them.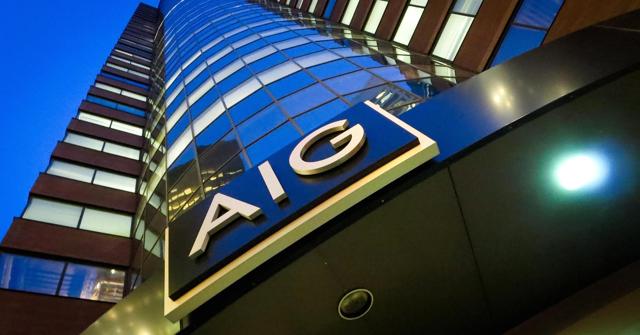 If you have owned AIG shares over the past year, you have watched your investment underperform both the broader market and the insurer's peers by a wide margin. AIG shares have also underperformed on a YTD basis, as shares are down ~14% while the S&P 500 (NYSEARCA:SPY) is up approximately 5%. Moreover, AIG underperform almost all of its peers --Prudential (NYSE:PRU), Metlife (NYSE:MET), Hartford (NYSE:HIG), and Travelers (NYSE:TRV) --over this same period of time.
In my opinion, this underperformance has created a buying opportunity for investors with a long-term perspective. For full disclosure, I currently have a sizeable AIG position (stock and warrants) in my R.I.P. Portfolio.
Last Quarterly Results
On May 2, 2016, AIG reported subpar 1q2016 operating results, as pre-tax income declined YoY by 62% (from $2.52b to $0.95b). Even more telling was the YoY decline in the adjusted EPS from $1.22 at 1q2015 to $0.65 at 1q2016.
The poor investment performance for the alternative investments (i.e. hedge funds) had a significant impact to 1q2016 earnings, but the low interest rate environment has been a drag on earnings over the last few quarters and the first quarter of 2016 was no exception. To illustrate the impact, I obtained the retirement base net investment spreads from the prior earnings presentations for the time periods of 3q2013-3q2014 and 1q2015-1q2016.


(Sources: Earnings Presentations for 3q2014 and 1q2016)
From 3q2013 to 3q2014, the fixed annuities spreads hovered around the 2.25% range while the group retirement spreads were around 2.00%. From 1q2015 to 1q2016, the fixed annuities spreads stayed closer to 2.20% while the group retirement spreads were around the 1.98% range. These differences do not seem like much but it is also important to take into consideration the direct impact that these spreads have on the net investment income, or NII. At 1q2016, AIG's Retirement division had AUM, or assets under management, of ~$228.6b so these small differences in net spreads can have a material impact on the NII. For example, the Retirement division's NII went from $2.4b at 3q2013 to $1.3b at 1q2016 --i.e. the income was basically cut in half.
The low interest rate environment and the direct impact that it has on the NII is a great example of just how challenging the current operating environment is for the large insurers, and more specifically, AIG. However, in my opinion, the best time to layer into long-term stock positions is during these type of environments because the operating results are bound to improve as the headwinds begin to dissipate. More importantly, management is making a concerted effort to appease shareholders by staying committed to increasing the dividend and buying back shares hand over fist.
Shareholder-Friendly Company
Management and the board have been committed to increasing the dividend and buying back shares over the last few years, and this trend is likely to continue throughout 2016 and 2017.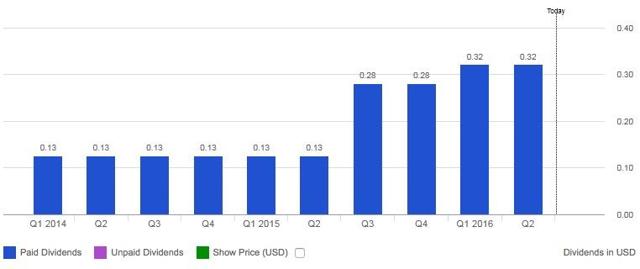 (Source: Fidelity.com)
The dividend is up almost 150% since 2q2013, and I am expecting another increase in the next quarter or two. The last increase was ~14% (from $0.28 to $0.32) so I am anticipating for the next quarterly dividend to be around the $0.36/share range.
AIG has spent a great deal of money since the Financial Crisis buying back shares. The most telling fact is that the company has reduced the share count by over 20% since the first quarter of 2014. In the last quarter alone, AIG spent $3.5b on share buybacks and another $173m repurchasing TARP warrants. I am expecting more of the same for the second quarter of 2016.
Management has also already announced plans to return at least $25b of capital to shareholders over the next two years in an attempt to create a "leaner, more profitable and focused insurer". Consider this, the $25b is slightly less than half of AIG's current market cap of $57.36b.
Bottom Line
There is no denying the fact that AIG is operating in a challenging environment that is likely not going to improve in the near-future, but let's not forget that purchasing shares now may result in outsized gains when the interest rate environment does begin to improve (see this article for further information on this topic). Furthermore, management has been committed to operating a shareholder-friendly company and this should not change in 2016 or 2017. Another important consideration is the recent additions to the board, so you better believe that Mr. Icahn and company will be pushing hard for shareholder value to be created sooner rather than later.
AIG is scheduled to release 2q2016 operating results in early August 2016, and I am not expecting for big improvements for the quarterly results. Per Yahoo! Finance, the consensus EPS estimate is $1.00 but I would not be surprised if the company missed estimates again this quarter. On the other hand, there is a lot to like about AIG's long-term prospects, so another missed quarter may create an even better entry point.
If you found this article to be informative and would like to hear more about this company, or any other company that I analyze, please consider hitting the "Follow" button above.
Disclaimer: This article is not a recommendation to buy or sell any stock mentioned. These are only my personal opinions. Every investor must do his/her own due diligence before making any investment decision.
Disclosure: I am/we are long AIG, MET.
I wrote this article myself, and it expresses my own opinions. I am not receiving compensation for it (other than from Seeking Alpha). I have no business relationship with any company whose stock is mentioned in this article.