In an article on Hecla Mining (NYSE:HL) last month, I had advised investors to remain long despite the stock's impressive gains this year. My thesis was based on the fact that gold prices will continue to increase going forward on the back of low interest rates and patchy job growth in the U.S. But, this is not the only reason why investors should consider staying long Hecla as gold accounts for 37% of the company's revenue.
In comparison, Hecla's revenue from silver is larger at 39%. As such, it is important to take a look at the prospects of the silver market as this will play a key role in enhancing Hecla Mining's performance going forward.
The silver rally will continue
Silver prices have rallied impressively in 2016, rising over 40% in just six months. More specifically, silver prices have gained stronger momentum since the end of June post the Brexit vote, as seen in the chart given below: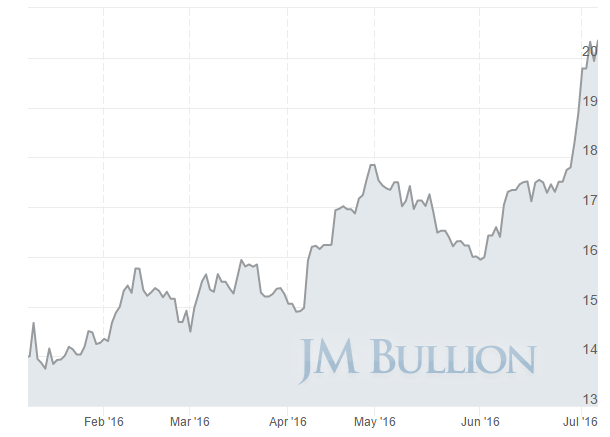 Source: JM Bullion
The spike in silver prices post the Brexit referendum is not surprising as demand for the metal rises in times of economic volatility. In fact, since the Brexit vote, silver prices have risen almost 20%, outperforming the 7% rise in gold prices. This rise in silver prices post the Brexit has been driven by a record 83,700 net long contracts on silver for the week ending July 2, up from net long position of 80,200 contracts the week before.
In comparison, before Britain's EU exit, net long silver contracts for the week ending June 18 stood at 69,600, indicating that traders have become aggressively bullish on silver prices of late. Looking ahead, it won't be surprising to see silver prices gain more momentum on the back of a persistent low interest rate scenario and the volatility in the market post the Brexit as the metal is considered to be a safe haven investment.
This is evident from the fact that hedge funds and investors have raised their silver holdings this year, with ETF demand rising by 31 million ounces in 2016, which is the first major rise in four years. Going forward, it is estimated that silver demand from an investment viewpoint will continue to rise in light of the low interest rate environment.
In fact, the Fed seems to have gone from an expectation for four rate hikes this year to an interest rate cut, driven by weak employment data and the economic turmoil post the Brexit. As reported by CNBC:
"Traders are assigning an 18.3 percent chance for a rate cut in September or November, according to the latest readings on the CME's FedWatch tracker. There's just an 11.7 percent probability put on an increase before the end of the year, even though FOMC members, at their June meeting, indicated that they still expect two hikes.

The current futures market is allowing for no chance of a rate hike through November, and isn't fully pricing in a move until January 2017. In fact, futures pricing indicates a slight decline in the overnight funds rate, from 0.38 percent currently to 0.32 percent as the year closes."
A persistently low interest rate environment will be a boon for silver prices, which have historically thrived in a low interest rate scenario. This is shown in the chart given below: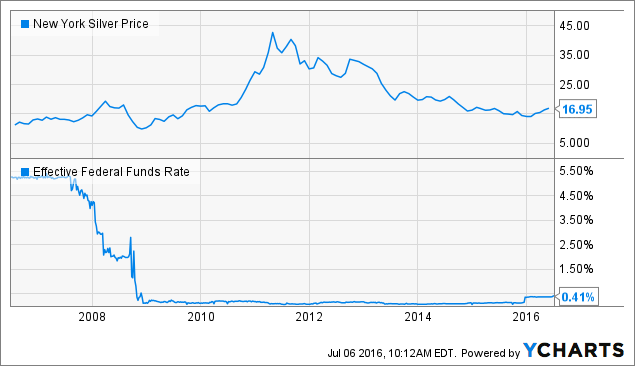 As seen above, a continuously low interest rate environment post 2008 has helped silver prices gain momentum and they now trade at more than $20 an ounce. In case of an interest rate cut, the price of silver will receive a boost going forward as investment demand will rise in light of low treasury yields. But, an increase in investment demand will not be the only factor driving silver prices higher.
Industrial demand will be another tailwind for silver
Apart from investment uses, silver's use in industrial applications such as electronics makes it a versatile metal as against gold, which is used mostly as an investment vehicle. Due to silver's use in industrial applications, there is another factor that drives demand for the metal and can positively impact prices.
In fact, half of global silver demand is used for industrial purposes. More specifically, 54% of industrial silver demand is used in the medical equipment and semiconductor industries, which is good news since both these industries are expected to witness a 3% rise in demand this year. At the same time, silver supply will diminish this year as compared to 2015.
GFMS estimates that silver output in 2016 is set to go down to an average of 830 million ounces, a decline from 860 million ounces in 2015. Concurrently, the scrap supply of silver is also going down, dropping 13% in 2015. More importantly, the declining trend of silver output will continue going forward as output will decline 13% next year from 2015 levels.
Conclusion
Hence, on the back of declining supply and strong demand, the price of silver will continue to rally. Additionally, as mentioned earlier in the article, silver will also benefit from a low interest rate environment. This will prove to be a tailwind for Hecla Mining going forward as the majority of its revenue comes from the silver segment. Thus, apart from a rally in gold prices, silver will prove to be another tailwind for Hecla Mining, which is why investors should continue holding the stock despite massive gains this year.
Disclosure: I/we have no positions in any stocks mentioned, and no plans to initiate any positions within the next 72 hours.
I wrote this article myself, and it expresses my own opinions. I am not receiving compensation for it (other than from Seeking Alpha). I have no business relationship with any company whose stock is mentioned in this article.