The saga with Tesla Motors (NASDAQ:TSLA) continued late Wednesday after the company issued another blog post, this time blasting Fortune for what it called a fundamentally incorrect article, seen here. Unfortunately the company continues to miss the point, mainly that its wording is suspect and Elon Musk should stay off Twitter.
One of the biggest issues involving this whole "autopilot crash" is something I mentioned when I initially covered the story, and that's the timeline regarding who knew what when. Here's what Fortune had to say about the timing, and this relates to the company's 10-Q filing in which a disclosure was made (more on that later).
The company made the disclosure on May 10, just three days after the fatal autopilot accident, but likely after the company knew about the crash. On Tuesday, following Fortune's article, Tesla disclosed that it learned about the accident "shortly" after it occurred, and told authorities at The National Highway Traffic Safety Administration (NHTSA) about it nine days after it happened, which was two days before the company's $2 billion stock offering.
This is a corresponding segment from Tesla's post on Wednesday:
Next, Fortune entirely ignores what Tesla knew and when, nor have they even asked the questions. Instead, they simply assume that Tesla had complete information from the moment this accident occurred. This was a physical impossibility given that the damage sustained by the Model S in the crash limited Tesla's ability to recover data from it remotely.

When Tesla told NHTSA about the accident on May 16th, we had barely started our investigation. Tesla informed NHTSA because it wanted to let NHTSA know about a death that had taken place in one of its vehicles. It was not until May 18th that a Tesla investigator was able to go to Florida to inspect the car and the crash site and pull the complete vehicle logs from the car, and it was not until the last week of May that Tesla was able to finish its review of those logs and complete its investigation.
Tesla says that Fortune ignores what Tesla knew and when, going on to say that Tesla told the NHTSA about the accident on May 16th. However, this directly conflicts with Tesla's prior blog post "A Tragic Loss" from last week, where the company stated the following:
Following our standard practice, Tesla informed NHTSA about the incident immediately after it occurred.
This is where the problem lies. The initial blog post says "immediately after it occurred," which was May 7th, but then Tesla says it told the NHTSA on May 16th. I understand that Tesla had barely started its investigation when it contacted the NHTSA, but there seems to be a contradiction in the wording used here. How a normal person might interpret this is where Tesla finds trouble, just like we recently saw with the whole NDA ("Goodwill Agreement") situation. That gets me to the next part of this issue, whether or not this whole thing was material or not. The following is what was included in the above linked 10-Q filing, with the underlined section being the risk:
We may become subject to product liability claims, which could harm our financial condition and liquidity if we are not able to successfully defend or insure against such claims.

Product liability claims could harm our business, prospects, operating results and financial condition. The automobile industry experiences significant product liability claims and we face inherent risk of exposure to claims in the event our vehicles do not perform as expected resulting in personal injury or death. We also may face similar claims related to any misuse or failures of new technologies that we are pioneering, including autopilot in our vehicles and our Tesla Energy products. A successful product liability claim against us with respect to any aspect of our products could require us to pay a substantial monetary award. Our risks in this area are particularly pronounced given the limited number of vehicles and energy storage products delivered to date and limited field experience of our products. Moreover, a product liability claim could generate substantial negative publicity about our products and business and would have material adverse effect on our brand, business, prospects and operating results. We self-insure against the risk of product liability claims, meaning that any product liability claims will have to be paid from company funds, not by insurance.
In Tesla's latest blog post, the company says "this is just stating the obvious." Toward the end of the post, it details this as boilerplate language, which is found in a number of corporate filings. The issue I have, and one pointed out in the below Twitter exchange with Elon Musk, is that autopilot is referenced directly. While Tesla references "Tesla Energy" and "vehicles," it doesn't specifically say anything about batteries. Tesla doesn't mention things like "Ludicrous Speed" or "Bioweapon Defense Mode," but it does mention autopilot.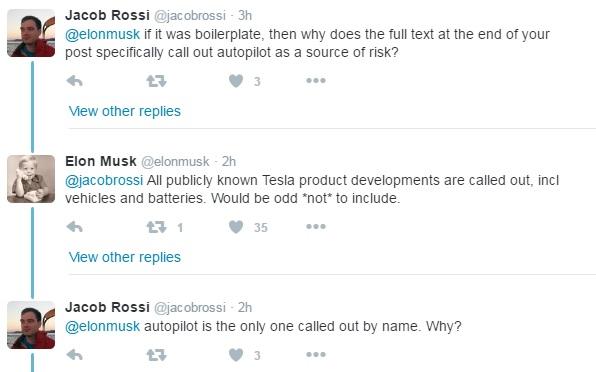 (Source: Elon Musk Twitter, referenced here)
Finally, and this is another issue that Tesla says Fortune tripped up on, is whether or not the market saw this as material. Tesla shares finished higher on July 1st, the first trading day the news broke, after initially falling in the after-hours the session before. I will point out that on July 1st, there were two positive analyst notes regarding the stock. First, Credit Suisse said that Tesla could be getting a steal with its SolarCity (NASDAQ:SCTY) acquisition, and as far as I can tell, the latest CS price target on Tesla is $240 with an Outperform rating. The second note came from notorious Tesla bull Trip Chowdhry, who called the "autopilot crash" a non-event. Trip has been pounding the table on Tesla and detailing a $385 price target for some time. So did Tesla shares rise because the "autopilot crash" was not material, or because two bullish Tesla analysts came out with positive notes? I'll let everyone decide on their own.
I'm hoping that this is my last article on this issue, and that all parties involved can learn something. Here are my key takeaways. First, what was the true timing regarding NHTSA contact? Nine days later and immediately after are not the same thing. Second, while boilerplate language is used by every company, autopilot was a specific feature mentioned in the disclosure. Perhaps the biggest part of that disclosure was that Tesla self-insures, meaning claims are not covered by insurance. That could lead to significant problems down the road. Finally, I think it is time that Tesla's board and upper management have a discussion with Elon Musk over his usage of Twitter, which at times seems to be doing more harm than good.
Disclosure: I/we have no positions in any stocks mentioned, and no plans to initiate any positions within the next 72 hours.
I wrote this article myself, and it expresses my own opinions. I am not receiving compensation for it (other than from Seeking Alpha). I have no business relationship with any company whose stock is mentioned in this article.
Additional disclosure: Investors are always reminded that before making any investment, you should do your own proper due diligence on any name directly or indirectly mentioned in this article. Investors should also consider seeking advice from a broker or financial adviser before making any investment decisions. Any material in this article should be considered general information, and not relied on as a formal investment recommendation.