As renewable energy companies begin to aggressively enter the industry, investors should be aware of the trends and fundamentals that support the prospects for growth among the many clean options. Solar power, a capital intensive industry that has already seen growth, is one source that will be able to wrestle electricity generation share from its fossil fuel competitors. After cues issued from the respected Paris climate accord, nations across the globe are beginning to embrace clean energy with investments in solar research. The shift in the international political agenda has resulted in a more positive perception of solar energy in the investment arena and opportunities to invest in stocks, all but "endorsed" by policymakers across the globe.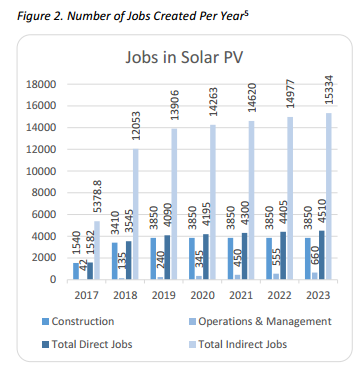 Support for the renewable energy industry has been growing with the implementation of climate goals and clean energy initiatives. Most recently, the Irish Solar Energy Association produced a report asking for the Irish government to move forward with solar subsidies, the only clean energy subsidy that doesn't exist, citing benefits in the Irish job market and EU trade. Specifically, the ISEA said that "Ireland would see the generation of over 7,300 "high-value" jobs and would also slash fines from the European Union by more than €300 million a year onward from 2020." The fines that would be issued are part of a European Union renewable energy objective asking member nations to increase renewable electricity generation to 40 percent or above. Ireland, with investments already made in wind technology, has achieved a renewable share of 23 percent, and the ISEA Chairman thinks that solar investment will be crucial in reaching the end goal by 2020. Complying with the EU energy standards may turn out to be more important for Ireland as it seeks to maintain its EU membership despite Britain's vote to leave. Supporting its young solar industry with investments will lead to faster renewable growth in the next four years.
Most energy consumption growth occurs in developing nations where robust demographic and industrial expansion accounts for a large share of the global economic demand. India is one of these countries with a population well over 1 billion and growing. Over the next ten years, its government will be forced to satisfy a voracious hunger for energy while remaining relatively energy independent and environmentally friendly. Actions taken by leading Indian institutions suggest that a favorable eye has been cast towards solar solutions. On Monday, the State Bank of India completed a deal for a $625 million credit facility with the World Bank looking to finance a remodeling of the Indian solar energy industry. Onno Ruhl, Country Director of World Bank India, spoke of India's ideal position to embrace solar technology saying, "With around 300 days of sunshine every year, India has among the best conditions in the world to harness solar energy. The rapid expansion of solar power can improve the quality of life for millions of Indians, especially for its poorest citizens." Alongside the deal, the Indian government set a goal of 175 gigawatts of renewable capacity by 2022. A day before this report was released, the Maharashtra government announced a plan to integrate solar power into its agricultural sector as the primary source of energy. Solar investment from the Indian province, home to the city of Mumbai and over 121 million people, signals the beginning of robust demand for this renewable energy source in the second largest country.
The smaller emerging nation of South Korea has also shown its affinity to renewables in the past week. According to the Korea Times, the South Korean government has allocated $36.6 billion to research and investment in its renewable energy sector. Like India and EU members, South Korea has established a goal of 13 gigawatts of renewable capacity to be built by 2020. With the expansion in renewable capacity, the government also hopes to extricate the industry from a slew of regulations and guidelines which would allow Korean energy firms to expand in both domestic and foreign markets. In order to support demand for solar energy sources, the South Korean government will allow individuals to trade the electricity they generate but don't use. On the same day, the trade ministry spoke about the government's goal of achieving a renewable portfolio standard of about 7 percent in 2020 up from 3.5 percent set for 2016.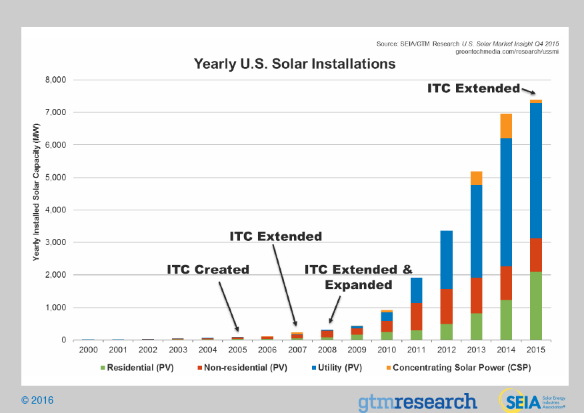 There's no doubt about it. The global environment for clean energy is rapidly improving. Policymakers in developed and developing nations are making renewable energy viability a political issue with heavy subsidies and national programs being set to bolster the energy. Investors should be keen on following the sentiment changes that inspired the Paris climate accord and the United Nations Sustainable Development Goals. In the European Union, member nations are willing to subject themselves to fines if these renewable goals aren't met, a clear signal that political sentiment has been painted green. Growth in the industry has already been robust and the trend looks to continue. In the United States, U.S. solar installations have grown about 60 percent compounded annually over the past 10 years according to the Solar Energy Industries Association. In 2015, solar additions reached a new record of 7.5 GW, growth that is expected to accelerate with an extension of the Solar Investment Tax Credit in the same year.
In 2015, annual GDP growth for South Korea, Ireland and India was 3.4 percent, 9.2 percent and 7.3 percent, respectively. The three countries, part of the emerging world, have shown an inclination to support their renewable energy sectors in the past week. Between the three nations, plans for clean capacity expansion could be well over 200 gigawatts in the next five years. The demand is there, and the political support is not far behind. Thus, energy investors must be keen on this paradigm shift in their sector and should be quick to act like Tesla (NASDAQ:TSLA). Portfolios should be opened up to the opportunities heating up in solar, wind, geothermal and biomass industries, but precise investing is a necessity. It is essential to identify the sector, market cap and geographical region that one wishes to invest in before throwing his money behind a competitor in the risky, capital intensive renewable markets.
After seeing the global shifts in energy policy, the first investment idea that comes to mind is a global exchange traded fund that incorporates diversity in geography and method. The renewable fund PowerShares WilderHill Clean Energy Portfolio (NYSEARCA:PBW) is cited by ETF.com as the most popular renewable exchange traded fund. While on the more expensive end, its popularity and diversity allow investors to sit comfortable with a relatively safe, liquid asset in the sector. First Trust NASDAQ Clean Edge Green Energy Index ETF (NASDAQ:QCLN) is similar to PBW with the exception of its U.S.-centric tendency. The solar industry in particular has responded exceptionally well to favorable policy formed by the India and South Korean governments. For that reason, diversifying within that segment might be another opportunity. Guggenheim Solar ETF (NYSEARCA:TAN) and VanEck Vectors Solar Energy ETF (NYSEARCA:KWT) are the picks for a photovoltaic strategy both providing liquidity and exposure to large-cap solar firms in the U.S. and China. For investors looking at a specific solar equity, First Solar (NASDAQ:FSLR) has proven its stability in the industry with 4.2 GW of installations at the end of 2015. A year-over-year sales increase of 81 percent signals growing demand in the renewable sector that FSLR has the capacity to capture.
Just as a rising tide lifts all boats, renewable funds and equities will lift when green sentiment floods the stock markets. In this article, we've reviewed some policies that are supporting the favorable waters, but their effect will not be evident immediately. Currently, low oil prices and high clean energy costs are deterring any major bullish trends, but when that obstacle is overcome, there will be an influx of new capital looking for high yields in the renewable sector. The political trends that continue to develop have goals set for years in the 2020s which force investors to transition to a long-term mindset as well. Returns for 2016 may not impress while the foundation for the green revolution is being set, but that does not mean these opportunities should be ignored. Instead, investors should time their purchases when they see the renewable edifice begin to develop on the stable, promising political framework that has been set up for encouraging clean energy growth.
Disclosure: I/we have no positions in any stocks mentioned, and no plans to initiate any positions within the next 72 hours.
I wrote this article myself, and it expresses my own opinions. I am not receiving compensation for it (other than from Seeking Alpha). I have no business relationship with any company whose stock is mentioned in this article.