Master Limited Partnerships provide investors a liquid investment vehicle that offers the benefits of investing in partnerships. A limited partnership has two types of partners. General partners (which could be another corporation or partnership) manage the partnership, whereas limited partners are ordinary shareholders. Most unit holders fall into the second category. A unit holder is entitled to all future cash distributions plus capital appreciation. Some MLPs also pay in terms of stock distributions.
While there are several ways to define MLPs, The National Association of Publicly Traded Companies offers the best description:
MLPs, like all publicly traded partnerships, are limited partnerships or limited liability companies choosing partnership taxation which are traded on public exchanges. A share in an MLP is called a "unit," and MLP shareholders are known as "unit holders." MLPs can be found on the New York, American, and NASDAQ exchanges, as well as many regional exchanges.
MLPs are probably among the best investment vehicles for the income-oriented investors. They offer substantial distributions to the unit holders. Given the low-interest environment, their distribution rates are much better than the paltry interests offered by government bonds.
The distributions also help MLPs by sheltering their profits from corporate profit taxes. The distributions are deducted from their taxable income as a "depreciation expense". As far as, I know, MLPs distributions are exempt from corporate taxes to the extent that the deprecation expenses cover their income.
Alerian MLP
Alerian MLP Index ETF (NYSEARCA:AMLP) mimics the price and yield performance of the Alerian MLP Infrastructure Index. Thus, it offers a relatively diversified investment opportunity within the MLPs. The ETF has an expense ratio of 0.85%. Total assets in the portfolio amounted to $2.7 billion.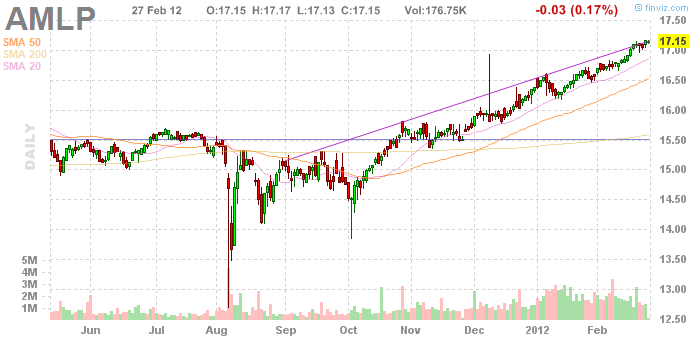 Kinder Morgan Energy Partners (NYSE:KMP) and Enterprise Products Partners (NYSE:EPD) are the top holdings of this index ETF. The index is up by 10% in 2012, and currently offers a yield of 5.82%. Both KMP and EPD are pipeline operators. However, there are also several MLPs in other businesses such as energy exploration, propane and fuel distribution, marine transportation, coal production, and investment services. Even the world famous equity management company Blackstone (NYSE:BX) is structured as an MLP to take advantage of the tax benefits. That is probably another reason for Blackstone's juicy yield of 5.51%.
Valuation of MLPs
Traditional valuation techniques based on P/E or PEG ratios are not appropriate for these companies. The book value is a relatively better measure, but MLPs' balance sheets rarely represent the true of the assets. Free cash flow is probably the best measure when it comes to the safety of distributions.
KMP Valuation
In the last year, Kinder Morgan generated an operating cash flow of $2.87 billion, which is almost 20% higher than the previous year. After accounting for the capital expenditures, the free cash flow amounted to $1.67 billion.
Now, how KMP was able to spend almost $1 billion in acquisition costs, $2.244 billion in distributions, and still managed to increase its cash pile by $280 million? The answer lies in the details of company's financing activities. KMP issued a net debt of $1.1 billion and common units worth $955 million. Thus, it is leveraging its debt, while allowing for significant share dilution to support its yield. KMP's balance sheet shows a total liability of $16.595 billion, $3.1 billion of which is short-term. The current assets are enough to cover only half of the current liabilities. To support its current distribution rates, KMP will either be forced to increase its debt load, or offer more units to raise capital, or both.
KMR vs. KMP
Kinder Morgan Management LLC (NYSE:KMR) is a limited partner of the Kinder Morgan Energy Partners, and holds a 30% interest in the company. Normally, you would expect KMR to support a market cap of $9.1 billion, which is 30% of KMP's market cap as of the last close. However, given that KMP has a market cap of $30.35 billion, KMR's market cap of $8 billion shows that KMR is trading at a 12% discount compared to KMP.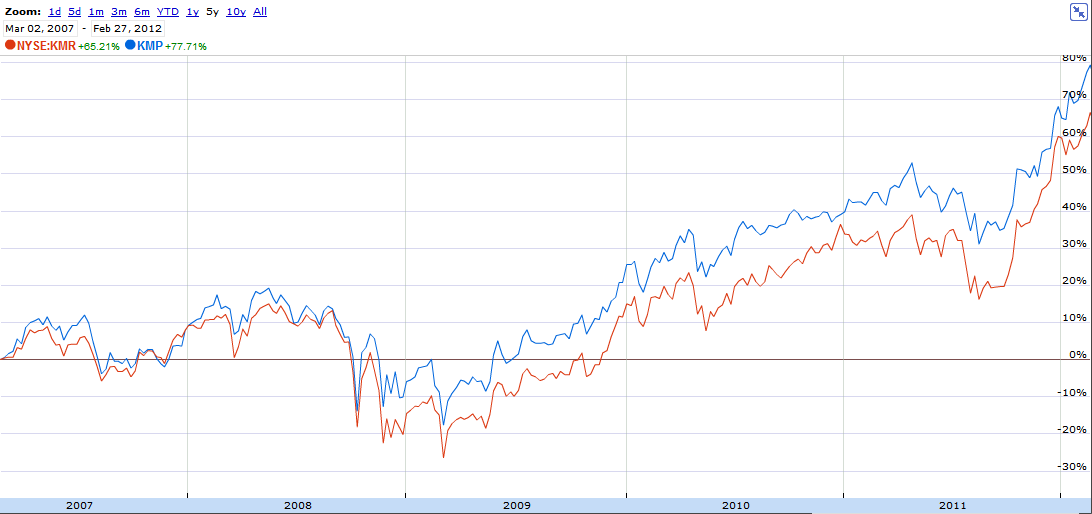 So, what is difference between the two?
Essentially, there should be no difference, as both stocks refer to the same company, where each shareholder is entitled to the same rights and ownership interests. KMR also offers regular distributions, but these distributions come in the form of additional shares. By doing so, it automatically allows for dividend reinvestment. If investors are in need of cash, they can create their own cash dividends by selling some of their shares.
So, why there is a price spread between the two?
I am trying to figure out the answer to this question for a while. The spread is not unique to the current period. KMP has always been trading at a premium compared to KMR. In the last 2 years, the spread between the two has been as low as $5, but as high as $15. Currently, KMP is priced at a premium of $9. I think the premium has something to do with the KMR's dividend not showing on stock screeners. Its yield is actually higher. But the automated information collection robots are not well programmed to capture KMR's dividends -- as it pays in terms of additional units but not cash. Playing this spread could be pretty profitable for the long term, but one needs to have the patience until KMR catches with KMP, which might take several years.
Enterprise Product Partners
EPD is the second largest equity in the Alerian MLP Index. Enterprise is also involved in the pipeline business. The company has more than 50,000 miles of onshore and offshore pipelines. The total storage capacity for natural gas liquids amount to almost 200 million barrels.
EPD is another high-yielder in the sector. Based on a quarterly distribution of 62 cents, current yield is 4.8%. At a price of $51, the stock is trading 4 times its book value. EPD has a relatively lower trailing P/E ratio of 21.88, but again P/E ratio is not a good measure to compare MLPs.
In the last trailing twelve months, EPD generated a cash flow of $3.084 billion from its operations. However, it spent almost $3.5 billion in property investments, which left the company with negative cash. Therefore, in order to keep up with the distributions, the company borrowed a net amount of $1.36 billion, and issued new units worth $596 million. Now, expecting that the capital expenditures will probably be lower in the upcoming year, I think EPD would be able to support its yield without borrowing.
The long-term debt of above $13 billion is a significant issue, but EPD's current assets closely match with the current liabilities. Thus, the payout seems to be relatively safer compared to Kinder Morgan. Apparently, Morningstar analysts also agree with me, as they suggest a 3-star rating form EPD, whereas Kinder Morgan has only two-star rating.
Summary
Parsimony Investment Research suggests the following about MLPs:
While we think the long-term fundamentals are very positive for the MLP industry, we believe that a significant general market pullback is imminent. As such, the MLP stocks may also experience a significant pullback.
Over valuation is a very significant issue for the Master Limited Partnerships. The low-yield environment, created by quantitative easing program, has pushed several high-yield stocks to over-bought levels. There is serious dividend inflation in the market ranging from utilities to pharmaceuticals. MLPs are no exception. Investors, hungry for stable income flows, switched to bond alternatives such as MLPs, driving their unit prices above their fair valuations.
I think it is time for MLP unit holders to realize their profits and wait for a better entry point to buy these dividend giants. If you still want to hold on to one, Enterprise looks like a better deal, compared to Kinder Morgan. Another way to play in this field could be shorting KMP, while going long KMR. I think sooner or later, the spread between the two will disappear, making the share prices equal to each other.
Disclosure: I have no positions in any stocks mentioned, and no plans to initiate any positions within the next 72 hours.