Zebra Technologies Corporation (NASDAQ:ZBRA)
What is black and white and read all over? That riddle rings from my childhood and the answer then was mysteriously, 'a newspaper'. Of course I have just dated myself before the advent of color.
I mused over this unrelentingly because I really didn't read a newspaper until I was a teenager. Today, the riddle is equally apropos, only the answer has changed. Today, every package has a ZEBRA marking. Indeed, all are black & white and read all over. Every package has one. Every checkout counter has one.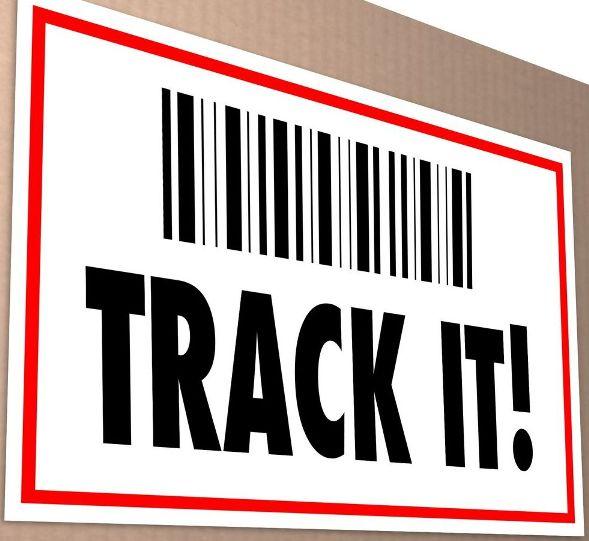 Digging in, ZBRA makes direct thermal label printers and radio frequency identification (RFID) encoders for all industry including; retail, transportation and logistics, manufacturing, and healthcare. It's moved beyond the physical realm and provides real-time locating solutions for supply chains to warehouses and delivers a host of inventory information in database and mobile app services. ZBRA is completely integrated by offering scanners, barcode labeling, and personal identification. It supplies all of the hardware, related accessories, consumables (self-adhesive labels), and software. If it has a bar code, chances are ZBRA made it; and its software is tracking it too.
Exploring its equity, ZBRA is trading at prices not seen since 2013, and at the 52 week low. CEO Anders Gustafsson explained in May the following, " Given our first quarter results, continued macro uncertainty, and cautious spending behavior from many of our North America, EMEA (Europe, Middle East, and Africa), and Latin American customers, we are introducing a tempered outlook for the second quarter and have reduced our full-year sales outlook."
Clearly, that revision was not well received. Revenue in the three months ended in March dropped 5%, year over year, to $847 million and EPS fell to $1.01. This missed expectations of $879 million and EPS of $1.22. Forecasts were revised lower for the quarter (Q2). Revenue will now range from $867 million to $894 million and EPS of $1 to $1.20. These too are below past estimates for $906 million and EPS $1.30. Overall, the revenue outlook for 2016 is revised down to $3.56 billion to $3.7 billion, below consensus for $3.72 billion. This trims up to $160 million off the top line
Markets Overreact: Have the wheels fallen off? You'd think so given the look over your shoulder. 12 months ago ZBRA was trading at $117. Today's close was $46. Elevators don't fall that fast! Perhaps a poacher shot and killed the last one! But maybe not… ValueLine still gives ZBRA its A rating.

VL acknowledges the debt induced acquisition of Motorola's Solutions' Enterprise business. A refresher is available here. And debt has the attention of management. The CFO just repriced $2 Billion of its debt outstanding to Libor +3.25%, a savings of .75% or $14 million per year. This savings goes directly to the bottom line. Free cash flow is being used to aggressively reduce debt, $300 million this year and another $300 million next year too. That execution delivers this ZBRA the 'A' rating.
Under the Hood: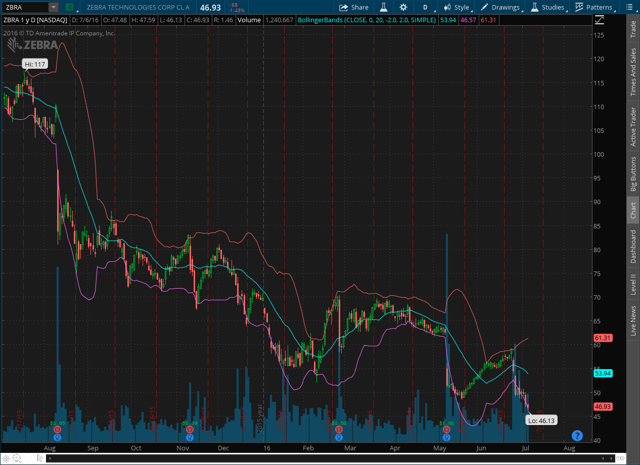 Analysts have ZBRA's EPS pegged to $5.25 this year and $6.20 next. A back of the napkin price target (EPS x average multiple) takes us to $73.50 in 2016 and $87.50 in a year. But wait, the current market has this ZBRA priced for dead. Did anyone ever see the market overreact?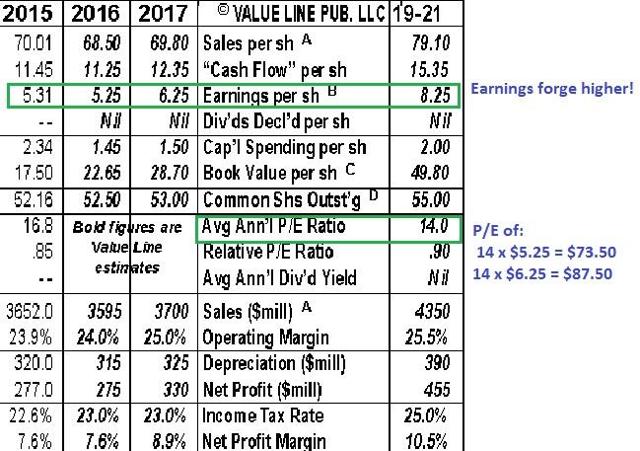 There's lots of good reading on ZBRA solving problems in today's competitive industry. Simply, industry cannot do without ZBRA's productivity gains. Today's news is good reading. Barron's offered some really cool applications in a recent interview here.
The Trade and How to Express your Opinion:
ZBRA isn't going to pay a dividend soon. This is perfect medicine for the drug induced search for yield from anywhere. I don't have to pile on to the interest rate experiment around the world, but I will chastise any investor who buys or holds an equity for the yield. I don't want to get off base but there are very few instances where equity should replace income securities. And this is a nice set up for an options play.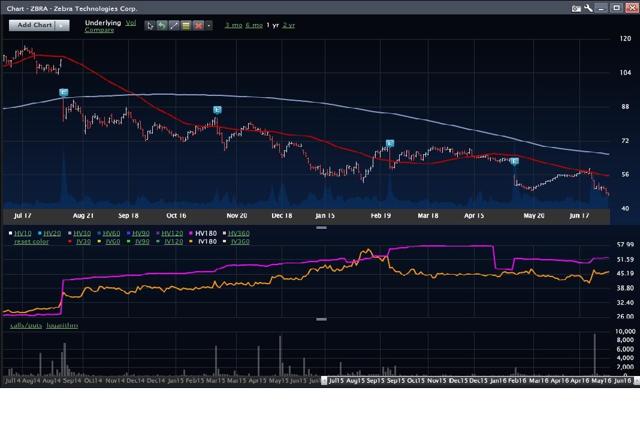 Looking 6 months out, Volatility is running meaningfully higher. Writing (selling) options makes sense here. On the board are February 2017 series that captures the volatility advantage and pays us handsomely for time. The $45 Put had a wide bid / ask, but I think you'll get filled at the mark $5.40. You'll receive $540 immediately for each contract. You could write the November series and collect about $430. You leave $110 on the table as your maximum potential for the sale is lower. My preference is the richer premium now (and lower cost basis if I take the assignment; Premium received - Strike price), because in November ZBRA may be on its way to the target and you won't want to re-write another option then.

Or, and I like this equally as well, just buy ZBRA. At $46+- and nearer term target over $70, gives us ~37% to the upside.
Disclosure: Long ZBRA (basis under $50), Intend to short ZBRA put options. The foregoing is not intended to be specific investment advice, but concepts to consider when investing. Consult your Investment Adviser.
Disclosure: I am/we are long ZBRA.
I wrote this article myself, and it expresses my own opinions. I am not receiving compensation for it (other than from Seeking Alpha). I have no business relationship with any company whose stock is mentioned in this article.