Seagate Technology (NASDAQ:STX) is looking more like a sinking ship with every passing day. Last week, the company announced a restructuring plan that would save $100 million annually by cutting 1,600 jobs or 3% of its workforce. While the hard disk drive ("HDD") market continues to hemorrhage and Seagate continues to lose increasingly more money each quarter, this move to streamline the company appears to be a good idea. In the midst of Seagate's struggles, STX has been hammered mightily: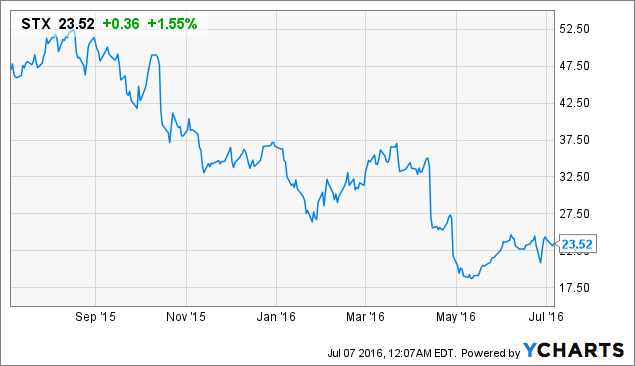 STX data by YCharts
Why the stock was even trading as high as $50 in the first place so recently is a question for another time. For right now, the question is whether STX would make a good stock choice. For growth purposes, the answer is a resounding no. Seagate's revenue has been eroding for a while now and there is no end in sight to the slide.
But how about for that juicy 11% dividend yield STX currently boasts? As I have written in my previous article on Seagate, the stock is the textbook definition of a dividend yield trap. Free cash flow of $110 million in Seagate's most recent quarter was not enough to cover the $188 million, leaving a $78 million shortfall.
With Seagate struggling for years now, I find it hard to believe that the restructuring announced last week was simply about cutting "dead weight" so to speak. If it was, I imagine this decision would have come much earlier. No, Seagate is entering territory where it has to make decisions about where the company's priorities lie. By firing workers in favor of additional cost savings, Seagate is following along a path I described in my previous article as treading water.
It has gotten to the point where the dividend has become a distraction. Seagate needs a major, drastic, extreme etc. overhaul of its entire business model if it wants to survive. Western Digital (NYSE:WDC) acquired SanDisk to pivot towards the SSD market. Seagate needs to make a similarly drastic move to pivot itself away from the moribund HDD market, and firing 3% of the workforce for $100 million a year in cost savings is not the answer. Not even remotely close.
Seagate spent $95 million in capital expenditures in Q3. That is a pittance for a company that needs to pivot from its core market as soon as possible. But you know what happens if the company spends more on capex? Free cash flow goes down and the dividend shortfall becomes magnified. I don't know whether management are worried about the value of their stock options, are in denial about how much trouble the company is actually in, or are just waiting for the right time, but the dividend needs to be cut and as soon as possible. Cash flow just isn't high enough to cover the payouts any longer: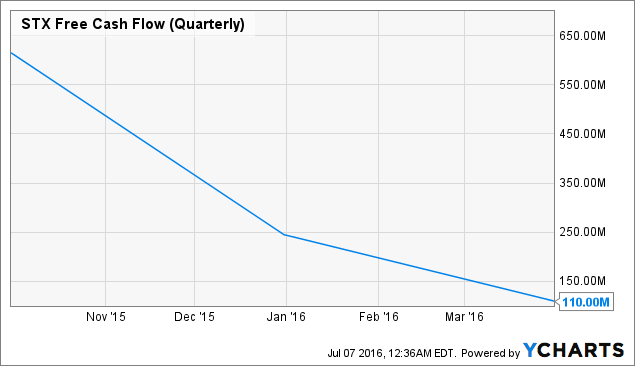 STX Free Cash Flow (Quarterly) data by YCharts
The savings from the restructuring plan will not come close to offsetting the revenue declines Seagate will continue to suffer in the coming quarters and fiscal years. Before too long, free cash flow might not even positive anymore! Yet somehow management believes it can continue to pay out $188 million per quarter in dividends? Yes, Seagate has $1.2 billion in cash, but it also has more than $4 billion in debt. Raising more debt to finance dividends would be a recipe for disaster and increasing cash flow organically is impossible with current HDD market conditions.
Management is doing a disservice to STX investors by electing to maintain the dividend at the expense of actually doing something about the company's plummeting top line. No part of Seagate's current strategy speaks to a plan for future revenue growth or even a plan to stop revenue decline. If you're skeptical, go read the company's Q3 report, which can be found here, and tell me this company can afford to maintain an 11% dividend yield. The dividend has got to go, or at the very least it has to be substantially reduced.
But hey, that's just one man's opinion.
If you want to stay up-to-date on my articles, you can Follow me by going to my author page or by clicking "Follow" at the top of this page.
Thanks for reading!
Disclosure: I/we have no positions in any stocks mentioned, and no plans to initiate any positions within the next 72 hours.
I wrote this article myself, and it expresses my own opinions. I am not receiving compensation for it (other than from Seeking Alpha). I have no business relationship with any company whose stock is mentioned in this article.