The Call of Duty franchise, published and owned by Activision Blizzard (NASDAQ:ATVI), has been an enormous driver of earnings and growth over the years for the company. The franchise has sold hundreds of millions of copies of their games, topping the $10B mark in the United States alone. While the Call of Duty games have been highly successful in years past, past game sales and pre-orders for the upcoming game, Infinite Warfare, are at an all time low.
Activision has done an incredible job diversifying their reliance on the Call of Duty franchise over the years. The purchase of King Digital in February of this year for $5.9M allowed for another stream of income for the company as they now have a footprint in the rapidly growing mobile gaming industry. In May, Activision raised guidance and continued to report a strong MAU base for King Digital at 463M, up 3%. Additionally, recently released Overwatch and continued strength from World of Warcraft and Destiny should help alleviate reliance on Call of Duty.
Call of Duty Declining Revenue
According to Money Nation, total revenue and unit sales show a declining trend after reaching a peak in 2011 with Call of Duty: Modern Warfare 3. Total revenue for Modern Warfare 3 was $1.2B compared to the latest Call of Duty installment, Black Ops 3, which released in 2015 and has current total sales at $592M. The graph below highlights this peak in 2011 and declining trend ever since.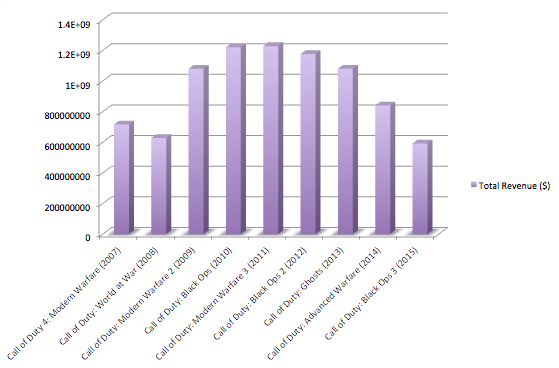 While this trend is difficult to quantify, I decided to research whether it was an Activision problem or if simply the entire video game industry was in a decline. The graph below from Statista shows U.S. computer and video game sales from 2000 to 2015. The graph is somewhat similar to the Call of Duty trend in that 2010 and 2011 were the peaks and then sales fell off. Computer and video game sales in the United States were at $17.1B in 2010 before declining to $15.2B in 2012. The steady decline in Call of Duty revenue may be due to the increased competition in the video game industry as well as lack of enthusiasm about future titles. For example, the trailer for Infinite Warfare has become one of the most disliked videos on YouTube, a sign that customers aren't necessarily happy with the direction the franchise is going.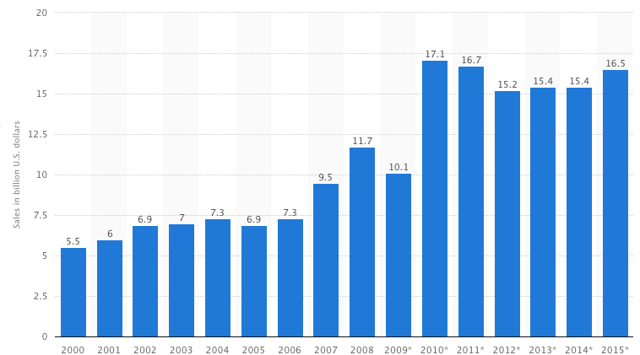 Declining Pre-Orders
While not a perfect measure of a video games' success, game pre-orders are a solid indication of excitement and possible performance of a title. On May 2nd, Call of Duty announced its latest title, Infinite Warfare, which will be released on November 4th. In looking at pre-orders I want to stress that this is in no way a solid measurement because often customers will go to the store the day it's released instead of pre-ordering the game. However, in looking at the US pre-order chart for the week ending June 11th, 2016, we see that Infinite Warfare currently has 57,076 pre-orders for the PS4 and 52,053 for the Xbox One. Call of Duty: Infinite Warfare will not be released on the PS3 and Xbox 360 so that may have some impact on sales as well. For comparison, I decided to look at the pre-orders for the previous Call of Duty game, Black Ops 3 (2014), to see how the numbers compare. Now, this comparison isn't truly accurate as Black Ops 3 was revealed April 26 of 2015, compared to May 2nd 2016 for Infinite Warfare. Additionally, Black Ops 3 was released on November 6th, compared to November 4th for Infinite Warfare. This data may skew the numbers slightly, but I was quite surprised at the numbers regardless. The pre-order chart for the week ending June 13th, 2015, shows that pre-order totals for Black Ops 3 on the Xbox One was 449,601 and 310,102 for the Playstation 4. I included a table below with the data from vgchartz so that you can get a visual that's actually quite shocking.
| | | |
| --- | --- | --- |
| Title (year) | XOne Pre-Orders | PS4 Pre-Orders |
| Call of Duty: Black Ops 3 (2015) | 449,601 | 310,102 |
| Call of Duty: Infinite Warfare (2016) | 52,053 | 57,076 |
Even if you want to try and compensate for the differences in dates, it's clearly evident that at the same point in time, June of 2015 and 2016, there's a drastic difference in the number of pre-orders for both games.
The Good
After reading my article and the data I presented, you are probably thinking I'm a bear and that I believe Activision Blizzard is going to zero, right? Well, that's simply not the truth. Even if Call of Duty: Infinite Warfare isn't as successful as previous titles, Activision will still continue to shine due to its diversity across titles and customer base. While Infinite Warfare may be a hiccup as far as COD titles go, Activision should still stand to benefit from the rise of eSports as I'm fully confident that Infinite Warfare will have a highly competitive eSports platform. Additionally, something that's not often mentioned is that Activision is bringing back a very popular title, Call of Duty: Modern Warfare, which was released in 2007. The game is being totally remastered and bundled with Infinite Warfare, so customers are forced to buy both games. For nostalgic Call of Duty fans like myself, the announcement of Modern Warfare was very exciting, making some people buy the bundle just so they can play Modern Warfare, even if they hate what they've seen so far regarding Infinite Warfare. This is an extremely brilliant move on Activision's part because the bundle is bringing together the old, nostalgic gamers and the younger gamers who prefer the new titles.
During ATVI's Q4 earnings call, management noted several key statistics that show promise despite the earlier graphics. In December 2015, MAU (monthly active users) grew 20% yoy, and time spent playing the Call of Duty games rose 30%. Management went on to note that November and December of 2015 had the highest MAU in franchise history. Additionally, in-game content, such as season passes for downloadable content, reached a franchise record in Q4 as well. All of these statistics provided by management contradict in many ways the notion that the Call of Duty franchise is in a state of decline.
My Take
It is my belief that long term, Activision Blizzard will continue to deliver solid returns and a decent dividend to investors. I don't see them going anywhere due to their strong titles and loyal customer base, but it is evident that the customer loyalty for the Call of Duty franchise is shrinking somewhat. I do think total revenue for Infinite Warfare will come in at or a little lower than Black Ops 3 revenue ($592M), but that in the long run Activision will thrive once they begin focusing on what video game concepts got them to their current standing. Additionally, Battlefield 1 from Electronic Arts (NASDAQ:EA) should have a negative affect on sales as EA's World War 1 shooter was what many Call of Duty fans wanted in the new game. I could see Call of Duty losing some of their following due to BF1 but depending on the next title they could easily win them back. Overall, Activision Blizzard has a strong future with many different titles and if one has a long-term horizon, ATVI is a solid bet on the increase in gaming, more specifically mobile gaming.
Disclosure: I/we have no positions in any stocks mentioned, and no plans to initiate any positions within the next 72 hours.
I wrote this article myself, and it expresses my own opinions. I am not receiving compensation for it (other than from Seeking Alpha). I have no business relationship with any company whose stock is mentioned in this article.