Summary
Harley Davidson (NYSE:HOG) is a US based motor cycle manufacturer with a solid, iconic brand dating back to 1903. With a market capitalisation of circa $11.5bn, the company is the leading producer in the US market (around 50% market share) and a significant player in the slightly larger European market (11% market share).
The company consists of 2 main segments - Motorcycles and Related Products and Financial Services. Like many auto makers, HOG provides financing to customers looking to purchase a bike. Often this side of the business can be very lucrative, however, in a period of economic uncertainty it can quickly become loss making as delinquent loans weigh. In HOG's case, however, Financial Services continues to be attractive. In 2015, it contributed 11% of consolidated sales and 24% of operating income.
Over the course of 2015, the company faced significant currency headwinds which put its products at a competitive disadvantage vis a vis its Japanese competitors. A weaker Japanese yen made Japanese bikes cheaper relative to HOG's products and this lead to falling sales over the last year; culminating in a significant cut to management's 2015 sales and operating margin guidance last October. More recently, however, the tables have turned with the yen strengthening against the dollar. This has helped contribute to a growth in first quarter sales - the first quarter of growth in 4.

Source : Googlefinance
A Word on Valuation
HOG is not a bad company and up until last Friday I was a shareholder. It has a fantastic brand and a profitable merchandising business off the back of it. Last year alone, merchandising accounted for $292m of consolidated sales. In fact, to many HOG's brand is as powerful as Apple's or Coca Cola's. This fact alone makes the company a potentially attractive target.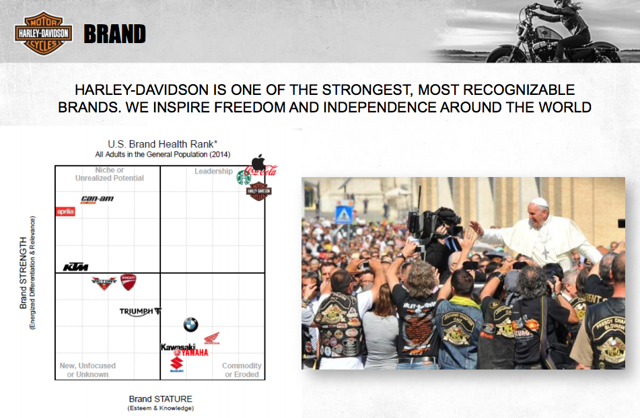 Source : Harley Davidson
Despite the competitive challenges facing the company, it continues to be profitable and in 2015 made EBITDA of $1.45bn and NPAT of $752m. Based on its closing price last Friday, this represents an EV/EBITDA (2015A) multiple of 11.3x and a PE of 13.0x - slightly more than the average auto maker's trailing PE of around 12.2x. The company also generates positive cash flow and pays a good dividend yield.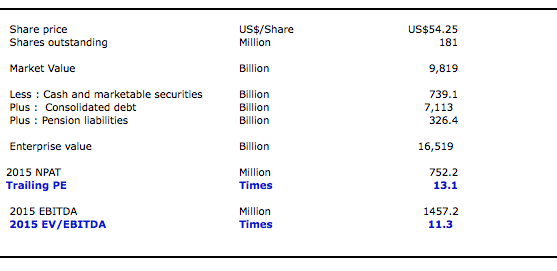 Source : Author
As many have pointed out in recent articles on HOG, the company is made up of 2 very different segments - the Motorcycle and Related Products business and the Financial Services business. My working assumption would be that a PE acquirer such as KKR would be unlikely to be attracted to the Financial Services business and thus it is necessary to separate the two segments for the purposes of analyzing the attractiveness of HOG to a PE fund. Luckily HOG's 10K report provides a detailed segmental breakdown between the 2 segments.
From the 2015 10K, the Financial Services segment had net assets of about $1bn, with total assets (i.e. the loans it makes to customers) of $7.5bn and total liabilities (the debt that it issues which is backed by the loans that it makes to customers) of $6.4bn.
Making a simplifying assumption that the Financial Services business is basically worth its net asset value (i.e. $1bn) means that of the current consolidated HOG market value of $9.8bn, roughly $1bn of that related to the Financial Services business - implying the value of the Motorcycle and Related Products business is worth $8.8bn.
Based on the segmental profitability included in the 2015 10K, this implies that the Motorcycle and Related Products business within the consolidated HOG trades on an EV/EBITDA multiple of 9.4x and a PE of 12.9x. As can be seen, this valuation is more or less in line with its peer group.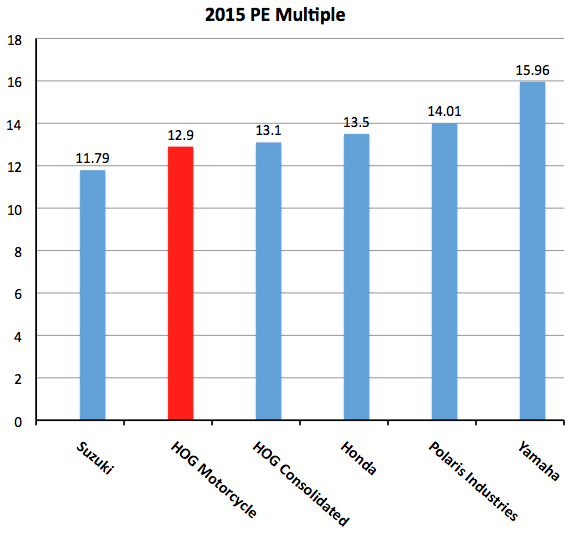 Source : Author
So How Might a PE Fund Look at HOG?
PE funds like KKR have a very strict approach when it comes to assessing takeover targets; many have high ROE hurdles they need to meet - often looking for investments yielding over 20% IRR. Further, whilst a value investor will typically look to buy a stock and hold it for the long term, a PE fund doesn't have that luxury. They will typically look at an investment holding period of around 3-5 years and so their targets are investments which are on the cusp of massive outperformance.
This means that: i) they need to buying something significantly undervalued or ii) are able to gear their target business up substantially (and thus maximise the ROE) before selling it. Often, it will be a combination of both.
So lets consider these points one at a time.
i) Valuation
As I set out above, I don't believe, on Friday's closing price, that HOG is undervalued. Whilst I think the company is solid and generating reasonable cash flow despite the challenges it is facing, I believe it is trading more or less at fair value given the challenges and threats the business faces.
ii ) Additional leverage
This is certainly a tool that is available to an acquirer of HOG.
From the 10K, we also know the amount of HOG's consolidated debt that sits with the Financial Services business, i.e. some $6.1bn which is most of it. Meaning that only some $660m of net debt sits with the Motorcycle and Related Products business, which is only 0.6x net debt / EBITDA . Thus there appears considerable scope to gear up the Motorcycle side of the business and thus minimize the amount of equity an acquirer would need to make the acquisition.
In my experience based on 20 years in finance, I have found banks will set the leverage ceiling around 3.0x net debt / EBITDA for term debt. However, KKR might be able to add various other tranches and forms of higher yielding mezzanine and other structures which could push the gearing up to around 3.5 - 4.0x.
Assuming then that KKR is able to push gearing up to 4.0x net debt/EBITDA and that it needs to offer a takeover premium of, say 40% to last Thursday's closing price (i.e. the price before the rumor broke out), this means KKR would need to employ just over $7bn in equity.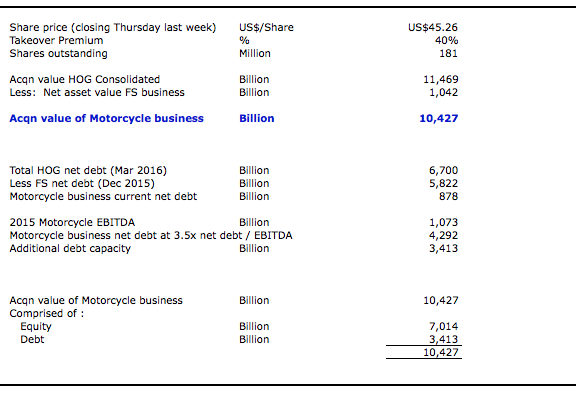 Source : Author
So What Would It Take to Meet KKR's IRR Hurdle?
So what does all this mean for the ROE of an acquirer like KKR? Below I set out the calculation.
The ROE to a PE fund would vary significantly with the assumed eventual sale price for the business 3-5 years down the road. For simplicity and because I believe HOG is more or less trading at fair value, I have assumed that the exit sale multiple is equal to the acquisition multiple. Thus only the assumed financial performance of the business will be what drives its assumed sale value in 5 years time (i.e. no multiple uplift).
So that begs the question - how would HOG need to perform over the next 5 years say in order to meet a PE fund's IRR target?
To model this, I assume that HOG's earnings increase by a steady rate over the investment period. I also assume that in that time (5 years) KKR does not pay off any of the acquisition debt they take on and instead repay it at sale. Also, I assume KKR pays capital gains tax on the profit on sale at 20%.
Applying these assumptions, I then solve for the rate of increase in earnings over the 5 year period and the profit on sale on year 5 required to deliver the specific IRR.
This I then use to calculate what the HOG consolidated share price would need to be in 5 years time to meet this target. This helps to conceptualize I think the kind of assumed performance that would be implied in a particular IRR.
The calculation is built up below.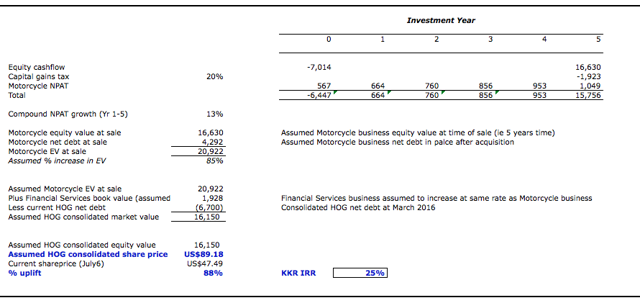 Source : Author
In the above analysis, you can see that under the methodology set out above, in order for KKR to generate an IRR of 25% at the time of sale, the company's profit would need to increase 13% pa. This would imply that, by year 5, a consolidated HOG would have a market value of some $16.2bn - or a share price of $89.18 per share. This is 88% above yesterday's price of $47.49. If, though, KKR were to target a return of 30%, then the share price would be $112.62/share - some 137% above what it is today. Obviously, if KKR were to seek to make its return over 3 years, rather than my assumed 5, then the required increase in value is that much steeper.
Conclusion
Whilst Harley Davidson is a solid company, I am very skeptical that it's in imminent danger of being acquired by a PE fund such as KKR.
Whilst there remains scope to gear up the business should a PE fund acquire it, the equity required is still sizable. Further, the fact that the business is currently trading in line with its peers at more or less fair value limits the upside to a buyer looking to exit in a 3-5 year timeframe, especially when one considers the circa 30% to 40% take over premium that would likely be needed.
Disclosure: I/we have no positions in any stocks mentioned, but may initiate a long position in HOG over the next 72 hours.
I wrote this article myself, and it expresses my own opinions. I am not receiving compensation for it (other than from Seeking Alpha). I have no business relationship with any company whose stock is mentioned in this article.