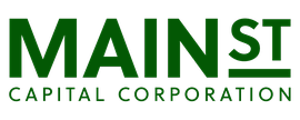 Business development companies are preferred income vehicles for dividend investors. And why wouldn't they? Business development companies, pretty much like real estate investment trusts, have to pay out the majority of their earnings to shareholders, which make them income vehicles of choice. Most BDCs pay shareholders on a quarterly basis, but there are some companies that have opted to pay their dividends on a monthly payment schedule. It goes without saying that companies with a monthly distribution frequency are viewed more favorably by dividend investors than companies that pay on a quarterly basis.
Some business development companies have evidently done a better job than others, and are rewarded with higher market valuations in turn. One company that has earned a reputation for dividend and Net Asset Value growth over time is Main Street Capital Corp. (NYSE:MAIN) which has become a darling for the income investor crowd (I own a couple of shares of Main Street Capital, too).
Main Street's Net Investment Income, which ultimately backs the BDC's dividend, has grown fantastically over the last nine years, and the company has never reduced its regular monthly dividend.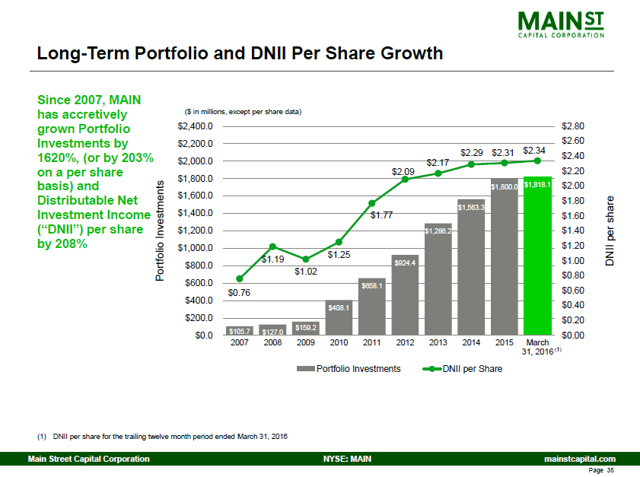 Despite Main Street Capital's unblemished record in growing its monthly dividend, there are reasons to tread carefully here, for two reasons.
1. Main Street Capital, like most other BDCs, has likely already experienced the majority of its growth.
Business development companies had the time of their lives during the financial crisis and Great Recession when banks cut back on lending which opened up a lucrative niche for finance companies that were ready to swoop in. However, as you can see in the chart above, Main Street Capital's Distributable Net Investment Income on a per-share basis has essentially flat-lined since 2014, which is a direct result of a maturing BDC market and fewer lucrative investment opportunities. The low hanging fruit has already been taken.
2. Main Street Capital is already quite expensive, and the shares appear to have reached a level from which it will be very hard to move higher from. In fact, Main Street Capital is one of the most expensive business development companies in the sector, priced at a ~54 percent premium to its last reported Net Asset Value of $21.18/share, which makes Main Street Capital particularly vulnerable should its Net Investment Income not meet high investor expectations moving forward.
MAIN further sells for ~15.1x Q1-16 run-rate Net Investment Income, which is far from being a bargain.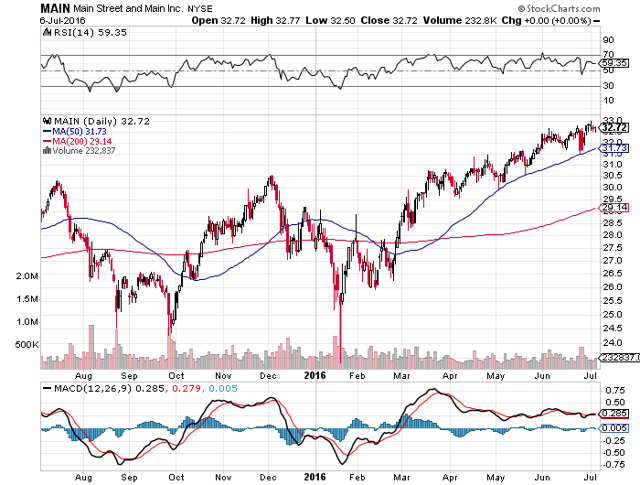 Your Takeaway
As much as I love my investment in Main Street Capital and the dividend that comes with it, there are reasons to tread carefully here. Main Street Capital is already valued highly on a Net Asset Value and Net Investment Income basis, leaving little room for mistakes and disappointments. Investor optimism is high, too. Further, Main Street Capital's DNII/share does no longer grow at the high rates seen a couple of years ago. Main Street Capital is a solid BDC, but I would not want to buy at today's prices anymore.
Disclosure: I am/we are long MAIN.
I wrote this article myself, and it expresses my own opinions. I am not receiving compensation for it (other than from Seeking Alpha). I have no business relationship with any company whose stock is mentioned in this article.