Introduction
Investors generally do not appreciate small companies, because they may not trust its management, or there is inadequate liquidity in the market. This makes sense and causes these stocks to be very undervalued by the market. However, if you can find a good catalyst, you can get paid much more money by investing in this hidden gem than in any big corporation.
In this context, I will analyze the merger of Skullcandy, Inc. (SKUL) ("Skullcandy"). This company recently signed an agreement with a private strategic buyer called Incipio and received another offer from Mill Road Capital Management LLC, a financial player. The founder also noted a week ago that he may take the company private. In this article, I will analyze these proposals and assess the chances of seeing a bidding war.
Business and Financials
Skullcandy is based in Utah. It markets headphones, earphones, hands-free devices and other products. It was founded in 2003, and currently it is selling products all over the world.
It has outstanding performance, sales growth, and it is a well-respected brand in the US: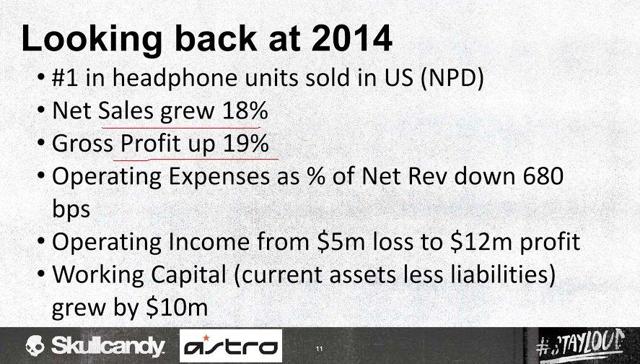 (Investors Presentation)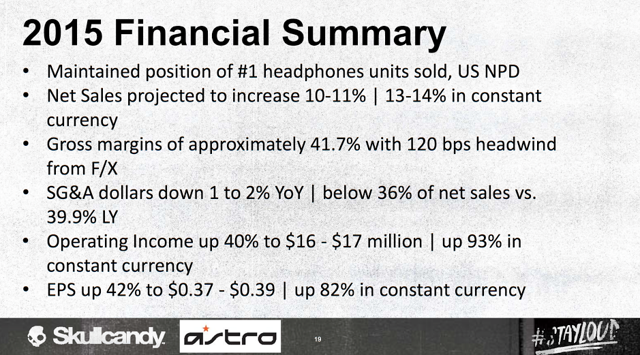 (Investors Presentation)
It also has entered into agreements with relevant retailers and consumer electronics players:
"We currently sell into a broad spectrum of retailers, including those focused on consumer electronics, such as Best Buy, those focused on sporting goods, such as Dick's Sporting Goods and large retailers, such as Wal-Mart, Target and Fred Meyer. We are selective about the national retail partners that we align with as well as with the product mix we offer to these retailers in order to reinforce our Skullcandy's brand positioning as the original performance lifestyle audio brand, Astro Gaming's brand positioning as the premium leader of gaming headphones that lives at the epicenter of technology, lifestyle and design. "
(10-K)
The results are solid. It has positive and stable ROE and ROA as well as stable figures in accounts payables, receivables and inventories. I think the stock is undervalued because of its size and the reduced liquidity in the market. This is normal in such kind of companies. Therefore, buyers have to pay a higher premium. However, I do not see this situation in this specific case of Incipio. The premium is not generous, around 22%.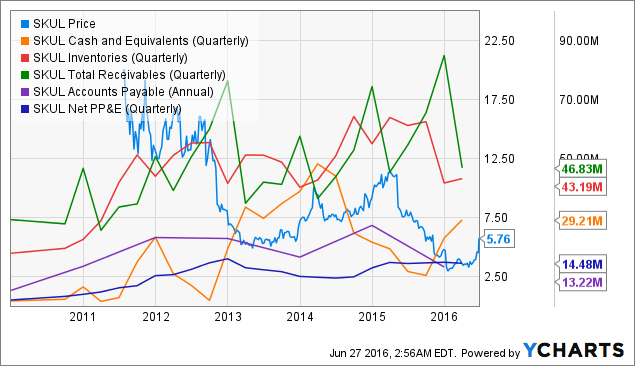 SKUL data by YCharts
In addition, the EV/EBITDA is not quite expensive, and any other bidder could pay more. The fact that a financial buyer offered more money than Incipio (it includes synergies), which is a strategic acquirer, means that the first bid was a low ball.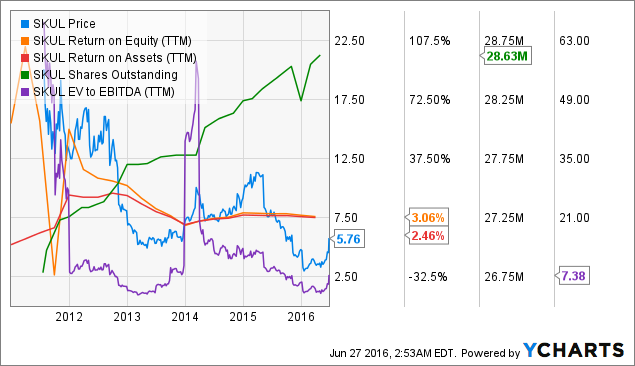 Board Of Directors
None of the members of the Board of Directors are currently involved, or have any experience in any activity associated to M&A, or investment banking. Moreover, all the members of the board come from companies dedicated to either the sports or the music industry.
If Mill Road, the private equity firm, introduces some directors within the Board, the company may change its policy and return value to shareholders. I could not find any restructuring costs in the annual report, so I think this stock may be worth much more if the P/E implements some restructuring plans.
Go-Shop
The agreement with Incipio includes a go-shop period, which represents a great opportunity for investors. The Board found one new bidder so far, and could find many more:
"The Merger Agreement also contains a "go-shop" provision pursuant to which the Company has the right to initiate, solicit and encourage the making of other proposals to acquire the Company and engage in, enter into and continue discussions or negotiations with respect to other proposals to acquire the Company until 11:59 p.m. (Eastern time) on July 23, 2016 (the "Go-Shop Period")."

(Source)
Founder wants to buy it out
I do not really believe Mr. Alden, the founder. I could read that he sold big stakes of the company before the announcement of the tender offer. But, right after the company announced that there is a new bidder (tender offer), he said that he could pursue a "going private" transaction. I do not think it is conservative to think that he is another third bidder:
"On June 6, 2016, representatives of an investment entity controlled by Mr. Alden informed Ptarmagin that Mr. Alden has determined to explore potential transactions in which he may cause one of his affiliates to make an offer to purchase some or all of the shares of the Issuer's Common Stock or otherwise pursue a "going private" transaction involving the Issuer (a "Potential Transaction"). Such representatives informed Ptarmagin that Mr. Alden intended to cause the investment entity, or an affiliate, directly or indirectly, to make a proposal to the Issuer for a Potential Transaction. Such representatives proposed to Ptarmagin that it participate with Mr. Alden and/or his affiliates in a Potential Transaction. In connection with a Potential Transaction, directly or through their representatives or affiliates, each of Ptarmagin and Mr. Alden may engage in discussions with one another and/or their respective affiliates, representatives and advisors, potential financing sources for such a transaction, the Issuer, and/or other stockholders of the Issuer. Either or both of Ptarmagin and Mr. Alden may determine to participate directly or indirectly in a transaction involving the Issuer, including by, among other things, contributing their respective shares of the Issuer's Common Stock in exchange for an equity interest in the successor to the Issuer following such a transaction."

(Source)
Mill Road Capital
Mill Road Capital looks like a respected buyer. It has more than 700 million under management, and it has been a shareholder for some time:
"Mill Road Capital Management LLC ("Mill Road") is an investment firm focused on investing in small publicly-traded companies. Over the last few years, we have completed more going-private transactions with these companies than any other firm. Mill Road has followed Skullcandy, Inc. ("Skullcandy" or the "Company") for several years. We are the second largest shareholder of the Company with 9.8% of the common stock and are strong believers in the long-term potential of the Company. Accordingly, we are pleased to present this written proposal (the "Proposal") to acquire 100% of the Company's outstanding shares. We are prepared to commence negotiation of definitive agreements and business, financial and legal due diligence immediately. We expect that with the cooperation of the Company, the period required to complete our due diligence will be brief."
(Source)
The fund offered to pay $6.05 per share. This was an unsolicited bid, and I do not think the target will recommend it. I think Incipio will have to increase the offer, and this may be the beginning of a bidding war.
"Mill Road proposes to acquire 100% of the outstanding shares of the Company (the "Proposed Transaction") for $6.05 per share (the "Purchase Price"). The Purchase Price would be payable in cash at the closing."
Conclusion
This is an outstanding opportunity; there are two companies interested in this target, which is profitable and it is quite undervalued because of a lack of liquidity in the market. The current stock price is $6.0, so I do not think any investor will sell his shares at $5.75, which is Incipio's offer. Incipio will have to pay a decent valuation for the company, because there is another bidder interested. Finally, another bidder could appear since the go-shop has not yet terminated.
Disclosure: I/we have no positions in any stocks mentioned, and no plans to initiate any positions within the next 72 hours.
I wrote this article myself, and it expresses my own opinions. I am not receiving compensation for it (other than from Seeking Alpha). I have no business relationship with any company whose stock is mentioned in this article.