Deutsche Bank (NYSE:DB) Research has recently hosted an onsite meeting with American Express (NYSE:AXP) management. Vice Chairman Steve Squeri has given an update on the company's consumer credit card segment, mentioning that competition remains intense, with small card issuers taking share from larger ones on an aggregate basis. Management also has a positive outlook on retaining Costco's (NASDAQ:COST) small business cardholders given it can provide much more spending power (the most important factor for small commercial card), i.e., it can retain more of their out-of-store spend.
But what really caught our eye is the fact that management has been extremely positive on the commercial card growth opportunity.
Is GCS a game changer?
Global Commercial Services was a $10 billion revenue business (~30% of firm revenues) generating $3.2 billion pre-tax earnings in 2015. And importantly, it's also a key RoE driver (at ~27%).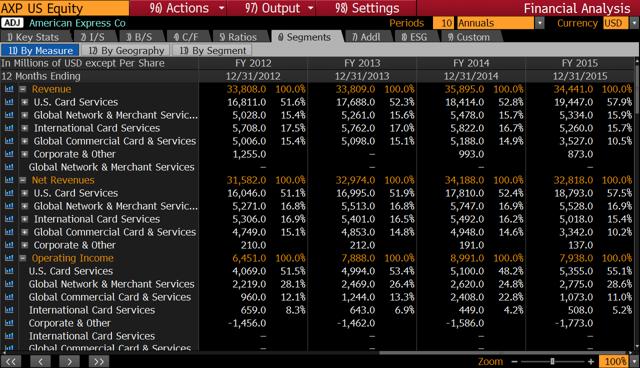 Source: Bloomberg
GSS performance was poor in 1Q16 - the segment delivered a very modest growth rate of 4% y/y.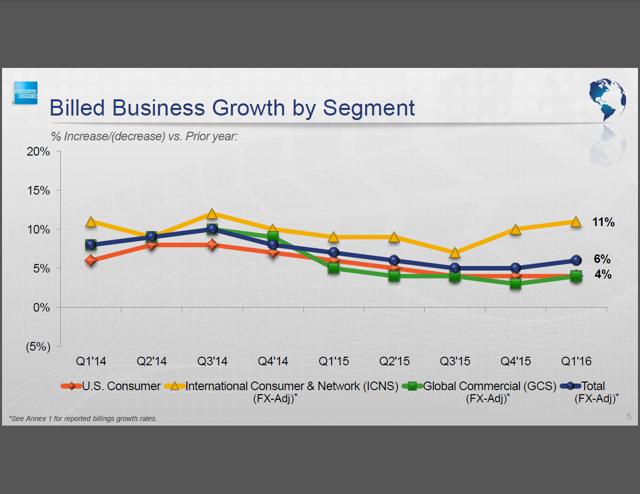 Source: Company data
That said, the segment was a key RoE driver (at ~27%). While commercial is only 13% of cards, it comprises nearly 40% of billings along with 15% of firm loans.
By contrast to the consumer credit card segment, competition in GCS is very limited. Management was very confident in retaining its 65-70% market share for large global accounts. For global accounts, AXP is essentially operating in a duopoly with Citi (NYSE:C) as the only global competitor, while JPMorgan (NYSE:JPM) dropped out last year. Wells Fargo (NYSE:WFC) and some regionals will try to go after larger, national accounts that are not global, but AXP gains enough new accounts to net away attrition. According to the vice president, there are a handful of regionals, large banks and Fintechs wanting to get a foothold in the business, but they cannot offer the same product and do not have enough data to scale quickly given the commercial card has very different underwriting and risk management requirements.
Importantly, the market is growing faster than the consumer: management thinks the small and commercial middle market size is growing at 9-10%, with most of the growth occurring in middle market (they, of course, feed off the success of larger companies, however). Small and middle market billings grew 7% y/y in 2015, and management suggests 8-10% growth is realistic.
The segment's profitability is supported by lower rewards costs and rewards competition versus consumer, as well as lower customer incentive costs (although larger customers still require higher incentives).
The multiple re-rating story is still intact
To recap, our AXP investment thesis is based on a multiple re-rating story. American Express is currently trading at 11.2x trailing earnings. A P/E multiple of 11.2x is nearly 25% lower than the company's historical 5-year average of 15.3x. We expect a meaningful multiple re-rating, driven by AXP's clear revenue growth strategy, solid cost discipline, a strong management team and generous capital returns to shareholders, while Global Commercial Services should unlock additional value.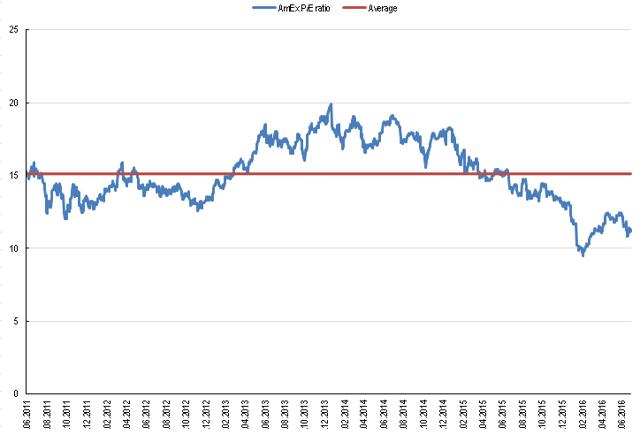 Source: Bloomberg
Disclosure: I am/we are long AXP.
I wrote this article myself, and it expresses my own opinions. I am not receiving compensation for it (other than from Seeking Alpha). I have no business relationship with any company whose stock is mentioned in this article.