BlackBerry (NASDAQ: BBRY) shareholders have had a harrowing past few years. The company's highly touted turnaround plan has been going on for three years now but the stock has more or less languished in the same price range over the period. Many, including me, have suggested that BlackBerry should shut down its handset business or it should axe its poorly performing devices. Well, it looks like BlackBerry has finally heard us - production of its Classic is being discontinued. But what does this mean for BlackBerry and its shareholders?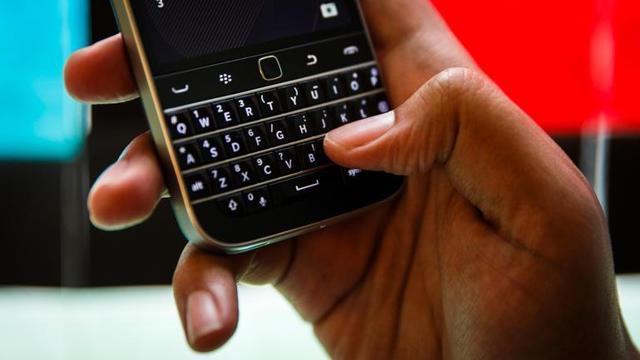 Goodbye, QWERTY?
Let me start by saying that the Classic holds a very significant spot in BlackBerry's turnaround efforts. It was released by BlackBerry after John Chen came to power. It was touted as a well positioned device and hyped as the handset that would aid in the company's turnaround efforts.
Chen hailed it as a game changer and announced that it was the device the market was waiting for.
We listened closely to our customers' feedback to ensure we are delivering the technologies to power them through their day - and that feedback led directly to the development of BlackBerry Classic. BlackBerry Classic is the powerful communications tool that many BlackBerry Bold and Curve users have been waiting for. It's the secure device that feels familiar in their hands, with the added performance and agility they need to be competitive in today's busy world. - John Chen, 2014.
Clearly the hype didn't live up to the expectations, otherwise the device wouldn't have been axed. Morgan Stanley came out with a report last year stating that the collective sales of Passport and Classic devices stood at just 8,000 units during the company's third quarter. This paltry figure looks more believable now, in retrospect, after the company announced the discontinuation of the device. After all, no struggling company would cease the production of its financially successful products.
What's more concerning is that BlackBerry didn't axe it's three-year old touch-based Z10 and Z30 devices but instead went on to chop off the production lines of a relatively newer two-year old Classic device that housed updated hardware. This somewhat suggests to us that the demand for QWERTY keypad phones has been weaker than touch-based smartphones, and that management was clueless about it all along.
BlackBerry management thought the market was looking for QWERTY offerings and placed its bets accordingly in that direction. But had there been a real, robust and sustainable demand for QWERTY phones, BlackBerry Classic wouldn't have been axed and it would have been the relatively older Z30 and Z10 devices facing discontinuation. It appears as though BlackBerry's market research was wrong on epic proportions.
More to the point, the production of the Classic was outsourced to Foxconn so that the Canadian smartphone vendor could switch to a variable pricing structure and reduce its operating costs. This way the burden of fixed costs was being borne by Foxconn. So it is also possible that it was actually Foxconn that decided to discontinue the production of Classic due to low sales/production volume, and BlackBerry merely passed on the message to consumers and shareholders disguising it as a change in product strategy.
What now?
The question at hand now is:
Did QWERTY fail BlackBerry?
Did the problem lie with Classic's hardware (i.e. CPU, RAM, camera etc.)?
Or, Is Foxconn starting to cut ties with BlackBerry?
Out of all, I don't think that hardware was the reason for Classic's demise. There are barely any high quality apps on the BlackBerry World app store that would push the device to its limits. It houses a dual core 1.5 GHz Snapdragon chip and 2GB RAM after all, which is enough for most productivity tools. And the device comes equipped with a 3.5-inch square screen so you wouldn't be able to play intensive games on it anyway.
The fact that relatively older Z30 and Z10 devices are still being produced, while the relatively newer Classic gets axed, leads us to believe that sales of the older BB10-based devices are still better than their successor, the Classic. It could very well have been the QWERTY keypad that failed BlackBerry and quashed its dreams of a successful financial turnaround. If this is the case, then similar QWERTY-based Q10, Q5 and Passport devices might be facing similar challenges as well.
| | | |
| --- | --- | --- |
| Device | Manufacturer | Type |
| Classic | | QWERTY |
| Passport | -NA- | QWERTY |
| Priv | -NA- | Touch screen |
| Z30 | | Touch screen |
| Z10 | | Touch screen |
| Q10 | | QWERTY |
| Q5 | -NA- | QWERTY |
| Z3 | | Touch screen |
On the other hand, if it was Foxconn that decided to axe the Classic, the sales must've been really poor for the device. ODMs (Original Design Manufacturers) generally don't cut production ties with their clients unless sales numbers drop dramatically to levels that can't sustain the burden of fixed costs associated with keeping the production lines open. So it could have actually been the QWERTY pads that held BlackBerry's sales back all along. In light of this development, Wistron might move in a similar direction and it might also discontinue the Q10 handset in the coming months, as it is very similar to the Classic in terms of physical layout.
Either way, it indicates that QWERTY phones may be in trouble.
Takeaway
The fact that management didn't know what the market wanted is very concerning. The company's board should seriously reconsider if John Chen is right for the job or not. But overall, I see the discontinuation of the Classic as a positive move as it gets rid of the dead wood. I'm of the opinion that the discontinuation of QWERTY-based Q5 and Q10 devices would be another step in the positive direction as it would further reduce the company's operating costs. The handset business isn't doing well anyway.
Disclosure: I/we have no positions in any stocks mentioned, and no plans to initiate any positions within the next 72 hours.
I wrote this article myself, and it expresses my own opinions. I am not receiving compensation for it (other than from Seeking Alpha). I have no business relationship with any company whose stock is mentioned in this article.