Campbell Soup (NYSE:CPB) is a globally well-known soup company that has continued to add new products to their product line such as crackers, cookies, salsa, and chips. On February 17th the senior vice president of the company, Anthony DiSilvestro, said:
In Global Biscuits and Snacks, we will invest to grow our business in our existing markets...We will expand our business internationally in developing markets like Indonesia and China where we have small business today.
The Senior Vice President also made a note that the Global Biscuits and Snacks division account for about 30% of CPB sales, as the company continues to focus on growing this division of their business. CPB is fully aware that consumer preference in the food industry is changing rapidly and has diversified their portfolio of products to maintain growth during this time of change. Some investors will continue to look at Campbell as a 120 year old soup maker with no more to offer than a steady stream of dividend payments, failing to see the business that CPB has grown to be.
China presents a great opportunity for CPB to grow its Global Biscuits and Snacks division. The consumers in China love biscuits and the trend of Chinese consumer purchasing multiple brands of products should make it relatively easy for CPB to enter the market. According to Denise Morrison, the president and CEO of Campbell:
China's $10 billion biscuit category is growing at nearly 9% despite the current economic slowdown. Since our 2013 acquisition of the Kjeldsens Group, we have made the expansion of this business a key priority.
Chinese consumers are not very loyal to certain brands and tend to purchase multiple brands of a single product, as can be seen in the chart below. As a result, CPB will likely not have trouble getting consumers to buy their biscuits and other snack items. Earnings in this division of the company were up 5% in 2015 from 2014. This was a major result of the company improving the efficiency of Kelsen, a company Campbell acquired in 2014. CPB will continue to restructure the Kelsen division, improving earnings, while entering a Chinese market that loves brand diversity.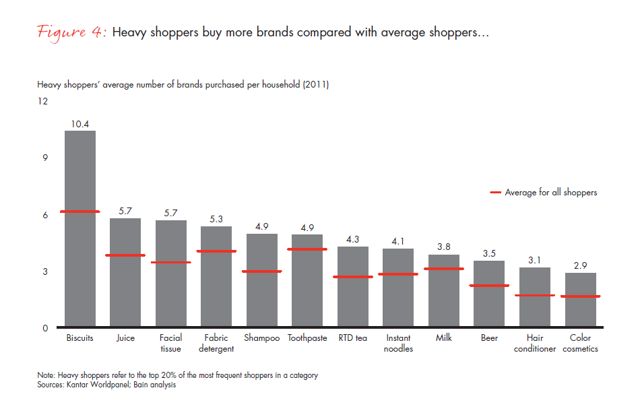 CPB continues to focus on increasing the transparency of the company with consumers. The company has taken the initiative to label the GMOs that are contained in their products and has focused on making healthier, more natural products. This is evident with CPB recent acquisitions of companies like Bolthouse Farms, Garden Fresh Gourmet, and Plum. These companies combined generated a little over $1 billion in sales in 2015, a number that is relatively small to the overall sales of CPB. However, the market for more healthy, more natural products will continue to grow and Campbell continues to position themselves to make this division of their business a source of growth for the company.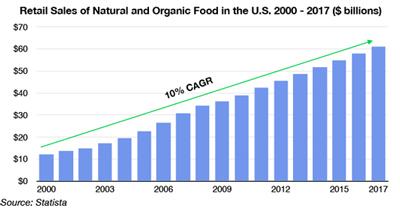 As seen in the graph above Americans continue to buy more natural and organic foods, making it very likely that CPB will see continued growth in the companies that have acquired that produce these kinds of products.
CPB has introduced a very aggressive cost-cutting plan to cut 300 million in cost by 2018. The company hopes to improve the production processes and other internal controls of the business while expanding the markets for their products. In the first quarter of this year investors saw a 20% increase in earnings, due mainly to the implications of the cost cutting plan designed by CPB. Earnings are expected to grow by nearly 20% in 2016 as the company continues to cut cost, passing more money onto investors. The earnings of all three divisions of CPB business were up during the first quarter of 2016 with the Biscuit and Snack division of the company increasing earnings by 11%, due mainly to increases in sales volume and improvements in efficiency. This is a sign that CPB cost-cutting plan is proving to be effective and the companies stock could continue to see similar earnings reports throughout 2016. As seen in the graph below earnings are expected to grow at a rate of 7.21% over the next 5 years.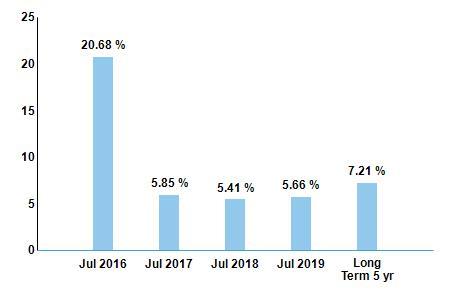 CPB is currently trading for about $67.00 per share and has been on a steady increase since May. The average recommendation for CPB stock is "Hold", as many are waiting to see the companies second quarter earnings report to get a better understanding of the impact of the companies recent implication of their cost-cutting plan and expansion in developing countries. The one year for CPB by analysis is currently $60.25, as the stock continues to outperform this expectation. This is mainly the result of the first quarter earnings report being better than expected. Zachs.com currently has the growth potential of CPB graded as a A. This is clear evidence that analysts believe CPB is making smart, innovative decisions. Investors should expect above average returns in the short-term, as CPB continues to implement their aggressive cost-cutting plan and expands into new markets. In the long-run it is likely that these returns will even-out and become more consistent as the company is currently changing drastically. Investors should look at CPB as a stock with low risk and great long-term opportunities, as the stock has continued to increase over the last 5 years with minor fluctations. The growth potential for CPB is high and the risk is very low, as the stock has not seen major fluctuations in over half a decade. Although the stock may not seem attractive serious investors should highly consider investing in CPB.
The growth potential for CPB in developing countries combined with the cost cutting plan the company has started to implement may lead to great earnings growth across the companies portfolio. Some investors may be short-mined and think of CPB as a soup maker missing the opportunity to b great growth in the company's stock price. CPB focus on the fresh food industry and the biscuit demand in China represent two growth opportunities for the company. Investors with long-run investing agendas should look at CPB stock as opportunity for sustained growth, with low risk and great potential for above average growth in the coming years.
Disclosure: I/we have no positions in any stocks mentioned, and no plans to initiate any positions within the next 72 hours.
I wrote this article myself, and it expresses my own opinions. I am not receiving compensation for it. I have no business relationship with any company whose stock is mentioned in this article.