Introduction
American Eagle Outfitters (NYSE:AEO) has been providing clothes to teenagers and young adults for many years and continues to be effective in selling to that age group. The company saw its peak in the stock market back in 2007, but the stock prices for AEO are steadily growing. One of the reasons that the company may be doing so well is because of its intimate apparel brand, Aerie. Aerie has been in the news for not retouching and enhancing the photos of their models, which are displayed in their stores and on their website. This is part of the AerieREAL campaign, which promotes being body positive by not using Photoshop on images of their models and having models with normal "flaws", such as tattoos and stretch marks. According to the Huffington Post, sales have grown over 20% for the fiscal year 2016, showing that sales may grow just by the company being body positive. I predict that sales and income will continue to grow due to the popularity of the Aerie clothing line.

Source: ae.com/aerie
Financial Data
AEO saw a large boost in revenue and net income at the end of this past fiscal year. The company faced decreasing net income values for the past two years, so seeing an increasing net income is a sign that the AerieREAL campaign can actually be helping sales rise. Although assets decreased from 2014 to 2015, the company has a strong current ratio of 1.56. This ratio is important because it means that AEO can pay off current liabilities with their assets, showing that they have good liquidity. Although this ratio is not as strong as AEO's competition, they still have some sense of liquidity, which is important.
Another financial ratio to consider is the earnings per share (EPS). This ratio is considered one of the most important ratios, especially to the stakeholders of the company. American Eagle had a low EPS of $1.11 for fiscal year 2016, but this ratio increased from both 2015 and 2014, where the EPS was around $0.42 for both years. American Eagle has not seen an EPS ratio higher than a dollar since the end of fiscal year 2013, and the company hopes that they will see growing ratios like they saw in 2015. When compared to competitors and the apparel retail industry, American Eagle Outfitters has a higher EPS ratio. If AEO records increasing sales and EPS, their stock price will also continue to grow.
Not only has American Eagle recorded strong numbers at the end of the 2016 fiscal year, but the company had a very strong first quarter, which is shown below. Both revenue and earnings per share have increased, and this is expected to continue. While AEO has seen growth, their competitors, like Abercrombie and Fitch (NYSE:ANF) and The Gap (NYSE:GPS), have reported poor first quarter results. Seeing this constant growth from the first quarter in fiscal 2015 makes me believe that AEO will report a strong fiscal year 2017 since they started off the year so well.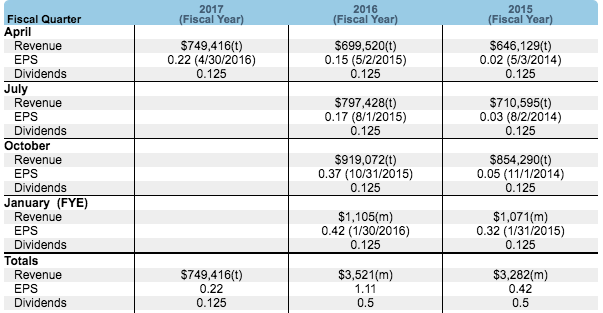 Source: nasdaq.com
According to Nasdaq, 8 out of 18 would say American Eagle is a strong buy, and 9 out of 18 say to hold the stock, proving that American Eagle Outfitters is the stock to invest in, especially if interested in investing in the apparel retail industry. Zacks.com also agrees that American Eagle is a good buy in the market today, and the website has American Eagle Outfitters listed as a rank #2.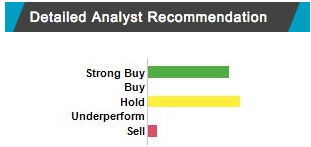 Source: nasdaq.com
Competition: Abercrombie and Fitch
Of course American Eagle faces a large amount of competition since the apparel retail industry is so large. One of their biggest competitors is Abercrombie and Fitch. In history, Abercrombie and Fitch generally had higher stock prices than American Eagle, and this still remains to be true. Although the stock prices are higher for Abercrombie and Fitch, their net income has been decreasing over the past three years, and I predict that this trend will continue on when data is released for fiscal year 2016. With decreasing revenue and EPS, Abercrombie and Fitch appears to be in some trouble, especially when compared to American Eagle. ANF has also been in the news lately for not having jeans above a size 10, showing that the company does not implement a body positive environment like American Eagle. Back in 2013, ANF did not offer over a size large in shirts or a size 10 in jeans for women. American Eagle offered a size XXL in shirts and size 18 in jeans, proving the body positive aspect that AEO values so much.
Conclusion
Overall, it is anticipated that AEO's ratios are going to be rising, which shows a promising future for the company. With the stock selling at around $14.55 per share, it is not too risky of a stock to invest in. I don't believe that American Eagle expected to see rising stock prices from starting their AerieREAL campaign, but doing something body positive is what has kept them on the right track, especially when compared to their competition in the apparel retail industry. If investors already have shares of AEO, I would recommend holding them, and if investors are considering to invest in AEO, I would purchase some shares. The financial data is very strong, especially when compared to competitors. The company has a great image due to their AerieREAL campaign, which differentiates them from competitors and the rest of the retail apparel industry.
Disclosure: I/we have no positions in any stocks mentioned, and no plans to initiate any positions within the next 72 hours.
I wrote this article myself, and it expresses my own opinions. I am not receiving compensation for it (other than from Seeking Alpha). I have no business relationship with any company whose stock is mentioned in this article.