Joel Greenblatt is without a doubt a Superinvestor. He has the long-term returns to back up that status.
He is also an author. In his most famous work the "Little Book That Beats The Market" he introduced us to his magic formula, which involves buying companies with high returns on capital and low valuations.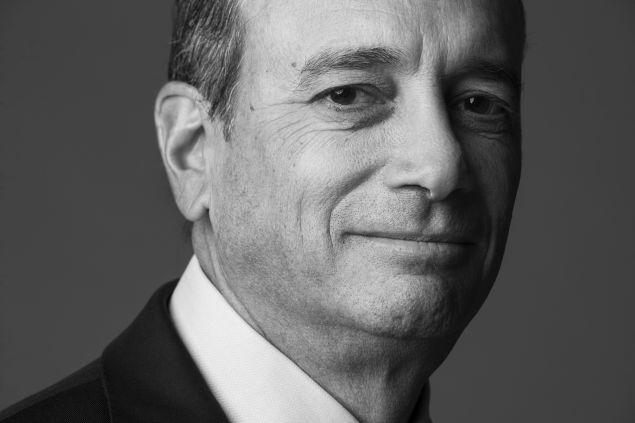 Source (Oberserver.com / Michael O'Brien)
He also wrote an earlier book called "You Can Be A Stock Market Genius" in which he showed us how to find hidden values that the rest of the market misses.
Today we would like to put Hilton Worldwide (NYSE:HLT) on your radar screen. Not necessarily to buy today (although we do think it is attractively priced), but rather to be ready for a larger opportunity in the future. In the coming months we believe there may well be a chance to utilize Joel Greenblatt's lessons with this company.
Hilton Worldwide - One Free Cash Flow Gusher And A Couple Of Spin-offs
The subject matter in "You Can Be A Stock Market Genius" is to find opportunities that the market has mispriced. Of course that is what we are all trying to do all of the time, but Greenblatt narrows down our search for us to situations where mispricing is most likely to occur.
He calls these "special situations". One of those special situations where bargains are likely to exist is a spin-off event.
As you likely know a spin-off occurs when a corporation takes a subsidiary, division or part of its business and separates it from the parent company by creating a new, independent, freestanding company.
The most popular reason for doing this is because the corporation believes that the part of it that is being spun-off will be valued more richly by the market if it stands on its own. There are other reasons as well including antitrust issues, favorable tax treatment and so on.
Why should we care?
Because as a Penn State study discovered, the share prices of spin-off companies outperformed the S&P 500 by 10% per year in their first 3 years as stand-alone businesses. This study was conducted over a 25-year period ending in 1988.

Ten percent is a massive outperformance.
The reason that these spin-offs outperform makes perfect sense. The smaller spin-off companies are often too small for the institutions that receive them to hold in their portfolios so they sell immediately pushing the share price down. If the parent company belongs to an index the same thing happens. Many investors who bought the original company simply don't have any interest in owning the spun-off business so they sell as well.
All of this selling that is generally done with little regard to intrinsic value can push the newly spun-off business's share price down to a price considerably below its intrinsic value.
The key is not to buy the spun-off company immediately after it starts trading. You need to give it a few months to allow for this indiscriminate selling to take place. Quite a few institutions won't even be aware that they own shares in the new spun-off company until they see month-end or quarter-end filings. When they notice it in with their portfolio of 100 companies they dump it with no questions asked.
Later this year we think that Hilton Worldwide could create two special situation opportunities. Hilton Worldwide will be breaking into 3 separate companies.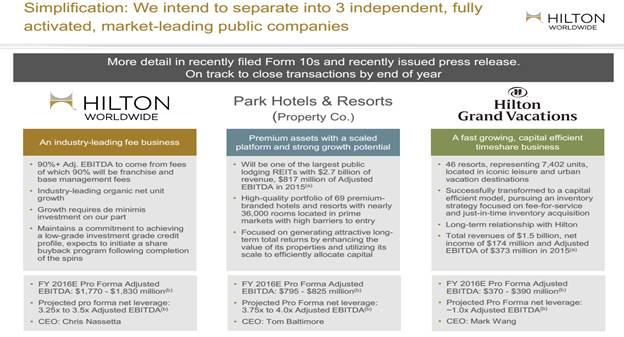 Source: Hilton Worldwide Holdings
We think that the core Hilton Worldwide is such a good business that the two spin-off entities could get dumped pretty aggressively by the institutions that receive them.
We like the core Hilton Worldwide business the most, but the two spin-offs could get pushed down to very attractive valuations. With that in mind here is what Hilton Worldwide today is going to become later this year.
The Core Business - Hilton Worldwide
After the spin-off event(s) the core Hilton Worldwide business will continue trading under the current ticker. This business involves the management and franchise fees that Hilton receives from its franchisee operated properties.
This is the business that generates most of the current cash flow for Hilton Worldwide. EBITDA for the twelve months trailing March 31, 2016 by business segment is detailed below.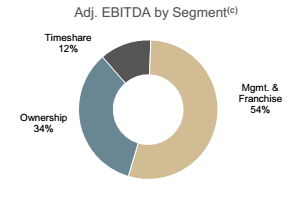 Source: Hilton Worldwide
It is a great business. These are essentially payments for the use of the Hilton brand. As you can imagine this business is extremely high margin.
Pro-forma in 2016 this business is expected to generate $1.8 billion of EBITA.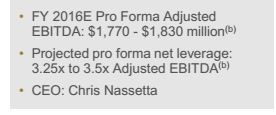 Source: Hilton Worldwide
This business is both very high margin and not very capital intensive. There aren't many capital expenditures needed to support a brand name. When his business is on its own it is going generate gobs of free cash flow that can be used for dividends and share repurchases.
The cherry on top is that it is also a steady grower.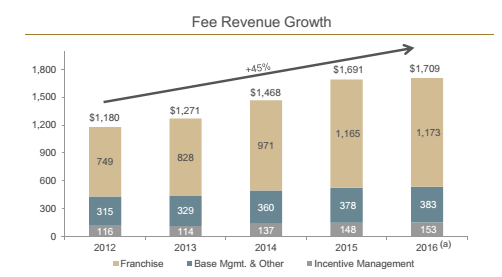 Source: Hilton Worldwide
As we said, this is a terrific business and one that we would love to own. We aren't alone in that assessment. That is why we think that when the spin-offs occur the other two business are going to be tossed aside indiscriminately and could be priced very attractively.
Spin-off #1 - The More Capital Intensive Business - Park Hotels & Resorts REIT
The core business is so attractive because the franchisees own the properties, do all the upkeep/managing and then send Hilton a check for the use of the Hilton name.
The Park Hotels & Resorts REIT is where Hilton fully owns and operates its own properties.
Not a bad business, just not an exceptional business like the first one.
This company is going to be one of the largest publicly traded lodging REITs. In 2015 this business segment generated $2.7 billion of revenue and $817 million of adjusted EBITA.
It did that through the operatorship of 69 hotels and resorts that combined have 36,000 rooms.
For 2016 the business is expected to have around $800 million of EBITA and will have debt that is roughly 4 times that.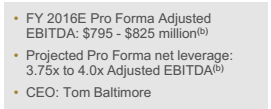 Source: Hilton Worldwide
Interestingly the top 10 properties accounted for 60% of this business segment's EBITDA in 2015. We wouldn't view that concentration as a positive given how cyclical/volatile individual properties EBITDA might be.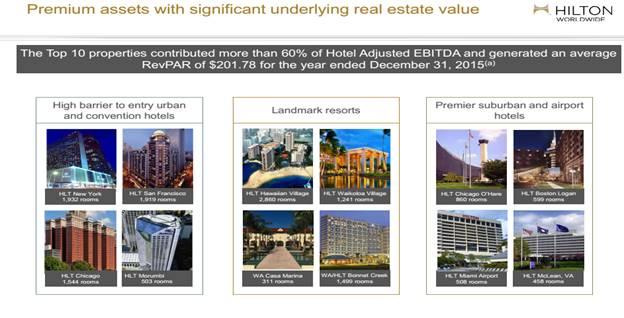 Source: Hilton Worldwide
But we aren't trying to sell you on this business being a fantastic one. Our point is that this decent business could be available at a fantastic price post spin-off.
Spin-off #2 - Hilton Grand Vacations
Hilton Grand Vacations will be the second spin-off and perhaps will be even more likely to be mispriced. It is much smaller with $373 million of EBITDA in 2015 and doesn't have the prime real estate of the Park Hotels and Resorts REIT.
This business sells time shares in 46 Hilton resorts that are located in popular vacation destinations.
It has been growing at a pretty decent clip with a 9% compounded increase in members over the past four years. EBITDA growth has followed along with this with an increase in total of 75% since 2011.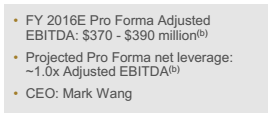 Source: Hilton Worldwide
It will be interesting to see how many current Hilton Worldwide shareholders are going to want to be owners of a pure-play timeshare company following the spin-off. We obviously think that a lot of them aren't going to have any interest in owning this business which could result in a fantastic opportunity.
What To Do - Have A Gameplan
We are putting Hilton Worldwide on our watch list. When these spin-offs occur we are going to develop estimates of what we think the intrinsic value of these companies are and then see if a bargain share price emerges. If one does we will take advantage.
We have no expectation that the core Hilton business is going to get mispriced. This is a great business and deserves a premium valuation which we think the market will assign.
As for the other two we think that there is real potential for an attractive opportunity to arise in early 2017. We will be paying close attention. Click the follow option at the top of this article to make sure you get our future updates in case a great opportunity really does arise.
We also have a current opportunity that we recently released a full report on for our subscribers. One of the Superinvestors that we follow has an astounding 33% of his portfolio in this one company. If you would like to become a subscriber and get access to that idea and many others just follow this link.
Thanks for reading.

Disclosure: I/we have no positions in any stocks mentioned, and no plans to initiate any positions within the next 72 hours.
I wrote this article myself, and it expresses my own opinions. I am not receiving compensation for it (other than from Seeking Alpha). I have no business relationship with any company whose stock is mentioned in this article.