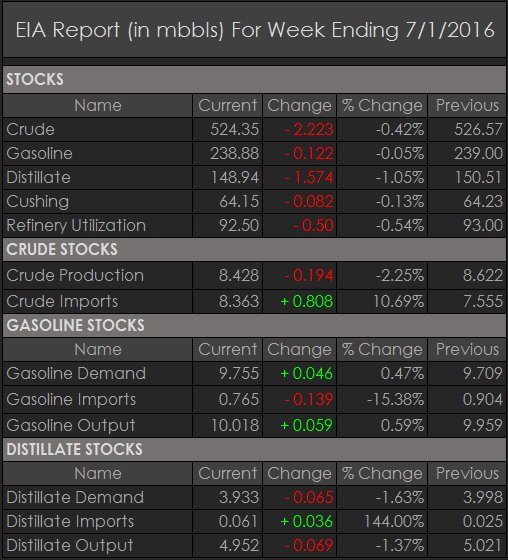 Source: EnergyBasis
As we said in our July 6th article, in order for crude and gasoline to see large draws, not only would imports have to fall but utilization would also have to take a big hit. EIA confirmed that logic today with this report. The draw was 2.223 million bbls, thanks to an 808k b/d increase in imports. Gasoline stock went down by only 122k bbls. Looking at the oil complex today, gasoline and distillate are leading the way down with declines over 4%.

Despite gasoline demand increasing by 46k b/d over the previous week, it still wasn't enough to take storage out as gasoline output was nearly 10.018 million b/d. As we said in this article, refinery margins are getting compressed, and this could lead to lower throughput to allow the gasoline storage to work itself out. The good news is that drivers will continue to see low prices at the pump despite crude oil rebounding to the mid-$40s.
Source: EnergyBasis
Surplus storage is roughly 20 million bbls. Depending on how much refineries scale back in the turnaround season, the surplus could take 15-25 weeks to clear itself out. In the meantime, if we don't see a meaningful drop in crude imports, U.S. crude inventory would likely see minimal draws - or perhaps even builds.
U.S. production continues to trend in the right direction. The 194k b/d decline is misleading as a bulk of it was led by Alaska, which is going through seasonal maintenance. The Lower 48 continues to decline by 38k b/d over the previous week. With the gasoline glut issue, we think the pressure on oil prices will keep frackers at bay. This likely contributes to our estimate of U.S. production ending the year around 8.2-8.4 million b/d.
Overall, the key to watch is refinery throughput, U.S. imports, gasoline demand, and U.S. production. The gasoline inventory issue is translating over the crude complex, and weakness in gasoline will result in weakness in oil prices.
We hope you enjoy our weekly oil (NYSEARCA:USO) inventory reports. Be sure to check out some of our old ones, and click on the follow button above if you would like to receive our "Oil Markets Daily" articles. In addition, we also have a premium subscription platform that's tailored to long-term value-oriented investors. We provide recommendations of stock ideas and portfolio composition. We look forward to you joining the HFI platform.
Disclosure: I/we have no positions in any stocks mentioned, and no plans to initiate any positions within the next 72 hours.
I wrote this article myself, and it expresses my own opinions. I am not receiving compensation for it (other than from Seeking Alpha). I have no business relationship with any company whose stock is mentioned in this article.