The EIA reported injection figures of +39 Bcf, bringing total storage to 3.179 Tcf. This compares to the +87 Bcf build last year and the +78 Bcf build for the five-year average.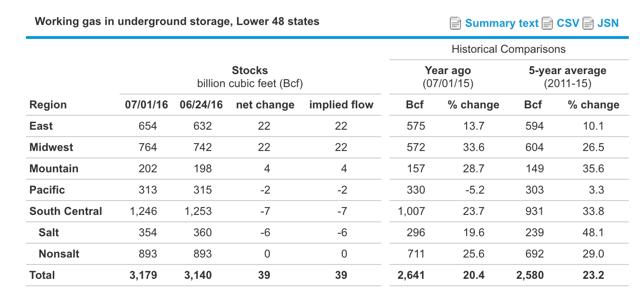 To give you an idea what people were assuming going into this storage report, analysts were projecting a range of 39 to 50 Bcf injection forecast. The injection came at the lower end, which also broke the five-year minimum injection of 41 Bcf. With this bullish storage report, surplus overhang is only 538 Bcf above last year and 599 Bcf above the five-year average.
Some might wonder why natural gas prices are down.

As we said in this article, the temperature forecasts for July have been very bullish. Any signs of cooler temperature forecasts will level prices off a bit as traders won't be overly concerned in committing to deals. The storage injection forecast for this week has been revised up sharply from 45 Bcf to nearly 65 Bcf, which is another reason for the selloff.
As we said before, temperature forecasts move demand forecasts, which impact injection forecasts. If the injection forecasts are moving broadly bullish, then prices will rise. If they're bearish, prices will fall. Looking at injection forecasts for the next two weeks, we could have two weeks back to back of mid-20 injections. This will be very bullish for storage as the five-year average injection for both weeks was in the 50s.
Overall, this was another bullish storage report. It will be important over the next several weeks to see the bullish trend continue, as lower injection forecasts now could help the fall storage injection period. Natural gas prices, however, have somewhat priced in these bullish injection forecasts, and the market is taking a wait-and-see approach.
We hope you enjoy our weekly natural gas (NYSEARCA:UNG) storage reports. Be sure to check out some of our previous ones and click on the "Follow" button above if you would like to receive our "Natural Gas Daily" articles. In addition, we also have a premium subscription platform that's tailored to long-term, value-oriented investors. We provide recommendations of stock ideas and portfolio composition. We look forward to you joining the HFI platform.
Disclosure: I/we have no positions in any stocks mentioned, and no plans to initiate any positions within the next 72 hours.
I wrote this article myself, and it expresses my own opinions. I am not receiving compensation for it (other than from Seeking Alpha). I have no business relationship with any company whose stock is mentioned in this article.