The Canadian fire, Nigeria, Venezuela, Iraq and Libya all contributed to the geopolitical risk premium. Surplus storage has alleviated some of the premium, but concerns over the outages spiked oil prices back into the $40s. We have long been believers that the move below $40 had more to do with emotions and positioning than actual fundamentals. Recent concerns over the gasoline glut, Nigeria's rising oil production and the return of Canadian production have contributed to WTI (NYSEARCA:USO) falling back to $45.

There also are concerns in the marketplace that Libya oil production could swiftly come back as political tensions ease, but we differ. That's one area we think the damage is more structural than temporary. Unlike the outages in Nigeria, Libya has neglected its oil fields and depressurized much of its reserves.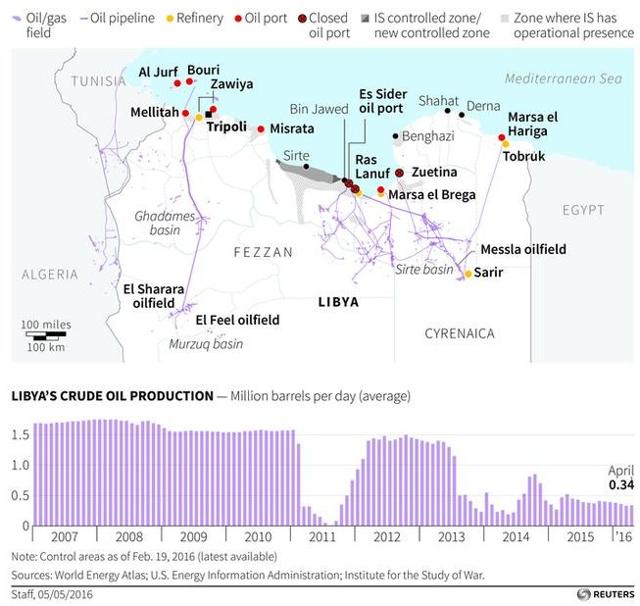 Source: Christopher Johnson
According to Reuters, the forum consensus is that Libya production is still around 325k b/d or about the same as it was in April.
Bloomberg's reporter Caroline Alexander also wrote a wonderful piece on the state of Libya's oil production on Monday.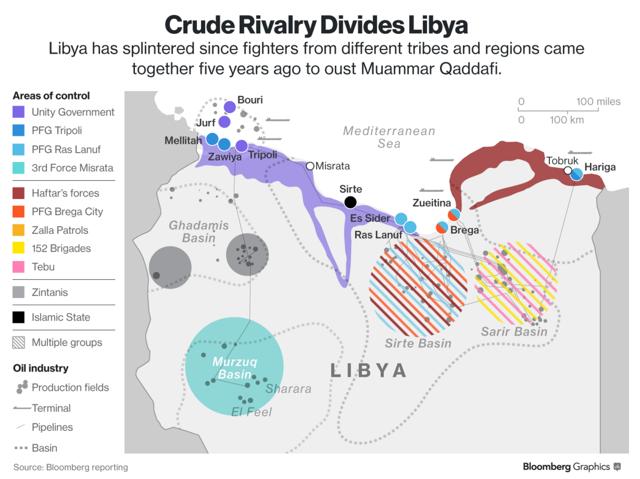 Looking at the map she complied, it's easy to see that the Sirte Basin is still uncertain as to who controls it. Due to neglect and damages, experts think that the basin's capacity is only 400k b/d now.
Prior to the civil war, Libya's oil production was 1.6 million b/d and the conflicts there remain tense despite agreement last week to unify the government.
Within a week, Libya will resume oil exports from its biggest port. ISIS has now backed away after months of intense fighting.
Traders we spoke to point to this already baked into the price. It was known last month that Libya will bring back on exports, so this isn't a surprise to anyone.
The question is how much production could Libya bring back online? We think production figures should remain flat to slightly down over the next 12-18 months. The damage to the fields is very problematic, and decline rates are starting to rise.
What do you think Libya oil production will be? Let us know in the comment section below!
As always, we hope you enjoy our Oil Markets Daily articles. If you want to read more of our articles, please be sure to hit the "Follow" button above. We also have a premium service tailored to investors looking to how we are thinking about positioning and real time trade alerts. You can view our delayed one-month portfolio update here. We hope to see you join the HFI community.
Disclosure: I/we have no positions in any stocks mentioned, and no plans to initiate any positions within the next 72 hours.
I wrote this article myself, and it expresses my own opinions. I am not receiving compensation for it (other than from Seeking Alpha). I have no business relationship with any company whose stock is mentioned in this article.