Vivint Solar (NYSE:VSLR) and Sunrun (NASDAQ:RUN) stand to lose the most if SolarCity (SCTY) gets acquired by Tesla (NASDAQ:TSLA). Given the synergies present in a SolarCity-Tesla pairing, SolarCity would become an even greater threat to Vivint Solar and Sunrun. With the resources, engineering capabilities, financing, and brand of Tesla backing SolarCity, SolarCity should become an even more dominant player in the distributed solar industry.
Vivint Solar and Sunrun are already experiencing a tremendous amount of pressure from multiple fronts. A more capable SolarCity will only make things harder for these national distributed solar companies. Considering the growing regional installer threat, the electric utility pushback, and now the very real possibility of a SolarCity-Tesla pairing, Vivint Solar and Sunrun are in a terrible position. While it is still highly uncertain whether or not SolarCity will get acquired by Tesla, this risk must be factored in when analyzing Vivint Solar and Sunrun.
Tough Road Ahead on the Cost Front
SolarCity still leads on the cost front at a Q1 cost structure of $3.18 per watt. In contrast, Vivint Solar and Sunrun reported cost structures of $3.34 per watt and $4.11 per watt respectively in the same quarter. To make matters even worse for Vivint Solar and Sunrun, SolarCity's cost structure in Q1 was unusually high for the company as a result of inflated sales costs.
Once SolarCity starts to regain its footing on the growth front, the company should see it sales cost per watt and subsequently its total cost structure declined dramatically. To get an idea of how much SolarCity was affected by rising sales costs in Q1, the company's Q4 sales cost stood at $.54 per watt whereas the company's Q1 sales cost stood at $.97 per watt. These rising sales cost resulted in the company's cost structure to grow from $2.67 per watt to $3.18 per watt QOQ.
If SolarCity merges with Tesla, SolarCity sales cost could drop even lower than they were prior to Q1 considering the enormous brand advantage that Tesla offers. Moreover, there would be many cross-selling benefits to having Tesla as a parent company. In fact, such cross-selling benefits between SolarCity and Tesla is one of the reasons why Elon Musk believes that an acquisition of SolarCity is a great idea.
Given SolarCity's superior operational capabilities, evident in the company's incredibly low installation cost of $1.98 per watt, a large sales costs advantage over Vivint Solar and Sunrun could be devastating to these companies. Even if SolarCity just manages to bring its sales costs back down to the ~$.50 per watt range, the company could conceivably have a cost structure advantage of nearly $1 per watt over its closest cost competitor Vivint Solar. As greater sales cost reductions are entirely possible with Tesla backing SolarCity, Vivint Solar and Sunrun should be incredibly worried. Given how cutthroat competition is becoming on the cost front, Vivint Solar and Sunrun have much work to do.
SolarCity's recent cost difficulties have largely come from the sales front. SolarCity should be able to dramatically reduce its cost structure if it merges with Tesla.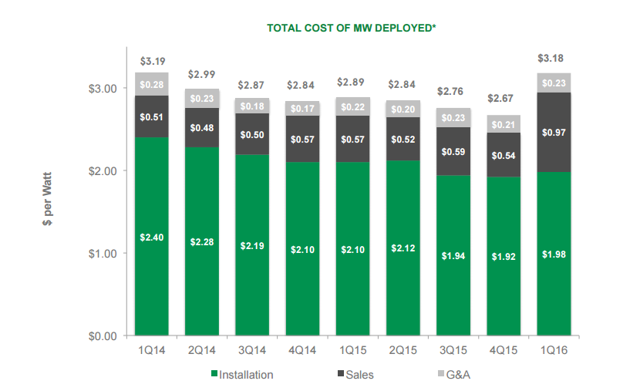 Source: SolarCity
Diminished Relative Brand Power
The SolarCity brand already dominates the distributed solar industry, particularly on the residential solar front. This means that potential customers would be far more likely to sign up with SolarCity as opposed to Vivint Solar or Sunrun. Despite the power of SolarCity's brand, it is nowhere near as powerful as Tesla's brand. In fact, Tesla's brand is rapidly becoming ingrained in the mainstream consciousness as a result of the company's overwhelming success in electric vehicle innovation.
With SolarCity under the Tesla brand, SolarCity's reach should grow immensely. Vivint Solar and Sunrun will likely have an incredibly hard time competing with the brand power of Tesla, making it more difficult for these companies to grow. While referrals drive much of residential solar's growth, brand name recognition is becoming increasingly important. There will be virtually no competition on the brand front should Tesla acquire SolarCity.
Although Vivint Solar and Sunrun's relative brand power will undoubtedly weaken if Tesla acquires SolarCity, Vivint Solar and Sunrun's absolute brand power could actually increase. Tesla could very well bring a sort of mainstream awareness to distributed solar that could actually benefit Vivint Solar and Sunrun. However, such a scenario is highly speculative. Whereas it is almost certain that Vivint Solar and Sunrun's relative brand power will decrease dramatically in an acquisition scenario, it is still highly questionable whether or not Vivint Solar and Sunrun's overall exposure will increase.
Conclusion
Vivint Solar and Sunrun already face enormous challenges on the policy and regional fronts. The recent industry transition towards loans and cash sales is also putting a major question mark on these companies' growth prospects. As such, Vivint Solar and Sunrun will have an extremely hard time withstanding the additional threat of a Tesla-backed SolarCity. Whereas SolarCity currently experiences similar industry pressures, the company will have a far easier time overcoming them with Tesla's help. Investors should avoid Vivint Solar and Sunrun for now given the mounting risks facing these companies.
Disclosure: I am/we are long SCTY.
I wrote this article myself, and it expresses my own opinions. I am not receiving compensation for it (other than from Seeking Alpha). I have no business relationship with any company whose stock is mentioned in this article.