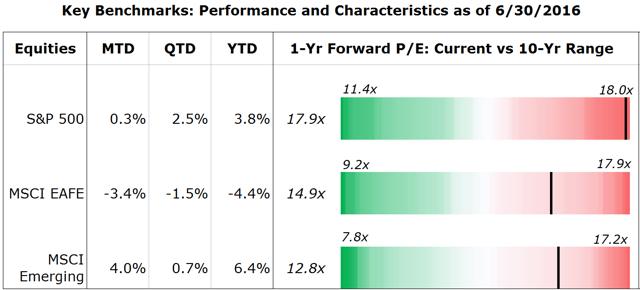 Data Source: Bloomberg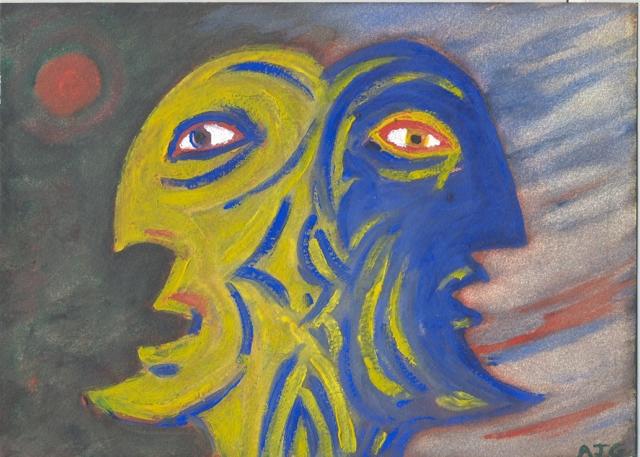 Image Source: Wikipedia.org
I prefer to see myself as the Janus, the two-faced god who is half Pollyanna and half Cassandra, warning of the future and perhaps living too much in the past." - Ray Bradbury
3D Asset Management does not invest around regime-based outcomes. By regime-based outcomes, we mean positioning our portfolios around, say, what stage of the business cycle we expect over the next 3-6 months or the outcome of the 'Brexit' referendum. With such approaches, one needs to actually get two forecasts correct: 1) regime outcome and 2) asset class price reaction to #1 (assuming one forecasts #1 correctly - many investors positioning around Brexit found out the hard way). Borrowing from statistics, regime-based forecasting encompasses a multiplication of two probabilities - the probability of forecasting #1 correctly (a difficult task in of itself) and #2 correctly. #2 is typically drawn from extensive econometric modeling and backtesting of asset class performance to specific regime outcomes. Multiplying probabilities (a "#1-and-#2" outcome) means that forecast failures end up compounding on themselves. Now, asset classes tend to behave as expected given certain regimes so forecasting #2 is not as difficult, but sometimes (and more often recently), asset classes do not behave as expected given a specific regime outcome, producing some truly interesting market behaviors. Macro-based investors have faced a challenging 2016 because predicting which regime will prevail has been notoriously difficult, and now asset class reaction to specific regimes have also become more difficult to predict.
The 2nd quarter of this year has produced such a market that can be best characterized by the mythical Janus (two-faced Roman god). Exhibit 1 displays the forward valuation of the S&P 500 (17.9x next 12-months earnings) versus the 10-Year U.S. Treasury Yield (1.48%) through June 30, 2016. They both show two different faces of the current environment, and just as with the Bradbury quote, it is unclear which one is staring at the past and which one is anticipating the future. In this environment, one does not need to bet on a certain regime outcome but just invest in both risk-on and risk-off assets.
Exhibit 1 - S&P 500 Valuation (Forward P/E) and 10-Year U.S. Treasury Yield Tell Two Different Pictures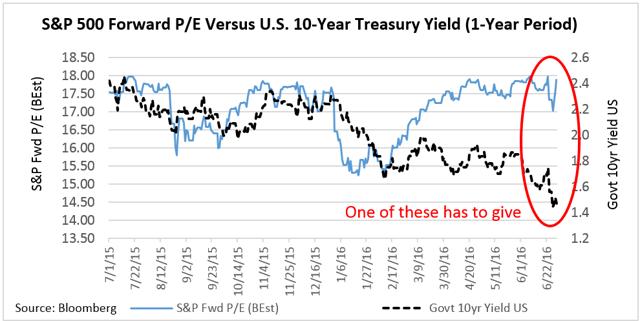 Consider the other contradictory signals from the marketplace:
The 2-10 Year Treasury Term structure (yield curve) narrows to 0.89%, near the 2008 recession levels while forward inflation expectations have collapsed to 1.51%. Yet high yield and BBB-rated credit spreads have narrowed from their mid-February highs.
Commodities and emerging markets lead most major asset classes this year, despite the flight to safety to low volatility/interest-rate sensitive assets. Yet, gold prices have reached a 2-year high (gold rallies tend to portend deflationary outlooks, rather than inflationary).
High dividend/low volatility-focused strategies continue to dominate this year but value-based strategies have also performed well, recovering off the mid-February lows. Despite value performing well, financial stocks are the worst performers as lower interest rates and jitters over the stability of European banks have weighed on this sector.
Now it could very well be that the gravitational suck of zero (negative) rates is dragging all asset yields down. A 17.9x P/E translates into a 5.6% earnings yield. The current S&P dividend yield is 2.1%. In a low growth, uncertain environment, investors are willing to pay up for certainty or seek higher income wherever it can be found such that we could see the equity risk premium reach zero (and vindicating these guys). The challenge with U.S. stocks, apart from valuation, is that both earnings and dividends are expected to slow down over the next year. Indeed, FactSet warns that 44 S&P companies have dividend payout ratios that exceed 100% (meaning that dividend payouts exceed earnings) as the overall S&P payout ratio climbs 39.1% due to slowing earnings growth. Yet, investors will take this in the face of zero/negative rates offered on safe haven sovereign debt. The one directional trade for this year has been to invest in bond-proxies such as telecoms, utilities, REITs, and high yield in addition to precious metals (in case the chase for yield goes awry) ( Exhibits 2 and 3).
Exhibit 2 - High Yielding Sectors (Utilities/Telecom) Lead All Sectors YTD

Exhibit 3 - REITs, Commodities, and Precious Metals All Strong Performers This Year

Brexit Referendum and May Payrolls
What happened in June that caused the market to move defensive? Besides the 'surprise' outcome of the Brexit June referendum, the market was also surprised by a weak U.S. payroll release earlier in the month. In the May 2016 Market Commentary, we wrote about the Fed's attempt to 'talk up' a rate hike in June or July which the Fed Funds futures promptly accepted as a strong possibility. But then the worst US jobs report since September 2010 was released, causing the U.S. dollar to sell off after having risen in anticipation of further rate hikes. The Treasury term structure flattened further and inflation expectations dropped as it became clear that the bond market does not agree with the Fed that economic conditions warrant rate normalization.
And then Brexit happened. The 'Leave' vote prevailed, much to the surprise of market participants that had pushed the dollar/pound exchange rate up to 1.50 before collapsing to 1.30 following the results. Yet, the markets keep underestimating the populist sentiment affecting this year's political landscape. Recall, what we wrote about in 'The Pundit - Populist Disconnect: Let Them Eat Data':
In between the exposition of supporting exhibits and data, the [Wall Street] strategist could not hide the frustration and bewilderment as to why the western world is being swept up by populism in spite of stronger economic data. At one point the strategist made this observation:

"We spoke with many of our foreign investors and they were incredulous as to what is happening here in the United States (meaning Trump and Sanders)."

To which my reply was these investors are clearly not paying attention to what is happening in their own backyard (at least in Europe but populism is spreading to Asia as well)."
Well the British beat the Americans in translating populist disillusionment to a real political outcome. It remains to be seen whether other nationalist movements across Europe will be emboldened by the Brexit vote, but the Europeans (notably the French) are trying to take a hardline with Britain to make leaving the European Union as painful as possible. Considering that Britain runs a large trade deficit with Germany, the European Union may want to think twice about cutting off their noses to spite their faces. Regardless, the U.K. will face short-term pressures on investing (real estate, corporate capital projects) as well as potential migration of financial services to tax-friendly euro locales such as Dublin. The bigger concern is what pressures will build on Europe's banking system (Italy's banks are showing signs of stress) and how a Brexit-led slowdown will impact global economic activity.
What happened following Brexit was a sell-off that wiped nearly $2.08 trillion off global equity markets. The markets subsequently recovered (the export-oriented FTSE 100 actually recovered all its post-Brexit losses), but pressure continues to build on the pound as reports of U.K. property funds throwing up investor gates to prevent withdrawals are beginning to surface.
What about the Fed? After having trotted out several governors and board members prepping the markets for a summer rate hike, Fed officials have acknowledged that the economic outlook must clear before moving for further hikes. Fed Funds futures do not seek another rate hike until late 2017 at the earliest.
The Importance of Global Diversification
The first half of 2016 is yet another reminder of the importance of global diversification. Yes, high yielding U.S. stocks remain the clear leading strategy but shifts in market leadership (whether regions, sectors, styles) appear to become more frequent. The U.S. continues to outperform most other developed markets, but at 17.9x forward earnings, a lot has to go right for the U.S. to continue to expand its valuation premium. Unfortunately, the Brexit vote and ongoing concerns of a China slowdown (and devaluation) have muddied what has already been a cloudy outlook. Concentrating the portfolio on a specific outcome as opposed to global diversification would not be a prudent strategy given the high level of uncertainty.
Disclosure: At the time of this writing, 3D Asset Management did not hold any of the ETFs mentioned in this article. The above is the opinion of the author and should not be relied upon as investment advice or a forecast of the future. It is not a recommendation, offer or solicitation to buy or sell any securities or implement any investment strategy. It is for informational purposes only. The above statistics, data, anecdotes and opinions of others are assumed to be true and accurate however 3D Asset Management does not warrant the accuracy of any of these. There is also no assurance that any of the above is all inclusive or complete.
Past performance is no guarantee of future results. None of the services offered by 3D Asset Management are insured by the FDIC and the reader is reminded that all investments contain risk. The opinions offered above are as July 6, 2016 and are subject to change as influencing factors change.
More detail regarding 3D Asset Management, its products, services, personnel, fees and investment methodologies are available in the firm's Form ADV Part 2 which is available upon request by calling (860) 291-1998, option 2 or emailing sales@3dadvisor.com or visiting 3D's website at 3dadvisor.com.
Disclosure: I/we have no positions in any stocks mentioned, and no plans to initiate any positions within the next 72 hours.
I wrote this article myself, and it expresses my own opinions. I am not receiving compensation for it. I have no business relationship with any company whose stock is mentioned in this article.